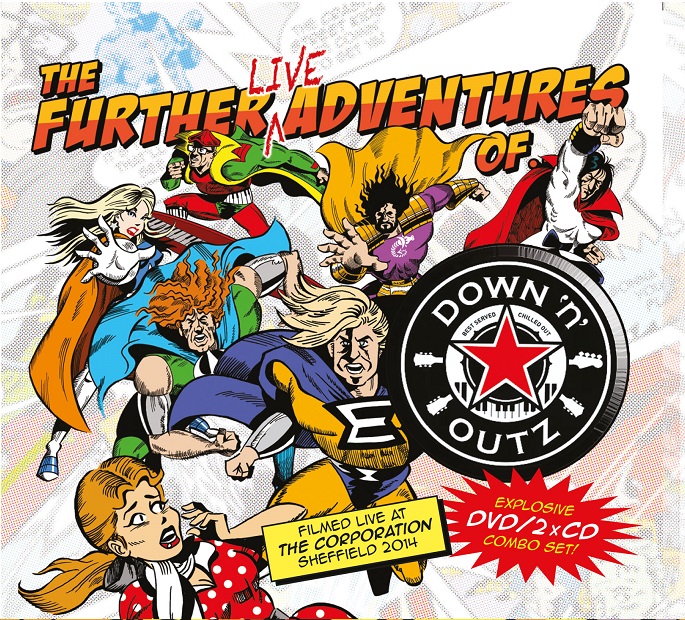 For those that missed it Down 'n' Outz are a band featuring members of Def Leppard and The Quireboys whose quirk is that they only play material by bands related to the legendary Mott the Hoople. Fronted by Def Leppard's Joe Elliott they garnered a fair bit of publicity at the start of the decade when they released their debut album, 'My ReGeneration' back in 2010. That release was followed by a DVD of their live show at Hammersmith Odeon a year later, before a second studio album, 'The Further Adventures Of…' came in 2014.
On 1st December Frontiers Records is re-releasing the entire back catalogue but is ALSO releasing 'The Further Live Adventures Of' – a show filmed in Sheffield in 2014, which comes as a 2CD/1DVD Live package. 
Now as a huge fan of Mott the Hoople but never a huge fan of Joe Elliott's vocals I'm pleased to say he does a decent job on the material here. The problem of course for fans like myself and Joe is that not everyone is a Mott obsessive so I do wonder if the concession of maybe just adding a couple of hits into the set-list might just make this material more accessible to a bigger crowd (after all Mott the Hoople have retired now).
As it is the 16 tracks here run the gamut of Mott the Hoople offshoots such as Mott, British Lions and Ian Hunter and 8 years on 6 of the tracks: 'Overnight Angels', 'Storm', 'Shouting and Pointing', 'Who Do You Love', 'England Rocks' and 'Good Times' are repeats from the Hammersmith live album set-list.  That's probably the greatest shame here as there is so much more material out there.
So if you are a fan of Mott the Hoople or even a fan of great rock music there are a host of reasons to check this out, but even more reasons to check out the real thing and dig back into a catalogue that is a lot richer and varied than you might imagine.
TRACKLISTING: The Further Live Adventures Of (2CD + DVD)
CD1: Funeral For A Friend / Love Lies Bleeding | One More Chance To Run | Rock And Roll Queen | Drivin' Sister | Whizz Kid | Storm | Overnight Angels | One Of The Boys |Shouting And Pointing
CD2: Sea Diver | The Journey | Who Do You Love |Crash Street Kidds | Violence | England Rocks | Good Times
DVD: Funeral For A Friend / Love Lies Bleeding | One More Chance To Run | Rock And Roll Queen | Drivin' Sister | Whizz Kid | Storm | Overnight Angels | One Of The Boys | Shouting And Pointing|Sea Diver | The Journey | Who Do You Love | Crash Street Kidds | Violence |England Rocks | Good Times 
Down 'n' Outz Links:  Website: http://downnoutz.net/  | Facebook: https://www.facebook.com/DownNOutz