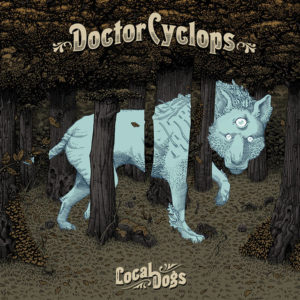 Mix a post Grunge vocal with a bassy Sabbath soundtrack and progressive leanings you get a taste of Italy's Doctor Cyclops' first offering on Local Dogs – 'Lonely Devil', their second 'D.I.A.' sounds more like Rush meets Saxon; and third track 'Stardust' hits like Stoner fumes from the desert with a quirky 70's vocal that sounds like a cross between and an alternate universe version of Ozzy that can sing and David DeFeis of Virgin Steele. Add to that some opaque and mythically-based lyrics and you get a groove Metal outfit that does things their own way – hell next track 'Epicurus' has an almost Folky feel to it.
I like this album and I like Doctor Cyclops even if the name does make the band seem like a Spiderman villain (hey comics is cool these days kids). All in all this is an enjoyable listen, not exactly my cup of tea, but there's definitely something there in the Italian band's rather lively and ideas-driven recipe for Metal. And when you throw into the mix the appearance of Bill Steer (Carcass, Firebird, Gentleman's Pistols) on lead guitar it kind of gives it that real seal of approval.
Elsewhere on this heavy vinyl disc (I'm making that bit up) you'll love the way this ends up – with the low-slung guitar-led glorious groove of 'Druid Shaman'; the key-soaked 'Witch's Tale' and the NWOBHM styled finale – 'Witchfinder General'.
Beautifully anachronistic… (That's a good thing, a very good thing)