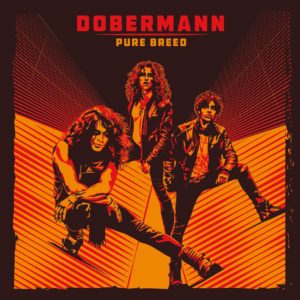 With a decent boogie-driven hard rock sound like on 'War Thunder' Dobermann certainly catch your attention. There's a certain bluesy good time feeling about that track but not in the way say the Quireboys play bluesy rock and roll, this is more hard rocking, more driven, more elemental, back to basics. Just the way I like it.
It's that elemental nature and 'rough around the edges' attitude that serves Dobermann well.  'Taking In The Out Takes' is another good track, surprisingly melodic but with enough bite and gristle to tick the rough and ready rock boxes. Elsewhere 'Radioactive' has a nice 80's hard rocking sound but its the real rockers like 'Pure breed' that captures  the real essence of these Italians' sound.
Deeper in the party mood is ramped up by the punky ditty 'I Fucking Hate Drummers' and the equally punk 'I Need A Holiday' bringing a little more edge to the sound.  There's no a lot not to like here except maybe the completely out of place final track 'Magic Mountain' which quite frankly sounds like a different band entirely -now whether it's a ironic take on Strokes-like radio rock I don't know, to me it sounds like a bad pastiche of The Tubes and falls largely flat. It's a shame as 'Pure Breed' otherwise really managed to hit the mark.
As the press says: Dobermann are a rock band… No triggers, no keyboards, no overdubs: just 3 guys who quit their dayjobs to live the life on the road, their gear and their van, playing pure and simple rock and roll.
LINE UP: Paul Del Bello – bass & vocals | Mohicano – guitars | Antonio B. – drums