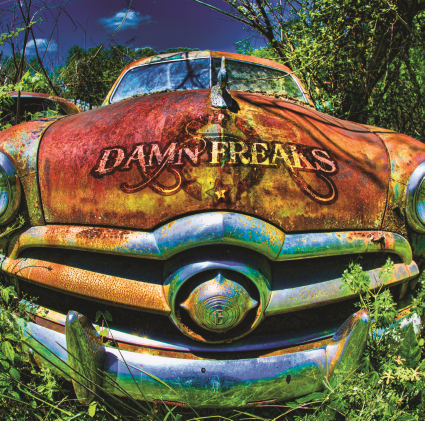 I really enjoyed the last Tygers of Pan Tang album so it was always going to be interesting to hear current Tyger's vocalist Iacopo Meille's other band.
To bring you up to date here's an extract from the presser: "A musician has a constant need of writing songs; and songs like to choose their authors carefully. That's exactly what happened with the 9 songs in DAMN FREAKS debut album. Rising from the ashes of a previous band called FOOLS' MOON, drummer and producer Matteo Panichi had started working on some ideas guitarist Marco Torri had sent him. "Good ol' party time rock'n'roll" that's the record the pair wanted to record. And who better than their long time friend Iacopo "Jack" Meille – singer from Tygers Of Pan Tang – could help them writing the most catchy choruses you could ever dreamed to hear in 2017?"
So whether you consider that a fully formed band or just a nice side project I'm sure the proof will be in the touring. The other interesting aspect to the album is that Harry Hess is producing and that Iacapo adds to the presser: "We all wanted to capture the vibe that we loved way back in the '80 when we were listening all day to White Lion, Bon Jovi, Motley Crue, Dokken and David Lee Roth".
Now when I hear name-checking like that I must admist it is normally accompanied shortly after by a real sense of disappointment, but there is always that moment just before you hit pay when you imagine what it would be like if they got it right….
'Damn Freaks' is certainly an album that captures some of that late eighties hard rock groove and there is a certain DLR soundscape to opener 'Poison Apple' even if the vocal is more akin to Mr Dokken in his late nineties incarnation.  Elsewhere there are similar hints but I get far more of a Dokken meets Warrant feel overall and certainly far less, if any, Bon Jovi in the mix.
You'll enjoy the "rock outs" that include the robust 'Break the Chains' and 'Dream Highway' – both examples of real good driving music; then there's the more than competent ballad 'Sea of Love' and the fiery and fun closer 'Take a Ride' which could only have been born out of the 80's!
The most enjoyable moment here though might just be 'Burning Up' which manages to harness a bit of the fun of the 80's – this is simple Rock and Roll, made to be played loud and the soundtrack of many a Saturday night. Damn Freaks have something here and manage to create the odd flash of lightning if just failing to capture it in that bottle. Not a bad first stab at all. At only 9 tracks it's a debut that's a little light on but  there's not a lot wrong with what they have here.
DAMN FREAKS are:
Matteo Panichi – drums
Marco Torri – electric and acoustic guitars
Iacopo "Jack" Meille – lead and backing vocals
Claudio Rogai – bass
www.facebook.com/DamnFreaks