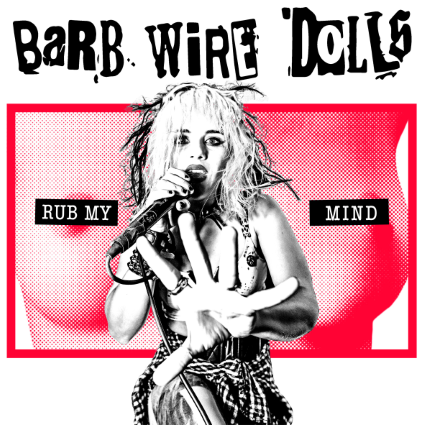 Following up last year's widely acclaimed 'Desperate' album so soon just shows the grit and determination of Barb Wire Dolls, it perhaps also shows that despite how good that album was it didn't quite set the world on fire. 'Rub My Mind' builds on both that record and their debut to bring together what you might call a rather motley assortment of songs: a little Punk, a little Grunge and a Stoner accent are all present here.
The opening track 'Back in the U.S.S.A.' isn't my favourite track here, it's a decent single, catchy enough but not half as interesting as some of the other tunes here. 'If I Fall' for example has so many influences infused into it – from a Rockabilly bass to a New Wave Pop verse and a real Rock chorus before it's blown up with a real Punk flavoured breakdown that could take it anywhere: it's that eclecticism that is a real part of the charm of Barb Wire Dolls.
Elsewhere you have touches of Stoner Rock and dreamy vocals on 'Desert Song'; the stripped back verses and arena-style choruses of 'Gold'; the catchy rocked out, bass-driven 'We are Champions'; the real 'life' and the vintage old school Punk of 'Contract'. It's all very good and all very diverse too.
Produced and mixed by Jay Baumgardner (Bush, Papa Roach, Evanesence) Barb Wire Dolls sound great here and this is easily their best release to date. Some might find the album a little disjointed as there isn't a 'sound' as such, but really that is the great charm of 'Rub My Mind'.