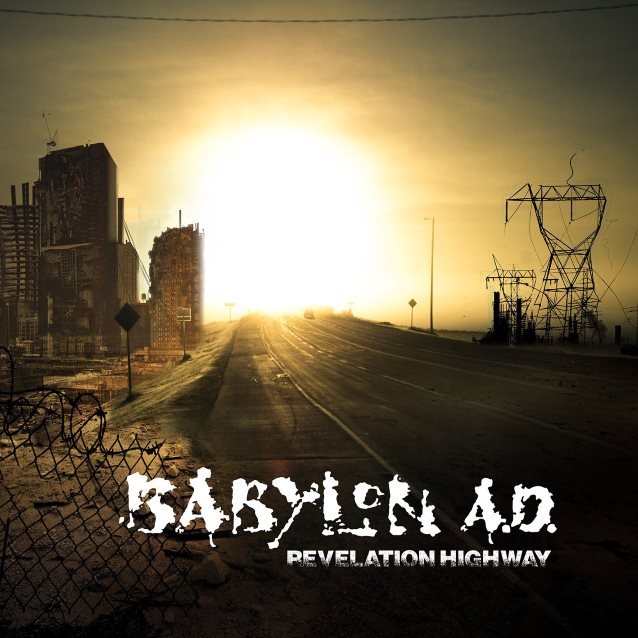 Babylon A.D. was always one of my favourite bands from the late 80's / early 90's. They were a band that had the songs and the talents to put so many much bigger bands in their wake. Their first two albums the self-titled release from 1989 and 'Nothing Sacred' from 1992 have been albums that have stayed with me since they were released and both are full of real quality and more than their fair share of songs you'll never forget.
I'm such a fan of the band that before their latter-day reformation I managed to track down both Derek and Ron. Derek when (along with Jamey) he had his 'American Blues Box' project running, and again around the time of his first solo release 'Re-Volt' in 2012, and Ron when he had just formed 'Syrym' with vocalist Jeffrey Winslow. Of course one of the questions I had to ask them both was "when are you getting the guys back together again?"
When the band finally reformed with all the original recording members on board in 2014 to release four song EP 'Lost Sessions / Fresno, CA 93' I hoped like many fans that this would be the start of something. The band started to play more shows, added a few festivals and the word grew – this was an insanely good live band. I finally caught up with them 'live' again for the first time since they played their one and only UK date (back in the mists of time)  in 2015 on the Monsters of Rock Cruise. The band had just released their 'LIVE@XXV' record to celebrate their 25 years of recording and by then I knew there was going to be a new album.
So here it is just in time to celebrate their 30th anniversary. 'Revelation Highway' might just be the best slab of Hard Rock you'll hear all year and really recaptures the classic sound of the band with a subtle modern twist. The three songs Derek had told us about earlier in the year (check out the interview) also kick off the album.
'Crash And Burn' starts with searing guitar and vintage Babylon A.D. vocals from Derek , it bursts forth with the sort of energy that made their debut so essential and irresistible and it just doesn't let up. There's huge drive a great melody and a cool video to check out too. 'Fool On Fire' that follows that grandstanding opener is equally stunning – starting with Derek's strummed guitar and with a bluesy grit in his vocal it's a mid-paced rocker that simmers and glows red hot mellowed by a fine refrain, echoing the feel of the debut while adding a new intensity and groove.

'One Million Miles' takes a lighter tack, awash with subtle guitar and full of melody its the most radio friendly song here and a great uplifting 'mood song' that sees Derek's sweetest vocal. It also makes you realise that Babylon A.D. have so much more to say. 'Tears' starts out with a faint echo of the classic 'Desperate' (one of my all time favourite BAD songs) before it kicks into life and continues with an assured swagger and a great refrain. At just over five minutes it's also got plenty of time to breathe and really benefits from the extended workout. Pure and simple it's a classic.

Hot on it's heels 'She Likes To Give It' is unashamedly 80's Rock and gives you a shiver as you hear the drums and the bass drop in above the well-fashioned lick. Derek broods and coaxes out the lyric with relish and restraint nailing the notes he did 30 years ago with ease. It's another of those mid tempo slow burners full of dynamics that the band made their own back in the day and they don't miss a beat here with a wonderful breakdown and cool guitar break: this one has it all. When I first heard 'Rags To Riches' and that classy climb to the first verse I was blown away, and the song has continued to grow on me with each play. A tale of the climb to fame shot through with searing guitar it gets the foot tapping instantly an is another sure-fire winner.
Next up 'Last Time For Love' takes the mood down a notch to that mid-tempo 'clear blue sky' sound Babylon A.D. do so well. It's a song that sweeps you up and won't let you fall. And getting to the business end of the album you realise there's not a foot been set wrong here – it's an album of pure gold. 'I'm No Good For You' just keeps it going. It's a song that wouldn't be out of place on that debut and it sizzles and shimmies before hitting you with that ear-worm of a chorus.

Before too long though we're in the closing stretch and the quality doesn't waver for a second. 'Saturday Night' might just be the hardest song here and it's also one of the best, telling tales of rocking nights and those mythical Saturday nights out on the tiles – it's certain to be a live favourite. The last word this time around goes to 'Don't Tell Me Tonight' another highly melodic rocker that just seems to underline all that has come before, it's a great way to close what might just be the best Hard Rocking comeback album I can remember.

With four songs revisited and revamped from old demos and the others fresh off the press there's a timeless feel to this release. If you love great, quality Hard Rock you need to get you some 'Revelation Highway'.
TRACKLISTING:
Crash And Burn | Fool On Fire | One Million Miles | Tears | She Likes To Give It | Rags To Riches | Last Time For Love | I'm No Good For You | Saturday Night | Don't Tell Me Tonight
BAND MEMBERS: 
Derek Davis – Lead Vocals, Keyboards, Acoustic Guitar | Ron Freschi – Guitars & Vocals | John Mathews – Guitars & Keyboards | Robb Reid – Bass & Vocals | James Pacheco – Drums & Percussion
Babylon A.D. Links: 
Official Website: http://www.babylonad.com/ 
Facebook: https://www.facebook.com/Babylonadband/ 
Twitter: https://twitter.com/babylonadband