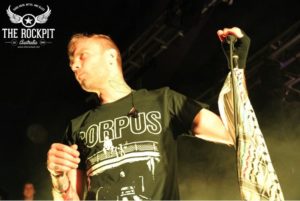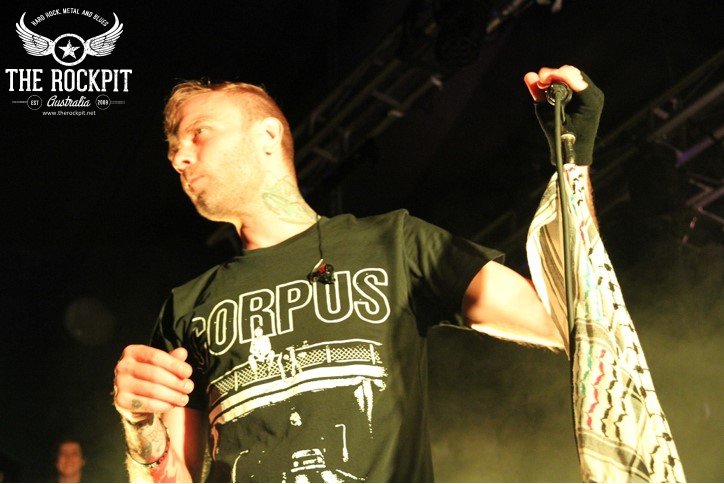 Back at Metropolis Fremantle for night two of the epic 15 year Anniversary tour with The Used. Tonight we see The Used's Self Titled album played in it's entirety. I must make note at this point that this album has special meaning to me, so for me, personally this was going to be quite the rollercoaster and The Used, tonight, made it everything I could have ever hoped for and more.
It was great to see the brutal Corpus up on stage again. These guys really have some amazing talent and push the boundaries. Equipped with just a Drummer and Guitarist, the sound they produce is full and heavy. Corpus really captured my attention with their music and style, although not for everyone, fan or not, you have to admire the skill and talent required to produce such a heavy wall of sound from just two guys.
I was very much looking forward to seeing Storm the Sky again tonight. These guys are going to get big I hope and if not I want to know why. They are incredible! An orchestra of sound oozes from their set with the mysterious and charismatic lead singer at the helm with his perfect melodic voice turning into death growl heaven with the heavy breakdowns. The Rhythm Guitarist is exceptional as he manages several instruments with ease over the course of the set. I want to see these guys headline their own tour one day.
With red lights blazed and warning sirens filling the venue…. The Used were about to come on stage. They exploded onto the stage with fierce energy and slammed into the song 'Maybe Memories'. The emotions came hard and fast as they brought back memories with songs 'Bulimic', we all screamed the lyrics at the tops of our voices "GOODBYE TO YOU, GOODBYE TO YOU" and to 'Poetic Tragedy'. The crowd were insane tonight! A lot of brave souls crowd surfing, one feisty fellow took 7 goes of it at last count, you're a champ mate whoever you are. One very brutal looking circle pit opened up, so brutal I saw several men with an armload of ladies protecting them from being swallowed up.
We then came to the pivotal point of the night for me with the song 'On My Own'. I know The Used don't usually play this song and I feel that it may be quite difficult for them to do so. As they started the crowd erupted with emotion which made lead singer Bert McCracken choke up, he had to pause for a second, wiped away his tears, looked to the sky, took a deep breath and spread his arms wide to take in the magnitude of appreciation this emotionally beautiful song was being given. This is when I choked up and couldn't stop; I could see I wasn't alone. Bert with his hand on his heart singing to each and every one of us was the most incredible display of appreciation I have ever witnessed from a band. This is one moment in time I will never ever forget.
We came to the last song of the set and screamed for more….The place was shaking all around me as the crowd went wild for another song. I was wishing and hoping they would play the hidden track from the album as an encore. They didn't disappoint, even playing the recording of 'Polly' and leading into the hidden track from the album called 'Choke Me'. Tonight I witnessed something spectacular that I hope to see again soon from The Used. They were absolutely brilliant and I strongly urge you to catch them on this tour, it was magnificent.
PHOTO GALLERY
Photos by Mark Rockpit