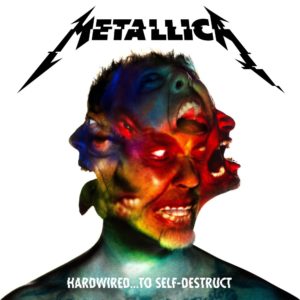 It's been 8 years since Metallica released a studio album, 2008 with "Death Magnetic" which saw a return to a lot of the elements that made Metallica in the early days. In their defence in that time they haven't exactly been sitting around doing nothing though, a collaborative effort on Lou Reed's controversial "Lulu" album in 2011, the beginning of their own record company Blackened Recordings and the 2013 music film "Through The Never" which was in many ways their biggest project to date kept the band busy in those 8 years. But to many fans that didn't matter, as fun (or disasterous, depending on your view) as they were, people wanted new music. The EP "Beyond Magnetic" in 2011 was something of a left over from "Death Magnetic" but finally here in 2016 we see the 10th studio album from the metal veterans, aptly titled "Hardwired…To Self Destruct".
So with that being said, the 10th studio album "Hardwired…To Self Destruct" is also somewhat of a throwback to their early musical roots while in turn still heading in directions that they never really went into before. While "Death Magnetic" steered towards the thrashy riffs like "My Apocalypse", the proggy song structures like "Judas Kiss" and the epic instrumentals like "Suicide & Redemption" which all have traits of their classic albums "Master Of Puppets" and "And Justice For All" as it's blueprint, "Hardwired…To Self Destruct" is a somewhat culmination of a lot of their previous albums with occasional nods to "Kill 'Em All" in it's simplicity and even more surprising, a lot of the New Wave Of British Heavy Metal" which translates to a very old school feel through-out all the songs. The fact that the bonus third disc on the deluxe edition of this album contains cover songs from such musical influences as Iron Maiden, Deep Purple and Ronnie James Dio is not surprising to say the least, a lot of the songs have traces of NWOBHM and those cover songs may have very well inspired Metallica here to have that theme. Don't get me wrong however, there is still a touch of that "Death Magnetic" style on here and there's a lot of references to some of the heavy rock side of Load and Reload and even the Black album but gone are the ballads and none of the bluesy numbers are here either nor is there as much of the thrashy stuff as you might think despite the opener.
The first track which was also the first song to be made public before the album release however is a blatant direct nod to "Kill Em All". More specifically it oozes "Metal Militia" with that riff right before Kirk Hammett wails on the guitar solo, it's a thrash fest from start to finish and clocking in at just over 3 minutes, it's one of the shortest Metallica songs ever put out. But it's also one of the most aggressive and fastest in years and while songs like "My Apocalypse" and even "The Shortest Straw" come to mind with it's stop-start timing and double kicks, "Hardwired" is a more compact and vicious number that really threw everyone off when it first came out. When James Hetfield barks "We're so fucked, shit outta luck", it may be slightly cheesy but it's a sign that Metallica don't really give a shit what people think. It is what it is and you just have to accept it which may very well be the premise of the song but this song stands alone as you go through the album.
The second track to hit the public pre-album release was "Moth Into Flame" which is contrastingly different to "Hardwired" in that it goes beyond "Kill 'Em All" and tips it's hat to bands like Iron Maiden and Saxon. While bursts of speed and double kicks are less sporadic and remain in chorus mode only, it's very melodic but heavy at the same time. Mid-tempo groove is the main key here but the guitar harmony's are just majestic and while a little of that can be heard on most Metallica albums, this is really the first time we hear the San Francisco quartet really roll around with that idea full on. "Atlas, Rise!" which follows up on the opening track is again a different song focusing more on progressive elements but again also slightly keeping with that NWOBHM theme with it's harmonies. The intro is similar to "Dyers Eve" with it's cool drum parts but there's also a strong "Black Album" groove on here later on that is reminiscenet of tracks like "Holier Than Thou". It's been a little while since this track came out and it's still difficult to learn all the parts of the song so it may however take a while for some to really get into this one at first listen.
"Now That We're Dead" starts to drive away from the metal side of things and remains a more simplistic classic rock song. It's easy 1-2 beat and the big jam session midway reminds you immediately of Load and Reload which may scare a lot of the detractors of those albums. It's probably the weakest song on the album however as it never quite takes off like other tracks on here. "Dream No More" continues with that Reload vibe again with a "Devil's Dance" kind of beat however the chorus on this song is massive and for a lack of better words, heavy as fuck! Think "The Thing That Should Not Be" or "The God That Failed" with it's dark, brooding manner as Hetfield throws down the line "You Turn To Stone". It's what makes this song in a lot of ways.
"Halo On Fire" is a song with a curious title and immediately evokes thoughts on what it could or should sound like. Throw those ideas away as when it comes on, it's a more mellow affair, at least to begin with before it takes you on a groove laden ride to a climactic ending. Not a lot of surprising elements here per say but there are moments on the album when the band are collectively just riffing out and they are right in the pocket, those kind of moments can be found in this track. Rob's bass line is cool and soothing and one of the stand outs here. "Confusion" is the more modern sounding song on the album, less old school despite the "Am I Evil?" intro and Kirk's bluesy tones weave in and out of the verses like a maniac in peak traffic. It's not a hectic song by any means but there's enough going on here with it's great beat and charging vocals.
"ManUNkind" is going to be one of those tracks that will eventually grow on you. It's a challenging song with weird rhythms, off kilter riffs that still ebbs and flows naturally but structurally and musically it's a pretty unique song in Metallica's world. It sounds technically challenging at first but it's really not, it just has a lot of dynamics and different beats all happening at once. The solo section is a little difficult to get into and may remain one of the few flaws on the album with a slightly awkward beat and Kirk's psychedelic guitar solo but it's strangely part of it's beauty in an otherwise brilliant track. It's proggy elements remind you of bands like Mastadon with a cool, southern rock vibe hanging loose on the edges but man, this could be one of the favorites yet. Still, the way this song comes together I would have to give props to Lars if he can replicate this one live!
"Here Comes Revenge" is more straight ahead, kind of simplistic but with a lot of great moments thrown in there like the "Leper Messiah" like intro and the outro which already sounds like a classic in the making. "Am I Savage" gets more loose again with a much slower tempo while "Murder One" gives tribute to the one and only Lemmy with it's many lyrical references to classic Motorhead tracks. It's a real foot stomper and while it remains in mid-tempo territory all the way through like many songs on the album, it's still a headbanger with a mighty riff from Hetfield that is catchy as hell.
Lyrically Hetfield seems to be pretty comfortable blending personal and thematic ideas here. Where the 90's up to now the lyrics sit on more deeply personal stuff, on "Hardwired… To Self Destruct" Hetfield touches on both sides of life, both the bigger picture and on some personal level. It seems like he's gotten a lot of that post-rehab stuff out of the way and while lyrics have always been hugely therepuetic for him over the years, these songs sound like a man finally comfortable with himself and with the world at large but never truly content with how things really are. From tackling on the ideas of how we are destined to be destructive species to how society is now based on the need to have that 15 minutes of fame at all times, Hetfield somehow manages to write about the world as he sees it like on earlier albums but at the same time makes it so that each individual can still relate to it on a personal level. It's a stark contrast to dancing with devils and bowing to phantom lords on their debut album and screaming 'why me' on St. Anger. It's Hetfield at his best and it's damn great to see that balance between the two sides.
The final track on the double disc effort is "Spit Out The Bone" which intially I thought was a borrowed reference from "My Apocalypse", the fast thrashier ending to "Death Magnetic". In keeping with that tradition, this track is as fast as it gets with Metallica. Say goodbye to "Damage Inc." or "Dyers Eve" as having the fastest tempo, this thrasher is king. And on top of that, at just over 7 minutes, it's a crazy track that twists and turns at all angles leaving you breathless but still wanting more. Rob Trujillo adds a cool bass solo to break the song up and steps back just a little before Kirk's guitar solo instantly takes you back to their groundbreaking debut monster and when Lars jumps in on the double kicks right at the end just as Hetfield and co. are racing in at 100 miles per hour, you can't do anything but sit there in disbelief at what the hell just happened. Destined to be the new "Dyer's Eve", a cult favorite. One that fans will be screaming for them to play live. Only time will tell on that last part but I would be hard pressed to find many genuine Metallica fans to not be digging this track.
It's a scorching way to end what is undoubtedly one of the biggest Metallica album's to date. The throwbacks to their own past as well as some of their own influences is what may propel people to check this thing out. It's chock full of riffs, some truly memorable moments, snarling vocals, a production that is up there with the best and undoubtedly in true Metallica fashion, a challenging record. Hardwired…To Self Destruct is a massive beast and it has a huge bite!
TRACKLIST
Disc 1
Hardwired
Atlas, Rise!
Now That We're Dead
Moth Into Flame
Dream No More
Halo on Fire
Disc two
Confusion
ManUNkind
Here Comes Revenge
Am I Savage?
Murder One
Spit Out the Bone