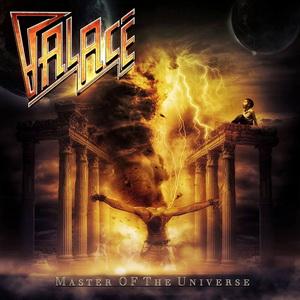 Well, it's been a few weeks since you've heard about an awesome new Swedish AOR/Melodic Rock release, right? Well, lets introduce Palace, the band founded by lead singer and guitarist Michael Palace and featuring some of Stockholm's finest musicians, handpicked by Palace himself. The combined pedigree of Palace has seen them working with Find Me, Houston, First Signal and Toby Hitchcock amongst others and that's a great reference point for what Palace deliver.
The massive anthem of the title track kicks things off with pulsating keys. With the chorus tag line of "master of the universe, champion of planet earth", this song is just crying out to be the soundtrack to an 80's action movie montage. Which come to mention it, in the EPK for this album, Palace spoke of how a key scene in Rocky was the reference point for testing each song on the album. You can watch this yourself for full details, but let's just say he achieved his aim…
Keyboard wizardry abounds on every track and is a key (pardon the pun!!) to defining the Palace sound, as well as creating a sense of urgency and intrigue. Cool Runnin' has keys in spades and with a hint of the blues in the guitar solo, offers a twist to their sound. Speaking of the blues, Strangers Eyes whilst a monster of an AOR anthem, has bluesy guitar tones that to my ears wouldn't feel out of place on Aussie legends Cold Chisel at their most commercial. Random mix and comparison I know, but it's there.
The stomping Man Behind The Gun, with its H.E.A.T and Bon Jovi like "Hey, Hey, Hey" gang chants, sets up nicely for the slight change of pace Part Of Me. Is this the best Harem Scarem song you've never heard? He's a talented man this Michael Palace, handling songwriting, vocals, guitars and keys on the album and nailing them with aplomb.
As immediate as some of these songs are, as an album in its entirety it took a few listens for the middle tracks to come into their own. The likes of No Exit, Matter In Hand and Path To Light are no slouches, but when bookended by the opening and closing 4 tracks, they kind of blend in. Fear not with The Blackeyed Peas strains in the intro to She Said It's Over, it soon gives way to one of the most infectious tracks on the album, complete with a sizzling guitar solo.
Young/Wild/Free channels just as much of the 80's, as the opening title track. My immediate thoughts – here's a sequel to Starship's Wild Again which featured on the Cocktail soundtrack. Yes, here is another track that's movie soundtrack worthy.
The albums press release makes the bold claim that "Palace delivers massive arena rock like you've never heard before". Whilst the latter part is highly debatable, massive arena rock is indeed delivered and chock full of 80's influences and soundscapes, this is essential listening for anyone with a love for keyboard driven melodic rock. Another gold medal to Sweden in the AOR/melodic rock stakes.
TRACKLIST
Master of the Universe
Cool Runnin'
Man Behind the Gun
Part of Me
No Exit
Matter in Hand
Path to Light
Rules of the Game
She Said It's Over
Stranger's Eyes
Young/Wild/Free