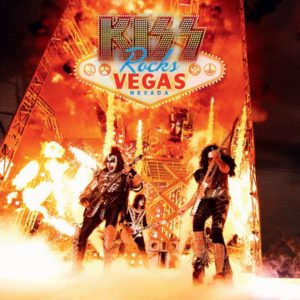 So what do we have here. First things first, the stage consists of a giant screen at the back which alternates between band and crowd shots and random images but looks at it's best when it becomes the famous KISS logo. At the side of the stage are two more giant screens above two walkways. Two giant sliding screens open to reveal the band mid intro to the greatest song to open any show with – DETROIT ROCK CITY.
There are a few surprises song wise here.There is a crushingly heavy version of PARASITE before GENE spits fire at the end of WAR MACHINE before another surprise in the form of TEARS ARE FALLING from ASYLUM. Which, along with LICK IT UP are the only two non make-up era tracks. During LICK IT UP, Paul and Tommy are centre stage and are lifted by the stage riser to play a guitar version of WON'T GET FOOLED AGAIN before returning to the ground to finish the song off. Next up is Gene to take centre stage. His bass solo now includes the ominous tolling of a bell at the exact moment he vomits blood before being raised to the rafters on a handily waiting platform high above the audiences heads. At the start of LOVE GUN, Paul swings out to a walkway halfway along the venue to belt out this classic. After the song finishes, he stays there for his guitar solo/intro to BLACK DIAMOND, with a massive disco ball high above the stage which brings back memories of previous tours. Vocal duties are handed over to the hugely underrated Eric Singer for BLACK DIAMOND, when the drum riser ascends & the main show comes to an end. The encores start with the great SHOUT IT OUT LOUD before THE ROCK 'N' ROLL NATIONAL ANTHEM. The greatest song to end ANY show with ROCK AND ROLL ALL NITE where a paper blizzard fills the hall before Gene & Tommy take to the stage side risers & Paul does his guitar smashing routine & the stage is engulfed in explosions, bombs & fireworks to end the spectacular show.
The downside of filming in a venue like this is the size. This is just a 4000 seat venue and a lot of the impact and scale is lost. LAS VEGAS may be a great place but maybe there would be more of a spectacle with a 20-30,000 venue.
Yes there are things you could moan about. Set list, Tommy and Eric not being original members but Eric is a great drummer and very good vocalist. Having previously played with ALICE COOPER, LITA FORD & SABBATH amongst many others, Tommy is a very good, if rather dull guitarist. Both Gene and Paul appear to be in great form, with Paul's vocals appearing to be better than for a long time. The sound quality is perfect, a great dvd release.
Buy the deluxe version. It comes in a 12×12 hardcover pack featuring dvd/blu-ray and double cd and housed in the hardcover pack is a book containing some truly amazing pictures.
KISS-ENTIAL 5/5
TRACKLIST
Disc: 1
1. Detroit Rock City (DVD)
2. Creatures Of The Night (DVD)
3. Psycho Circus (DVD)
4. Parasite (DVD)
5. War Machine (DVD)
6. Tears Are Falling (DVD)
7. Deuce (DVD)
8. Lick It Up (DVD)
9. I Love It Loud (DVD)
10. Hell Or Hallelujah (DVD)
11. Guitar Solo (DVD)
12. Bass Solo (DVD)
13. God Of Thunder (DVD)
14. Do You Love Me (DVD)
15. Love Gun (DVD)
16. Black Diamond (DVD)
17. Shout It Out Loud (DVD)
18. Rock And Roll All Nite (DVD)
19. God Gave Rock 'N' Roll To You II (Credits)(DVD)
Disc: 2
1. Detroit Rock City (Side A)
2. Creatures of the Night (Side A)
3. Psycho Circus (Side A)
4. Parasite (Side A)
5. War Machine (Side A)
6. Tears Are Falling (Side B)
7. Deuce (Side B)
8. Lick It Up (Side B)
9. I Love It Loud (Side B)
Disc: 3
1. Hell or Hallelujah (Side C)
2. Guitar Solo (Side C)
3. God of Thunder (Side C)
4. Do You Love Me (Side C)
5. Love Gun (Side C)
6. Black Diamond (Side D)
7. Shout It Out Loud (Side D)
8. Rock and Roll All Nite (Side D)