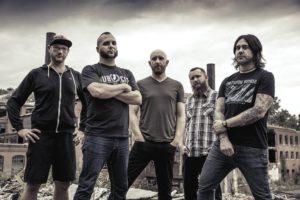 Iconic metal giants, Killswitch Engage, will be returning to Australia in March 2017, in support of their seventh album Incarnate. The Massachusetts powerhouse will be bringing along the atmospheric, boundary-pushing metallers Fallujah for their first ever Australian tour. Steve spoke to drummer Justin Foley on what to expect.
Steve: Good morning Justin how are you?
Justin: I'm doing just fine, your calling from Australia right?
Steve: Yeah that's right!
Justin: Awesome, I love it there!
Steve: Well I for one am excited to see that you guys are heading over here next year.
Justin: So are we, it's been a little while and we love going there. It's great we've been treated exceptionally well by all the fans so we can't wait to get over there!
Steve: So "Incarnate" has been out for a while now, how has the reception been so far?
Justin: It's been pretty good so far, we've tried out a bunch of new songs and some are sticking pretty well. The people are singing and pretty stoked to hear and all that stuff so we'll take it.
Steve: Excellent! So do you have any personal favourites that you like to play or is the whole album just what you were expecting?
Justin: I really like playing the first song "Alone I Stand", we've been kicking around with that one for a while before we finished it so it's a nice feeling to have it finished. I really enjoy playing that one even though it's one more challenging one for me to play, it's fun to play ones that people know the best and sing along so I'd probably have to say "Strength Of The Mind" also is one of my favorites as people seem to know it the best.
Steve: So from the way that I listen to it this album seems to be a fairly emotional journey, would that be a fair assessment?
Justin: Yeah I think so. I think there are some ups and downs on the record which I like, I think the last record was really fast through out and I think this one has more peaks and valley's musically so I could see that for sure.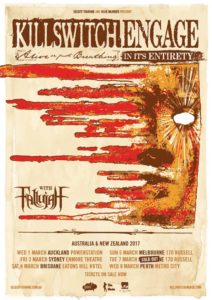 Steve: From what I read there seems to be a lot of heart and soul poured in by you guys in particular vocalist Jessie Leech seems to put his heart on the line.
Justin: Yeah I think lyrically he got into some areas that he hadn't explored before which is great. I think the results are fantastic, I think he killed it on this record.
Steve: All of you guys did really.
Justin: [laughs] This is true!
Steve: So for any aspiring drummers do you have any hints tips or tricks that you use to get your sound across?
Justin: Ah I don't know, I guess I'm trying to think about not being noticed [laughs]. I guess I don't want to have a part that juts out at you, that's what I'm going for personally. I want it so that everything is feeling good and you get through the song and your tapping your foot or bobbing your head or whatever and you didn't even notice anything that happened in your part, then that's a good thing because that means the rhythm or groove was there so I guess I'm sort of going for that.
Steve: Sure and when it comes to you heading into the studio, what's your method of doing things? Do you like to bring your own ideas to the table or is it a collaborative venture with you guys? How does that go down?
Justin: It's everything, everything is together. One of the cool things about this band is that Adam Dutkiewicz (guitarist) is also a really great drummer, he played on "Alive Or Just Breathing" so he thinks like a drummer and so do I. It's cool as we kind of think like different drummers, he'll have an idea that I'll never think of and I'll have an idea that he'll never think of and so it gives us more options and Mike D'Antonio (bass guitarist) and Joel Stroetzel (rhythm guitarist) will have ideas that drummers will never think of so everything is fair game. So if a part sounds cool it sounds cool, it doesn't matter where it comes from so that's how it works and I think that helps the final product get to the best place possible.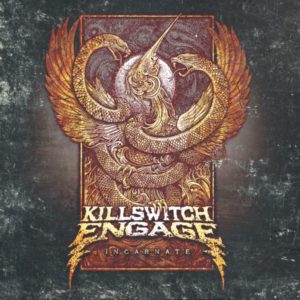 Steve: So from where you sit are there any drummers that you enjoy listening to at the moment just off the top of your head?
Justin: Oh yeah well I mean as a drummer who doesn't love listening to Meshuggah, come on! It's ridiculous! [laughs] I was just reading that they recorded the new album together live which makes my head explode! That's pretty awesome, I could listen them all day long.
Steve: Agreed and I guess leading into that, growing up who inspired you to get behind the kit?
Justin: Growing up the first one was John Bonham for sure, Led Zeppelin was the first thing that I did and I played along to everything. After that was Rush, I played all the Rush songs then after that was some speed metal stuff or thrash. I was into Slayer big time then I guess it veered off when I heard Sean Reinert from Cynic and I started going in different directions, so that was my progression.
Steve: So what was the last album that you bought?
Justin: The last album that I bought was the latest one by Thrice. It's been a good year so far, the new Deftones record, the new Explosions In The Sky record. It's been a good year so far.
Steve: I totally agree! So in terms of the live show what can the fans expect when you hit our shores next year?
Justin: You can expect fat old guys sweating on stage for over an hour [laughs]. That's pretty much the only thing that's a given.
Steve: Excellent man, really looking forward to catching the show. It's been great speaking with you today and we'll see you in 2017.
Justin: Awesome man, thanks for your time also. See you soon, cheers!
KILLSWITCH ENGAGE AUSTRALIAN TOUR 2016:
w/ Fallujah
Wednesday 1 March – Powerstation, Auckland
Friday 3 March – The Enmore Theatre, Sydney
Saturday 4 March – Eaton's Hill, Brisbane
Sunday 5 March – 170 Russell, Melbourne
Tuesday 7 March – 170 Russell, Melbourne
Wednesday 8 March – Metro City, Perth
Tickets and tour details can be found at Select Touring.