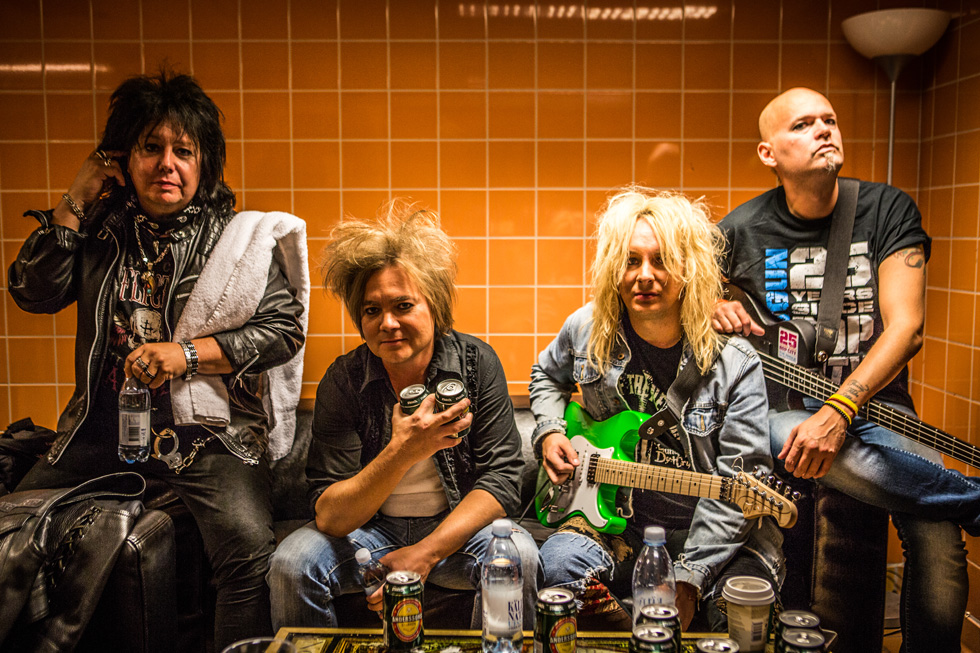 Shotgun Messiah was surely one of the coolest names for a Rock band ever, and not only did they have the music and the looks they delivered live too. But after just one album Zinny Zan left the band, now he's back with original bandmate Stixx to revisit that classic album live!
The Rockpit: Congratulations on the release of the new live album it sounds great!
Zinny: Thank you so much!

The Rockpit: One of my favourite albums of the 80's was Shotgun Messiah's (surely the coolest band name ever) WELCOME TO BOP CITY (I did get the import version by Kingpin a few years later).  It was an amazing album, so far ahead of the pack in a year when Poison, Bon Jovi and Ratt ruled to roost – did you feel part of the whole Glam Metal scene when you arrived in Los Angeles?

Zinny: Well both yes and no, Most bands like Ratt, Motley and other big glam& Sleaze bands had already made I t big when we arrived in Lala land but we hung out with Pretty Boy Floyd, Faster Pussycat and others, Once we made it in a bigger way we hung out with Billy Idol, Badlands, Bonham etc.

The Rockpit: What was the scene like when you got there?

Zinny: The scene was absolutely crazy and fun, Imagine coming from Sweden and all of a sudden you are in the middle of all this in Hollywood!!!! It was like a dream come true for all four of us and it was just nuts!!! A 24/ 7 city filled with Rock N Roll with all the vices you could think of.

The Rockpit: The album was a moderate success in the days when the majors ruled the charts – it had it all, great videos, great single choices and it made 52 on the Billboard charts and then after great critical acclaim you left the band! Tell us about that?

Zinny: Well not much to say other than Tim  n I did not get a long in the end, him being the insecure person trying  to make room for himself in the band, He did not get enough attention being a bass player in SM in his mind, usually the press focus on the singer and the guitar player  a little more than on the drummer and the bassist and it was the same for us plus that we had a fucking amazing guitar player in Harry K Cody, It became so bad that Harry had to sneak to my place to try to write music because Tim got so jealous about it ,Harry was his golden egg he thought. So it came too much tension and Harry n Tim thought Id better leave so I did.

Zinny: Tim did the same stunt in Marilyn Manson, first producing a  MM single, then fire the bass player and take his place then fire Guitarist 5 and becoming the guitar player! I was just waiting for Marilyn to get fired so it could be Tim Tim Manson hahahaha  but MM beat  him to the game.

The Rockpit: The best news all year is that you are back in part with a new live album – Shotgun – Live – Down Decadencia Drive – tell us about the release when did the plan come together? Tell us about how Rob Marcello and Chris Laney (both of whom you've of course worked with before in Easy Action and Zan Clan) came on-board?

Zinny: Well Chris Laney and I have a past in Zan Clan and Chris is like the number 1 Shotgun Messiah fan ever so once in a while he was on me and said hey why don't ya get your old band back together? Chris knew I was and always been a good friend with Stixx from SM and so on but I knew then as I know now that a 100% Shotgun Messiah reunion will never ever take place, I told Chris that a reunion with all original members will never happen so when Chris got in touch  with Rob Marcello for a collaboration with Chris new band Laney´s Legion they one night on a trip in Europe came up with what they thought was this fantastic idea, So Chris called me up pretty drunk having Rob beside him and they popped me the idea, I laughed said thank you its very flattering but go to bed n sober up hahaha, These two Gentlemen however did not give up the idea and I thought what the hell lets meet rehearse and  see how  all these songs sounds nowadays, At least we can hang meet n jam with these great cats so I said , Let's try after talking to Stixx  but no guarantees.

We met up and we clicked! It was too much fun to turn down and I for the first time in my life realized how much I have missed singing these songs and we sounded really good together
The Rockpit: The live album takes the songs from 'Bop City' and mixes up the order – I much prefer that new running order but why did you choose to mix it up?
Zinny: It was no big thought about it really, I recalled that when I was in Shotgun Messiah we almost always started with Squeezin Teasin so we did as well and the rest of the order just came about cause we felt that it was a good running order, I do not know who came up with this order or if we all had an input but we all felt comfortable with it.
The Rockpit: Chris has done a great job of production – the songs sound so fresh?
Zinny: Well in my mind Chris Laney always do great studio work so I am not surprised ha-ha but what got a big smile on my face was more how these songs had stood the test of time because they don't sound dated in anyway in my mind and that made me feel very good, So yeah the combination of good songs and a Great guy behind the soundboard cant fail can it ?  And don't forget all of us in the band had a fucking great time performing these songs live to a  great audience and that you can hear on this live album as well, We Rocked !
The Rockpit: You always sounded great live and over the years I've come across a number of bootlegs but as well as the great playing the image was all so important too, people want to see a real show and that seems sadly lacking in Rock music these days?
Zinny: Thank you very much for saying that!  I have become older but with this band there is no chance of slacking! We are all the same in our Rock n Roll hearts we give it our everything from tone one and til the end and that's what we believe in! That's what we are! We want people to hear, see and feel something real and to all of us Rock n Roll is for real! Rob is a fucking amazing guitar player but perfection is not was Rock is about.
Rock is supposed to Rock! With all these small little mistakes, mishaps or goofing s here n there that's what makes it alive n charming! If you releasing a live album and the performing is perfect well then you haven't PERFORMED!  That's where I come from
The Rockpit: Stixx is back but Tim and Harry were never going to come to the party? Did you reach out at all? What are relations like almost 30 years after that release?
Zinny:  I have not spoken to Tim since the day we parted so that is some good 26 years or something now.I read in Sweden Rock Magazine when they were asking Tim about a Shotgun Messiah reunion and his answer was" You don't have that kind of money"
Well to me that pretty much says it all! He doesn't wanna do it but if it would involve a hell of a lot Money he would consider it, While Stixx and I together with Rob & Chris did it for the supporters to get the chance to hear these songs live and of course for us to have a great time playing them.
I have had some mail conversations recently with Harry Cody regarding music and performing but that is something I do not want to elaborate more of here in respect for Harry. But yes Harry and I have been in contact.
Stixx have not had any contact with either Tim or Harry since he split from SM
The Rockpit: Sweden has remained in love with 'Hair Metal' to this day – what's your take on some of the current bands in the scene?
Zinny: Well both Chris Laney and myself have had a lot to do with quite a few of these new Hairbands out of Sweden  helping them out one way or the other so I think both Chris and I  are glad for their sake and their success and we wish' em all the best
The Rockpit: The big question of course is will Shotgun be looking at recording any new material? What's your next project?
Zinny: When we did these Festivals 2013-2014 I told the band that if we are to continue touring ,playing festivals etc. we have to come out with something new,  So I suggested to everyone to do a Shotgun Album.Unfortunately it seemed like Chris & Rob couldn't find the time so then we decided to call it the quits after 2014 Festivals. But we always had in mind making this Live album.
Next project is a solo album or a new band the songs are there already but I have not yet made up my mind if I should go solo or have a new band.So A new album and then starring in a Thriller TV series here in Sweden as an outlaw biker ( Laughs).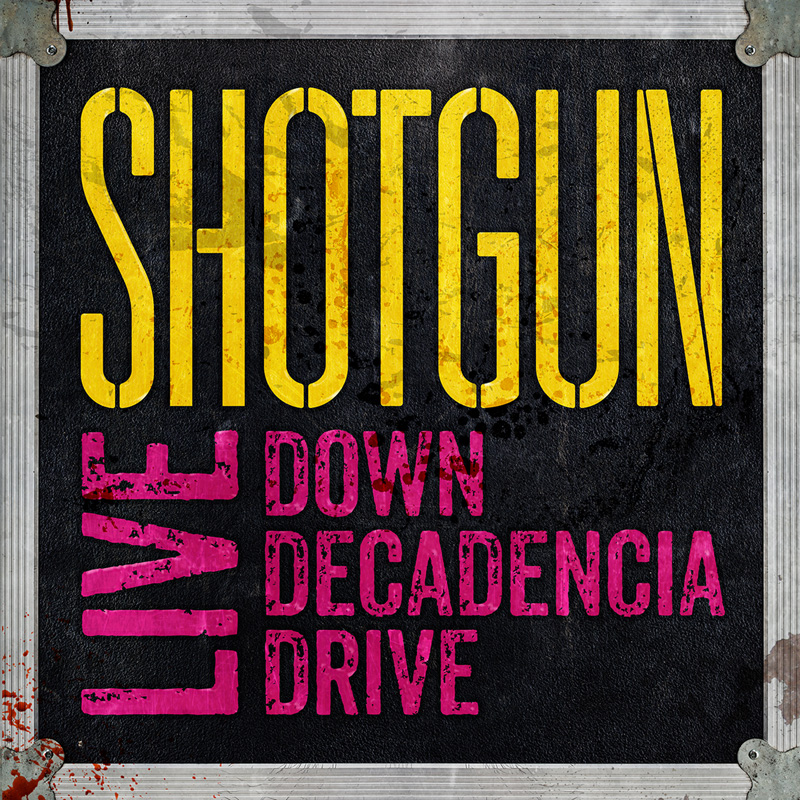 The Rockpit: After Shotgun Messiah and a bit of a break you came back as strong as ever with Zan Clan – 1994's 'Citizen of Wasteland' was great but, the 2002 solo album 'City Boy Blues' was even better and 2005's 'We Are Zan Clan, Who the Fuck are You' is still one of my favourite albums and you got some great support gigs around that time – what were the early 2000's like for you?
Zinny: 1999 I became a father for the 1st time so I decided to take some years off to spend with my daughter Yasmine and learn the role of a father which I did.In 2002 I was approached by a record Company in the U.S. and they wanted me to make an album and it so just happened that I had recorded quite a lot of songs meanwhile so I released this as my solo album "City Boy Blues" and not too long after that I finally hooked u with Chris Laney for the 1st time and we reformed Zan Clan.
We played a lot of shows here n there with Zan Clan  and opened up for bands like Queensryche ,Whitesnake etc.,, so it was  really good times again after being out of the Rock n Roll circus for quite some time.We released the studio album " We are Zan Clan who the Fuck are you" and a Live album called " Kickin the living shit outta Stockholm City" very modest and low key titles hahahaha
The Rockpit: The 2006 reunion with Kee and Easy Action was great for us fans that never got to see the band first time round and the later single 'Jack's Back' was a big hit in Sweden an album 'Looking Up Your Old Address' was recorded – will that ever see the light of day?
Zinny: Yeah that was something else hahaha but I am so glad we did that reunion since I gained a new fantastic friend in Björn Höglund who replaced Freddie Van Gerber on drums on this reunion and I also gained new friends like Michael Grimm and Simon Roxx who also replaced other original members on bass n Guitar.
Yes we almost  had an entire album ready named" Looking up your old address" but  Kee Marcello never seemed to get time to finish up his solo´s etc. and it seemed he had lost interest during the time so the album was never finished.
Mikael Grimm our Bass player Tragically died in 2011 and with that it all became even tougher.
However Björn Höglund and I are still writing music and we still love some of the songs that we or I wrote on that album and it seems like some of these songs might see the light of day either as a new solo album or as a new band in a not so distant future, Other than that I am now filming for a new Thriller TV series here in Sweden called "Before we die" where I play a criminal biker so that will be my summer job (Laughs)
The Rockpit: You've said in the past that you were heavily influenced by such bands like Aerosmith, Kiss, Sex Pistols, and Thin Lizzy, (we loved your  cover version of the Thin Lizzy's 'Dedication') has anyone over the years impressed you enough to be added to that list?
Zinny:  Thank you for liking our version of the song Dedication, Thin Lizzy was a huge influence for me and you can hear that on my solo album. Good question! and yes this old fuck like some new music to ( laughs) Foo Fighters are great,Electric Mary, The Struts, some songs with Royal Blood, Shinedown
The Rockpit: Taking it all the way back can you remember when you first realised that music was what you wanted to do with your life?
Zinny: hell yeah I remember! We had a TV series in Sweden about this American rock/pop band and the series was called "Hey Hey with the Monkees!" This was my absolute favourite program being like 4-6 years old right then I knew what I wanted to be and then Sweet, Alice Cooper, David Bowie and Kiss just got me even more convinced
The Rockpit: You were working on an autobiography titled 'The Lies and Faults of Zinny J. Zan' – are we likely to see that released soon? How is it coming along?
Zinny: Life is funny sometimes, You are right I started to write this book with a co-writer but we did not even reach through half the book and the rumour was out and I got contacted from some friends who was scared about what I might write in the book Kee Marcello being one of them,,, Since they all were soo scared even if the book was about me and not them I decided it is not worth making people feel bad etc so I threw the idea away.
4 years later Kee Marcello is writing and releasing a fucking book about his life????? Well that's life sometimes.
Who knows maybe I will find the time sometime and write all the shit down we´ll see?
The Rockpit: Shotgun celebrated 'Bop City's' 25th anniversary a couple of years back now in 2013 with a number of dates now the album is out are we likely to see more live shows?
Zinny: We just spoke about that in the band while putting this album together and we all said that if the right proposals comes up we will absolutely go out and Rock like there is no tomorrow again together in order to promote this album and to meet our supporters.
The Rockpit: If you could have been a fly on the wall for the creation of any great classic rock album just to see how the magic happened what would that album have been for you and why?
Zinny: Wow this is a hard one! You say one but I have a hard time following rules so I will give you three very exciting albums in my mind, I would have loved to sit in the studio and watched the process of:Alice Coopers Billion Dollar Babies album and absolute masterpiece with Bob Ezrin as producer. Why? It is a ground breaking album! It's a masterpiece
Kiss Destroyer album with Bob Ezrin as producer. Why? With this album Kiss really became the larger than life band and characters they strived to be again a masterpiece that Bob Ezrin conducted.
Aerosmith Rocks with Jack Douglas as producer. Why? This has this street attitude, the I don't give a shit attitude and it is just a tough as nails album. Great riffs great lyrics and its all there! The atmosphere and everything. I see this album as a more sane Raw Power album (Iggy n the Stooges)
The Rockpit: And to close the really easy question – "What is the meaning of life?"
Zinny: Wow I thought the question before was tough but this one ????? ( Laughs)
If you ask what's the meaning of life in a greater perspective meaning humanity I would say there is no meaning and I base that on that we the Homosapiens have fucked this world up pretty bad.We have destroyed rainforests, Oceans, the air we breathe, polluted the soil with nuclear waste etc. etc. so do we bring any good to this planet?? Honestly I do not believe so we are destroying the earth bit by bit every day and for what??? Sheer Greed from power and Money hungry people.
If you ask what is the meaning of my life I would say:Having as much fun I can with my Kids, Friends and loved ones, trying to lead by example for my kids to become good and honest people with good values.Creating music that might live on and just live the life to its fullest and enjoy the time I have on this planet!