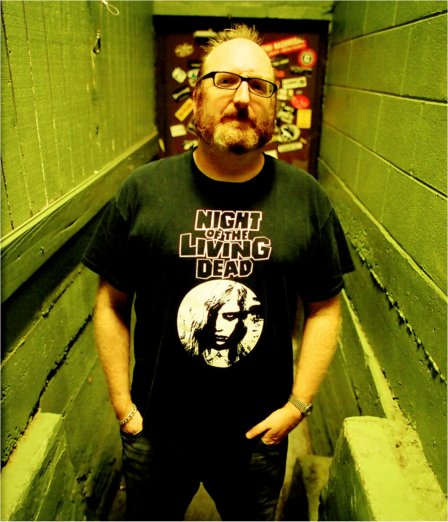 If the name Brian Posehn sounds familiar to you, it's probably because you have seen him in countless TV shows and films like Just Shoot Me, Everybody Loves Raymond, The Sarah Silverman Program, The Devils Rejects, The Wedding Singer and more. What you may or may not know about him is he is a huge metal and rock fan and has even worked with bands like Anthrax and Steel Panther to name a few. In April Brian is set to do a stand-up comedy tour of Australia in what will be his first appearance downunder ever so we caught up with the actor/comedian and self confessed metalhead to talk about his shows, a bit about music and much more.
Andrew: Hey Brian how's it going?
Brian: Good, how are you?
Andrew: I'm good! It's nice to see you coming to Australia man, fantastic to see! I guess this is your first time right?
Brian: Yeah I mean I haven't even been there as a tourist. I couldn't be more excited to be able to do it as both, to come over there as a comedian but to also to get to see some cool places, I'm really stoked!
Andrew: Yeah absolutely. So what do you know about Australia?
Brian: Well I know all the cities by name that I'm going to. I sort of get how Sydney and Melbourne are laid out but everything else it's from movies. I hope you're not all fighting for drinking water like in the current Mad Max [laughs].
Andrew: [laughs] We're not quite at the apocalypse yet but maybe in the future!
Brian: [laughs] Actually a lot of my friends, other fellow comedians and some of the bay area guys that I came up with like Arj Barker and Greg Behrendt have both been over there a lot and hearing their adventures for years, I've been kinda jealous and just waiting for the right situation. I wanted to go last year but it just didn't work out so to have this whole run coming together, I couldn't be more excited. I'm going coast to coast for about 10 days and because it's my first time, hopefully I'll get to come and see more of the place.
Andrew: Yeah it's great to see you traveling across both sides because a lot of times, the west coast gets ignored a bit because it's quite expensive to get over the other side of the country.
Brian: Yeah that's where I'm starting, is Perth right?
Andrew: Yeah that's right.
Brian: Is that the most western city?
Andrew: Yeah it is the most western city, on the very far side.
Brian: Right, yeah that's where I start so that will be fun. Is that a surf spot? What's Perth known for?
Andrew: Yeah Perth has very hot weather, you will be coming at the tail end of the heatwave. A lot of beaches, everyone says the best beaches in the world are in Perth so you're in for a bit of a treat I think.
Brian: Cool!
Andrew: Are you a beach person yourself? Do you do a bit of surfing?
Brian: Not that much, it will be nice to see. I'm very German and Irish so I catch on fire if I'm out in the sun too long. It is what it is, me and vampires can't be in the sun for very long.
Andrew: [laughs]
Brian: But Hawaii is one of my favorite places to go so I like the beach culture and that kind of thing.
Andrew: OK cool. So as far as your stand up shows are concerned, what are some of the things that Aussie fans can expect and what are the kind of things that you generally talk about?
Brian: Well it's always kind of changing from year to year, it's really based on whatever I'm going through but it's always done from a kind of nerdy perspective. I feel like I'm silly and dry and I feel like I can be smart and dumb at the same time. That's what I look for when I'm writing a joke, something that makes me laugh, I can go high brow on one thing then go totally low brow on the next. Right now in the act it's not too nerdy, I have a 10 minute chunk on how I love Star Wars again and how I hated it for 15 years and then won me back over. And so there's a bit like that and there's some stuff about being a dad and stuff about being a husband, feeling old. This year I just felt really old because I no longer know what Weird Al (Yankovic) is making fun of and that was like a big thing for me, I feel I don't know pop culture as well as I used to when I was a kid and I kinda cared about it. So the successful stuff from people my age that are also relatable but are also accessible to people that are younger and just want to see a silly fat guy talk about being silly and fat. Well actually I'm losing a lot of weight, I might only be fat-ish by the time I get to Australia.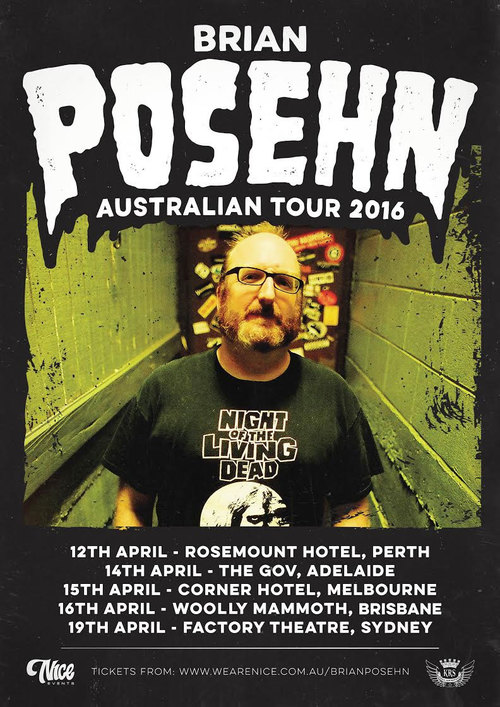 Andrew: OK well the thing that some people may know about you and I certainly do, is that you're a self confessed metalhead. So will there be talk or discussions as far as music is concerned like heavy metal and that kind of thing?
Brian: Oh for sure, there's always references. Currently there's a couple I can think of, Black Sabbath, AC/DC and there's a Slipknot joke in there right now. It's always there, it's mostly there as an attitude. That's who I am, I'll always be a metalhead and I feel like everything is kind of filtered through the brain of a 15 year old metalhead because I feel like I haven't really grown up at all. I have responsibilities and I'm mostly an adult but in my brain I'm still the 15 year old kid who just loves heavy metal and horror movies and comic books and just wants to be left alone, I'm that kid.
Andrew: You mentioned AC/DC so it's good that you're coming to Perth as well as Bon Scott is known for hanging out in Fremantle years ago when he was younger. I guess you will try and see his memorial grave then.
Brian: Oh is that where it is?
Andrew: Yeah in Fremantle there's the statue and the memorial grave. Everyone that comes to Fremantle and Perth always catches it.
Brian: Yeah I'll have to check that out! He was one of the first big deaths I dealt with as a teenage metal fan and to lose him and we lost Randy Rhoads 2 years later, it was like 'Ugh, my heroes!' He was a big one, I was in junior high when Bon died and I remember hearing about it and was like how can they go on? And then the fact that they did with even more success is still cool.
Andrew: Yeah exactly. And unfortunately just recently we also lost Lemmy as well!
Brian: Yeah I just did the Motorhead Cruise about 3 months before he passed and I could tell the end was near. He probably felt his health was dwindling but to see him, you just go, 'Oh!'. He still had that spirit and still kicked ass on stage but you could just tell.
Andrew: Yeah it was unfortunate.
Brian: Yeah it's sad but the dude lived hard for 70 years, I bet you he partied as a one year old.
Andrew: [laughs] Yeah exactly! He did say that he wanted to die on stage and he just about did it, pretty much toured until the last days so very cool in that respect. So getting back to your stand-up shows, who were some of your influences on stand-up comedy and how did you actually get into it in the first place?
Brian: Well my first 2 that I was really into you might not see as an obvious influence but they were the first 2 guys that I memorised and it was Steve Martin and Robin Williams. Growing up when I grew up, that was around my obsession years like when I got into Star Wars in 1977-1978. So I was into comic books and into Star Wars and then I heard comedy and immediately I was so into those 3 Steve Martin records, memorised those and then Robin Williams "Reality…What A Concept!" was a big thing for me still to this day. So those are the main guys and like I said, you don't really see them in my act but I guess with Steve Martin, definitely the absurd because the absurd to me is still a thing I go to and he was one of the first big examples of that. His whole act was pretty much insane. In the 80's as stand up became more accessible, especially here watching it on cable, I was a huge fan. I got into Eddie Murphy and (Sam) Kinnison and guys like that but I think the guys that are my main influences are my friends like Greg Proops and Patton Oswalt and Louis C.K. I feel like my act especially in the last 10 years, it just became more reflective of who I am and that's true of those guys. None of them do a fake persona on stage and I feel like when I came up, that was such a popular thing. In the 80's guys liked to have this elevated persona that's this larger than life thing but then the guys who I really like now are the guys who are more real on stage, it's what I started focusing on like I said, 10-15 years ago. It was like, 'Oh I'll just start talking about things I care about' like Patton and Dave Attell and guys like that.
Andrew: Yeah I'm a huge fan of Louis C.K. so it's funny you mention him as I think he is one of the best stand up comedians going at the moment. What's he like personally?
Brian: Absolutely! He's a great dude and such a fan of stand-up and a good friend, I've known him a long time. The fact that he's an east coast guy and I'm a west coast guy means I don't know him as well as some of my other friends but the main thing that I take away from him in the way that I look at him as a big influence still, is that he can make anything funny. He doesn't follow the rules that a lot of comics do, especially my generation of alternative comedians. We started as not wanting to having a bunch of rules but we wound up making rules like you can't talk about this thing or you can't talk about flying because everybody has done that to death and it's cliched. He's proven that you can talk about anything, his jokes about flying are the funniest fucking jokes about flying you have ever heard. And he also talks about being married or kids and all these topics that as an alternative comic, for a while they were taboo and now it's like that's why I talk about my kid as much as I do. He proved that if the jokes are funny, it doesn't matter what you talk about. No topic is off limits as long as you do look at it creatively and find an interesting take.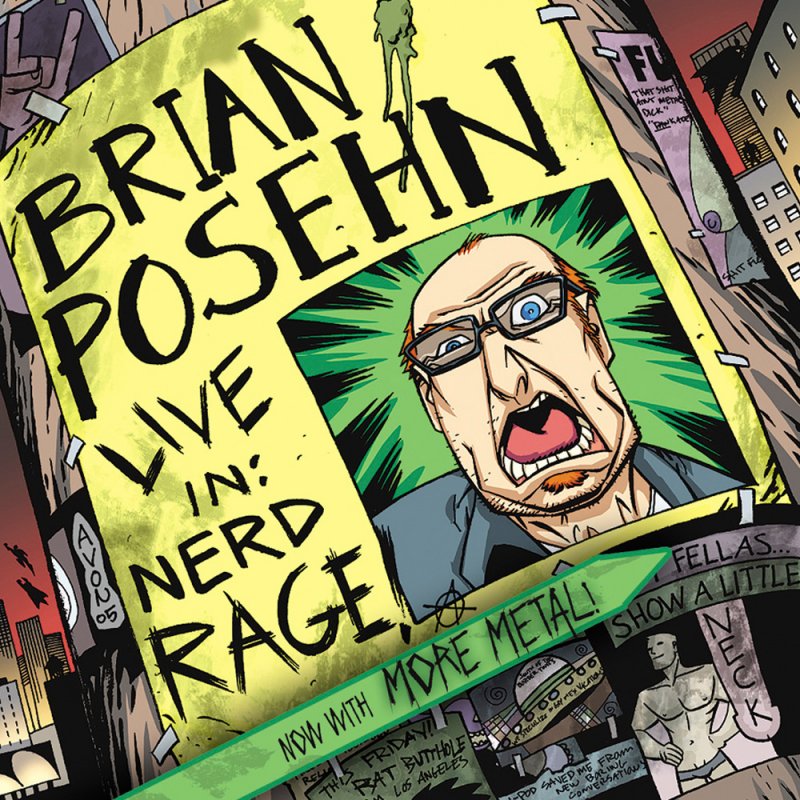 Andrew: It seems like at the moment there's a bit of a thing where people take offense to a lot of stuff that a lot of comics say. Are you aware of that and do you try and stay away from certain subjects?
Brian: Yeah I mean I don't know how prevalent it is over there, that is one of the things that I am currently talking about, is PC culture and my reaction as an old guy to the millenials and all the rules. Yeah, you know it's a big thing, guys like (Jerry) Seinfeld and Chris Rock made big news last year by saying that they don't want to play colleges anymore. [laughs] Those guys don't have to play colleges anymore, they can play wherever they want but it just felt like, pick you're target. But I get what they were going after and I do see PC culture kind of taking over but my friends and I when we're together, there's no taboos and there's certain things that I have always avoided. I've stayed away from politics and religion in my act, more because I felt that other friends were funnier with it and not so much that I didn't want to offend anybody but really because I felt that there are people that do that better. What I do is so silly, I don't really have the kind of act that people are going to be protesting anyway. I'm meaner to myself than any minority, no minority takes a hit in my act, I'm pretty much meaner to myself than I could be to anybody.
Andrew: Well one thing you should know about Aussie audiences is that we're not so PC on certain stuff so I think people are quite open to whatever you want to talk about.
Brian: Right, nice! I can't wait to get over.
Andrew: Do you have any last words for the Aussie fans before you come over in April?
Brian: Are you guys aware of the douche bag that is Guy Fieri or is he not popular over there?
Andrew: I have never heard of him but I'm sure some people may have.
Brian: Oh because I have a 5 minute rant on what a douche bag he is! Do you have the food network or the cooking channel?
Andrew: I think we have our own.
Brian: Right well that's good to know. Did a little research, I won't be talking about him then [laughs].
Andrew: [laughs] Well there you go! Thanks for your time today, much appreciated and we will see you in April. Take care!
Brian: Yeah have a good one, thanks.
BRIAN POSEHN AUSTRALIAN TOUR 2016:
Tuesday 12 April | Rosemount Hotel, Perth
Thursday 14 April | The Gov, Adelaide
Friday 15 April | Corner Hotel, Melbourne (Part of Melbourne Comedy Festival)
Saturday 16 April | Woolly Mammoth, Brisbane
Tuesday 19 April | Factory Theatre, Sydney (Part of Sydney Comedy Festival)
Tickets and tour details can be found at Nice Events.