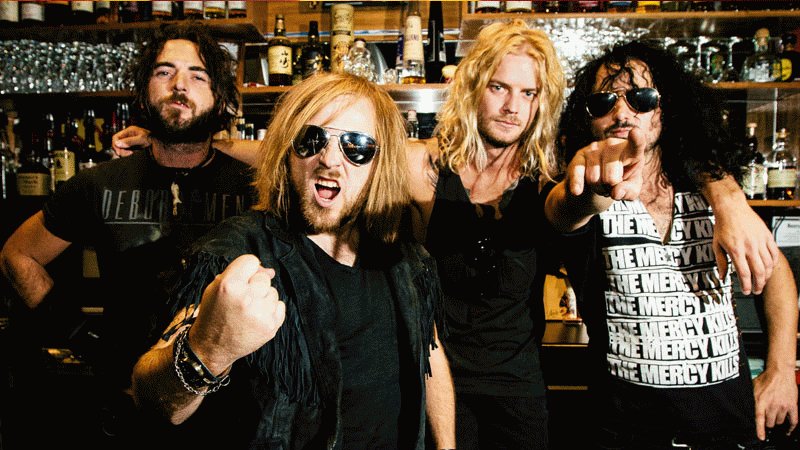 Melbourne hard rockers Massive will release their new album 'Full Throttle' on April 22nd and are hitting the road with The Screaming Jets in May. We caught up with vocalist/guitarist Brad Marr ahead of the release to discuss the new songs and the upcoming tour.
The Rockpit: Thank you for taking the time to talk to the Rockpit. For those who aren't familiar with the band, can you recap how it all started and how you got to where you are today?
Brad: Jarrod and myself filled a bar fridge full of beers in a farm house attic with no idea what we were doing. We wrote 11 songs which would become our debut album. We went to high school together and had been in bands together for the best part of a decade before this. So while Massive hit the ground running, it's been a long time coming for us.
The Rockpit: How would you describe your sound? People are throwing around things like the usual AC/DC comparisons (which is hard to avoid as an Aussie Rock band) but also Motorhead and 'Greenday' have cropped up too – how do you view yourselves?
Brad: Motorhead and Green Day? Haha that's a new one for me. I like it. We don't try to sound like anyone, we all like rock music but we all have very different tastes. I'm your Classic 80s guy, Jarrod is a 70s groove kinda guy, Aidan likes his stoner and metal and Brendan loves the blues. When you put those 4 influences together you don't get AC/DC, you get a pretty varied rock n roll sound.
The Rockpit: Is there a story behind the band name, or is it just a very cool name for a band that makes a lot of great noise?
Brad: There's a story, it's not a very good one haha, we were helping our mate clean out his house and found a giant banner that said massive. We thought to ourselves we've just saved $500 buying a banner if we call the band Massive. End of story. Suits us I reckon.
The Rockpit: You've got your new album launch on April 23rd in Melbourne then May sees you on the road with the Screaming Jets – it must be great to get out there in front of that audience?
Brad: We toured with them last year and by the end we were all great mates. Those guys still know how to rock and we have very similar styles of music. I think we really compliment each other and yeah, you always go out there to try and win over the fans. As the support band you have the odds stacked against you but we like the challenge.
The Rockpit: We're great supporters of local live music, what's the best thing about the Aussie Rock scene at the moment and the best reason to catch one of your shows?
Brad: well for starters the best thing about the local scene at the moment is it's so fucking good! You can see Electric Mary, Tequila Mockingbyrd, Dirt River Radio, Hailmary, Mammoth Mammoth, Empra, Dead City Ruins playing at a local pub and they are all world class! As for the best reason to catch one of our shows, I think we bring a party vibe to rock n roll. It's high energy and it gets everyone dancing. We have a blast doing it and hopefully that translates to the punters in the front row.
The Rockpit: What's it like to step out with legends like Glenn Hughes and ex-Runaway Lita Ford? What do you take from shows like those?
Brad: Glenn Hughes is for me, one of the artists who inspires me. He can still hit notes that he really shouldn't be able to. I think whenever you tour with people who have done it and lived through it you get access to a lifetime of knowledge and experience that you can't get from books or YouTube.
The Rockpit: Your first album 'Full Throttle' got some great reviews – what was the best and worst feedback you got from those?
Brad: There was a lot of really great reviews. The one comment that came up a few times which I feel were not worthy but I'll definitely take was "best debut since Appetite for Destruction". That's like the biggest compliment someone could give me personally haha. The worst review we got said we were an over glorified Air Supply wannabe? I don't hear that at all and not sure that guy listened. Really, Air Supply?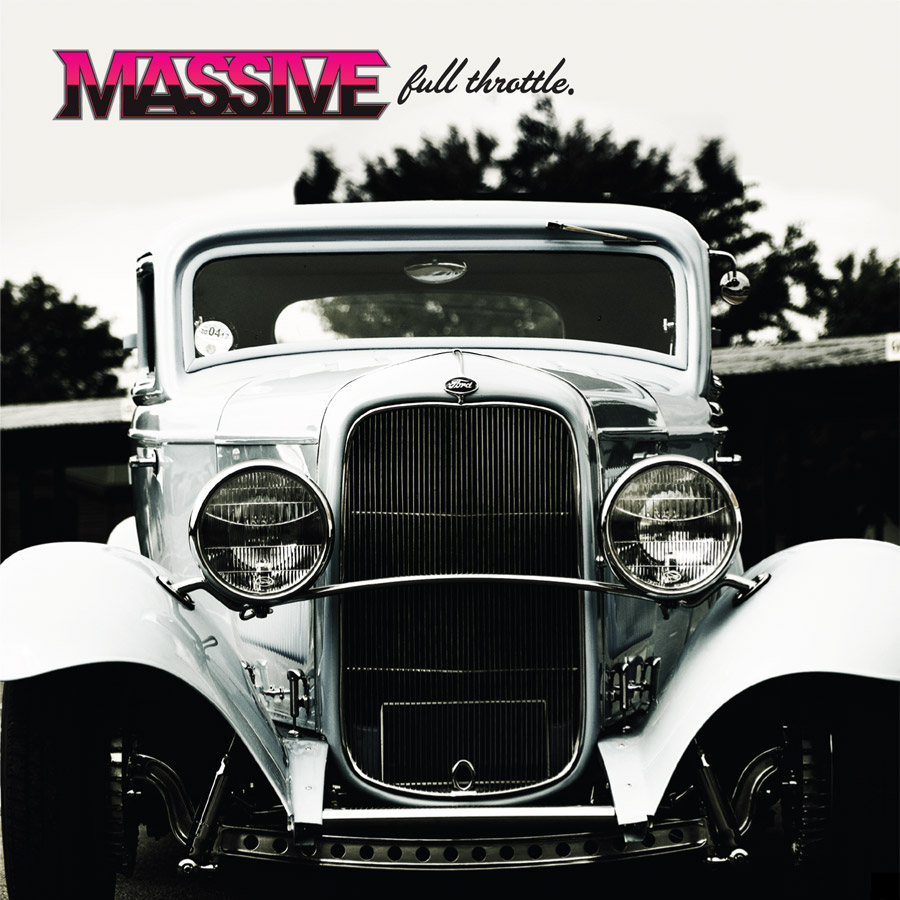 The Rockpit: You've signed to a great management company in Third Verse and a great label – Earache Records who have a killer roster – including Rival Suns, Blackberry Smoke and The Temperance Movement, three bands we really rate highly. Does it inspire you to be in such great company?
Brad: They are some of my favourite bands right there. It's great to know we're in great company. It also reinforces to us that we're playing with the big boys now, we better bring our A game. The great thing about Third Verse and Earache is they are all rock fans. They are not money hungry label execs, they are long haired band shirt wearing punters listening to music because they love it. They are in it for the right reasons and we will do what we can to repay the faith they have all shown in us.
The Rockpit: 'Destination Somewhere' sounds like a step forward for the band, more diverse and more sure-footed, how did it all come together?
Brad: We're more mature as musicians and as a band. We've clocked up over a hundred thousand kms driving and touring. That's a lot of time to spend with a bunch of mates. All those experiences shine through on this album. It was written on the road and it's the overall theme behind the album. So we're really stoked with the end result.
The Rockpit: Playing the album for a few times now it's hard to pick favourites, like all the best albums ours change each listen. What is likely to make it into the live set?
Brad: 'One for the Road' and 'Destination Somewhere' are the 2 singles so far so they will be in it, "Blood Money" is a ripper to play live, gets the blood pumping, then we will rotate the rest depending on how the crowd are responding. It's a strange feeling having 2 albums out meaning we are having to cut songs from our regular set.
The Rockpit: There's a lot of light and shade, and plenty melody and hard rock crunch on the album 'One For the Road' is a great opener with its huge sound and 'Beaten Dog' a great way to close things taking it right down. Was there a lot of discussion about the running order as you seem to have got it spot on?
Brad: There was a lot of discussion and in the end I think we all got our own way without getting it exactly the way we wanted it haha. Group decisions like that are hard and it's such an important decision. The order that people listen to the songs we cant fuck this up! I think we got it pretty right in the end.
The Rockpit: The title track to the album is huge – such a great song, do you know instinctively when you hit on 'gold' like that?
Brad: We get excited with new songs that come together well. With the title track, we knew it was something special, not just because of the music but because of the meaning behind it. If they made a movie about Massive, this song would be the theme song. It's everything that we are compacted into 4 minutes of rock n roll.
The Rockpit: Once the album is out what are your plans for 2016 and beyond?
Brad: Tour. Get back on the road and don't slow down. We obviously have the Jets tour in May, we will probably do our own run after that and we will be back in Europe in the second half of the year.
The Rockpit: What have been your greatest challenges to date, and your favourite moments musically?
Brad: Money? Haha that's always a challenge. Nah I think the biggest challenge is how much touring takes a toll on your mind and body. It's unlike any other job in the world. As for favourite moments, well some of those Europe shows we did supporting Blackberry Smoke to packed theatres were huge. It was just a great tour for us. Reminded us that this is what we want to do for the rest of our lives.

The Rockpit: With technology changing so much over the last few years and seemingly not slowing, and TV force-feeding us the lowest common denominator, what hope is there for rock music?
Brad: It's lasted this long hasn't it? Every generation since the 50s has said rock n roll is dead. I believe good music will always find a way to be heard.
The Rockpit: Thinking back to your early memories of music, what was it that first made you decide you needed to be in a Rock and Roll band?
Brad: Myself and Jarrod went to High School together, we were the guys using our lunchtimes in the music room jamming. It's the only thing we were good at so there wasn't really much of a defining moment where we said lets do this, we are just the 2 guys from high school who haven't grown up.
The Rockpit: From what you've learned so far what is the most valuable advice you've been given so far as a musician?
Brad: Regardless of how high the stakes are or how big you get, it has to remain fun. The day it's not fun is the day you have to question why you're here. Because really who would risk not having a normal lifestyle on a dream that isn't fun.
The Rockpit: Can music still change the world?
Brad: Without sounding cliche, the greatest thing about music is it creates emotion. People put music on to get pumped up for a fight or to feel comfort when they have had a bad break up, it makes people happy or sad or reflective. Anything the alters emotion like that effects the world. I wouldn't want to live in a world without music that's for sure.
The Rockpit: If you could have been a 'Fly on the wall' for the creation of any great album from any period, just to see how the magic happened and it all came together, what would it have been for you any why?
Brad: If I was a fly sitting on a wall for the entire creation of an album then it would have to be Chinese Democracy. I'd be the longest living fly in history haha. In all seriousness though, I would love to watch the Beatles or Led Zeppelin or even early Aerosmith. Albums that still mean so much now using tools that musicians today would struggle getting anything out of it.
The Rockpit: What is the meaning of life?
Brad: Siri says, Life – a principle or force that is considered to underlie the distinctive quality of animate beings.
For full tour info and album details go to Massive Official site