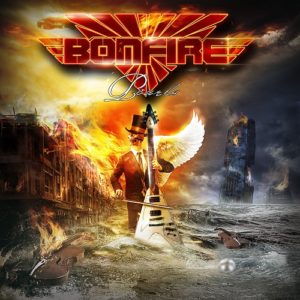 After the release of the first album with only Hans Ziller from the original lineup – last year's surprisingly solid 'Glorious' Bonfire is out again with a double album – half of rerecorded 'Rockers' and half lighter songs from the band's 30 year career recorded with orchestra.
I must admit that I'm not a fan of rerecording classic music – its normally just a money game and rarely a reimagining of great songs of the past, and for every hundred reworkings there's probably one or two I can think of that exceed the original and those only because of advances in production.
The interest here really I guess is hearing how new vocalist David Reece interprets some of the classics I for one really can only hear in my head sung by Claus Lessmann. No disrespect to Reece and co but after a few listens sure the songs are still great, the new recordings pretty faithful too but nothing here sounds better than the originals and why the hell do you put two cover versions on a 13 song disc celebrating your 30 years?
That said there's nothing bad about 'Rock Pearls' and I've always liked Reece's voice, the whole exercise though really just seems to be making a point, and if that point is that the band is carrying on with Ziller at the helm then good luck to them. If you want to hear what David Recce sounds like it's certainly worth a listen but if you want to hear these songs at their best I'd still tack down those original albums, as the older material certainly still stands out from later works.
Most surprising and disappointing about 'Rock Peals' though, is the track selection, with nine of the eleven originals and one cover come from just two albums. Five tracks appear from 2001's 'Strike Ten' album: 'Strike Back'; 'Down to Atlanta'; 'Under Blue Skies'; 'Diamonds in the Rough' and 'Good Time Rock 'N Roll'  and four from 1999's 'Fuel to the Flames': 'Proud of my Country'; 'Heat in the Glow'; 'Don't Go Changing Me' and 'Can't Stop Rocking' plus the cover of 'Sweet Home Alabama'.
That leaves only 2 tracks and one cover from the band's other 12 career spanning albums. For an album that proclaims to be a celebration of 30 years of Bonfire that's not really playing fair.
It's made especially poignant though when those two remaining tracks happen to be the standout tracks and both come from Bonfire's classic 'Fireworks' album (in our opinion one of the most underappreciated Hard Rock albums ever) in 'American Nights' and 'Sweet Obsession' (despite that annoying guitar figure as it opens) which are sandwiched uncomfortably mid-album and burn so bright what comes before and after seems a little disappointing.
The final track 'Loaded Gun' is a classic though – a cover of the Bangalore Choir track from back in the day – Bangalore Choir of course being the band Reece fronted back in the day (Check out 'On Target' if you can).
Second album 'Classic Pearls' is of course a very different proposition and in truth does sound great with the orchestral backing particularly suiting the style of the music without overpowering the band themselves.
'Strike Ten' and 'Fuel to the Fames' sadly still dominate 'Classic Pearls' with two tracks of the nine from each, leaving only five tracks from the rest of the thirty years. We do get the wonderful 'Give It a Try' from Fireworks and the majestic pairing of 'Who's Fooling Who' and 'Why is it Never Enough' from the excellent 'Point Blank' album. Of all the tracks here the 'Who's Fooling Who' reworking is best of all adding a new slant to an already classic song.
Most surprising is perhaps the inclusion of 'You Make Me Feel' from Bonfire's debut 'Don't Touch the Light'.  In all it's a decent album and most of the songs work well, but there are belter Bonfire ballads than 'Southern Winds' and 'I Need You' that I would have preferred to have heard.
With so many great albums over the years it's a real shame that some didn't even get a look in on this Celebration of 30 years of the band. The disappointment of an album so slanted towards two releases – 'Strike Ten' and 'Fuel to the Flames' is the most disappointing aspect of all and the inclusion of two covers (no matter how good they are) is pretty unforgivable. If I had a look back at Bonfire's career it would look very different to this tracklist and so the fact that this is still a remarkable sounding collection says it all really. Long live Bonfire.
TRACKLIST
CD 1: BONFIRE "Rock Pearls" TRACKLIST: 1. Strike Back | 2. Under Blue Skies | 3. Diamonds In The Rough | 4. Proud Of My Country | 5. Sweet Home Alabama (cover track) | 6. Don't Go Changing Me | 7. Sweet Obsession | 8. American Nights | 9. Good Time Rock 'n' Roll | 10. Heat in the Glow | 11. Can´t Stop Rocking | 12. Down To Atlanta | 13. Loaded Gun (cover track)
CD 2: BONFIRE "Classic Pearls" (with the Italian Symphony-Ensemble) TRACKLIST: 1. You Make Me Feel DTTL | 2. Give It A Try FW | 3. Who's Foolin' Who PB | 4. I Need You (ST) | 5. Good Night Amanda FTTF | 6. Southern Winds | 7. If It Wasn't For You | 8. Why Is It Never Enough | 9. Let´s Fly Away
For more information on Pearls and BONFIRE, please visit http://www.udr-music.com/en/artists/bonfire-en.