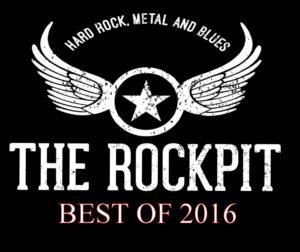 It's that time of the year again when we round up the very best of rock and metal for the year and 2016 had some great releases and some fantastic highlights. From the biggest albums of the year to the local heroes kicking it in the underground, we heard it all and so we present to you our top albums and highlights of 2016. Here is our top metal highlights of the year.
Best Metal Albums of 2016
Counting down the top metal picks of the year.
10. Red Fang – Only Ghosts
Red Fang put out yet another stellar album in "Only Ghosts" which ranks up there with some of their best
work to date. From the grooves to the Sabbath type riffs and psychedelic guitar work, you just can't go
wrong with Red Fang.
Review
9. Testament – Brotherhood Of The Snake
The Bay Area thrashers have been on a roll ever since their reunion back in the early 2000's. From Formation
Of Damnation" to "Dark Roots Of Earth", Testament have done no wrong and this album is an absolute killer
one. All the trademarks are there and then some, thrash metal is still alive!
Review
8. Nucleust – Resistivity
A short but compact EP release from these Aussie progressive metallers made this one of the must-listens of
the year. It's a departure from their previous EP release "Fractured Equilibrium" but more slick, focused
and with a sense of direction filled with a ton of hooks and melodies.Review
7. Temple Of Lies – From Sand
One of the surprises of the year coming out of nowhere (or at least somewhere in the UK anyway!). These
grungy rockers hit you with a whole string of riffs that are catchy as hell, from stoner rock meets
alternative but with a bit of old school touch to it. Great stuff!
Review
6. Anthrax – For All Kings
Anthrax hit it out of the ballpark with this one, it's one of their best efforts yet and shows these guys
have still got what it takes to come up with some truly memorable tracks. There's a lot of classics in the
making here and that's exactly what this album is, classic.
Review
5. Revocation – Great Is Our Sin
After the super heavy "Deathless" in 2014 we didn't know which direction Revocation would go but much to the
delight of many hardcore fans, a lot of the elements that made the band so much fun to listen to on their
early albums have returned albeit in a more refreshed and concise manner. One of the best bands going around
in modern metal today and this album is a great representation of that.
Review
4. Megadeth – Dystopia
Megadeth have always been a hit and miss for some of us but they certainly didn't miss with Dystopia, a
somewhat return to some of their classic sounding albums. Easily one of the best albums they have put out in
20 years and with Lamb Of God's Chris Adler behind the kit on this one, this is definitely one of the top
metal releases of 2016.
Review
3. Metallica – Hardwired…To Self Destruct
One of the most musically controversial metal bands of all time and also happens to be the biggest,
Metallica are always going to be in the firing line among critics and fans but there's not a damn thing
about this album that can be argued. With a nod to their earlier work as well as some of their own musical
influences, "Hardwired…To Self Destruct" is a brilliant album that ticks off all the boxes on what makes
great music.
Review
2. Crisix – From Blue To Black
Not only the best thrash metal album of 2016 but one of the best metal releases of the year period. These
Spanish thrashers are so damn good at the genre that every other band putting on their old school sneakers
and bullet belts and trying their hand at the fast stuff may as well give up, you can't top pure thrash
metal like this.
Review
1. Prong – X-No Absolutes
The top metal album of 2016 has to go to Prong's 10th album "No Absolutes" which is simply perfect in all of
it's headbanging induced glory. No flaws, no fillers, every track has a brilliant riff, a catchy hook and is
sonically extremely pleasing to the ears. What's really amazing is how far into their career they are and
can still deliver material of this quality.
Review
Top Alternative Albums of 2016
1: Inter Arma – Paradise Gallows
2: Ion Dissonance – Cast The First Stone
3: Fallujah – Dreamless
4: Knocked Loose – Laugh Tracks
5: CB Murdoc – Here Be Dragons
6: Meshuggah – The Violent Sleep Of Reason
7: Explosions In The Sky – The Wilderness
8: Earth Ship – Hollowed
9: Candiria – While They Were Sleeping
10: Car Bomb – Meta
Best Live Shows of 2016
1. The Dire Straits Experience – October 13th: Perth, Australia – Review
2. The Sword – February 19th: Perth, Australia – Review
3. Apocalyptica – September 21st: Perth, Australia – Review
4. Lamb Of God – November 3rd: Fremantle, Australia – Review
5. L7 – October 6th: Perth, Australia – Review
6. Black Sabbath – April 15th: Perth, Australia – Review
7. Fear Factory – June 8th: Fremantle, Australia – Review
8. Randy Hansen-Hendrix Revolution – May 24th: Perth, Australia – Review
9. Between The Buried And Me – February 25th: Perth, Australia – Review
10. Nightwish – January 15th: Fremantle, Australia – Review
Compiled by Andrew Massie and Steve Monaghan