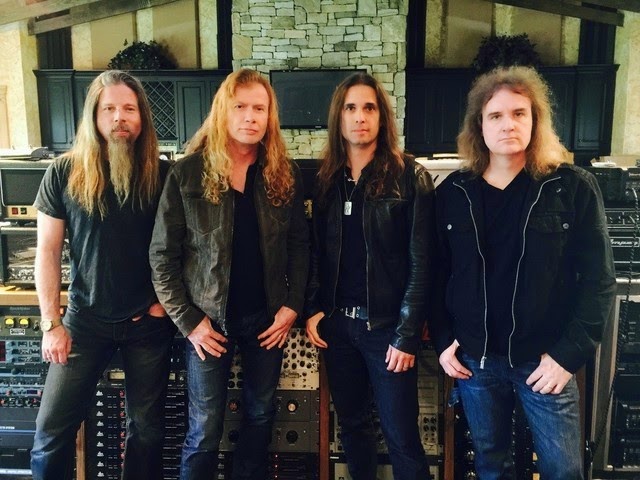 Megadeth are one of the greatest thrash metal bands that has ever lived regardless of whether you like the band, the music or whatever opinion you may have of Dave Mustaine. As part of the big 4 of thrash along with Metallica, Slayer and Anthrax, Megadeth helped not only create the thrash metal genre in the early 1980's but pioneered the scene that still lives to this day. A hugely successful band with millions of records sold, countless tours, memorable songs along with a string of controversies, there is a great story to be told here but more importantly, a number of classic albums that are the staple to any metal fans musical diet. As Megadeth prepare for their first tour in Australia in 5 years along with a new album and a new lineup that also brings in Chris Adler from Lamb Of God on drums for the first time, we thought we would take a look at the back catalogue of one of the greatest metal bands of all time.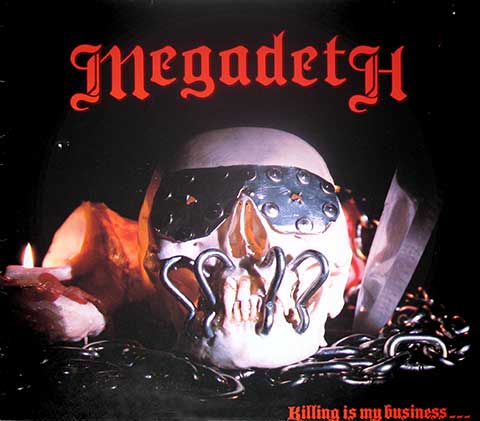 KILLING IS MY BUSINESS…AND BUSINESS IS GOOD!
We start off with their debut album "Killing Is My Business… and Business Is Good!" and already the album was released with some controversy. Before we get into that, the songs themselves are standard thrash fare. By no means were they truly amazing tracks but the idea behind them were groundbreaking for their time, especially since a lot of them were largely written sometime before it's release in 1985. The title track is a highlight as is "Rattlehead" which became the name of the mascot for the band over the years but "Mechanix" will always be a standout track given it was originally written for Metallica, who subsequently re-wrote the song and renamed it "The Four Horsemen" for their debut "Kill 'Em All". Some will argue which is better but the original despite it's cheesy lyrics, was faster and punkier than it's counterpart. One of the most interesting tracks however is the cover version of "These Boots Are Made for Walkin'" originally written by Lee Hazlewood back in 1966 and which sparked outrage from Lee for it's supposed perversion of the original. The track was taken out on future releases but brought back and censored on a remastered version in 2002. There's a lot more to the story behind the album but maybe we will get to that another time but still, not a bad way to start the band's career!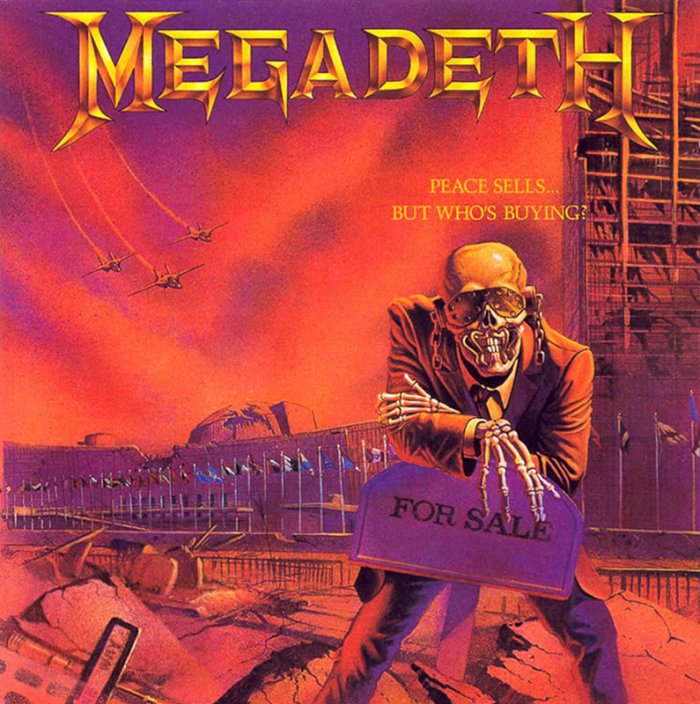 PEACE SELLS…BUT WHO'S BUYING?
It wasn't until their second record a year later that the band started to find their sound and this sophomore effort is considered still to this day an absolute classic and a favorite amongst many fans. The title track is a show closer to almost every Megadeth show and really a timeless song, catchy, grooving and with a memorable title that rings out the song to the end. The other tracks are quite dark lyrically and deal with black magic, superstition and the dark side of the world but it may not come as a surprise that at this time in the band's career, drugs was pretty prevelant. That being said, the songs are great but as we see in the near future, this was only the beginning of greatness.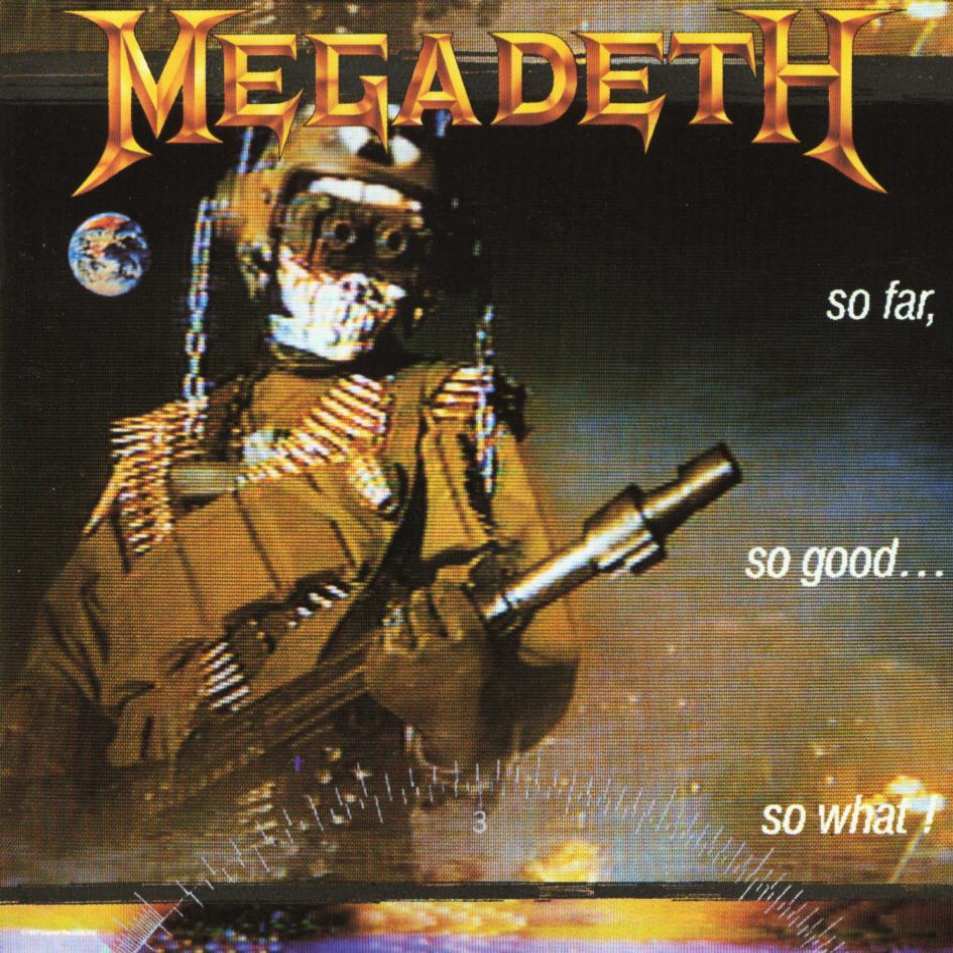 SO FAR, SO GOOD…SO WHAT!
The third album by Megadeth in 1988 saw a change in the lineup which would become a common thing as the years go on with both Dave Mustaine and Dave Ellefson becoming two static members. This album has some truly great songs but in my opinion, is marred slightly by a somewhat poorer sound than "Peace Sells". It took a long time to get past that but the gems found on this album are really great tracks. "Set The World Afire" was the very first Megadeth song, written by Dave Mustaine not long after being fired from Metallica in 1983. Another cover song can be found here in "Anarchy In The UK" which unlike "These Boots", was a seemingly good fit for the band. "In My Darkest Hour" is another song connected to Metallica in that it was written shortly after the news broke that Cliff Burton had died in a bus accident. It's probably the best song on the album and another regular in the band's live set.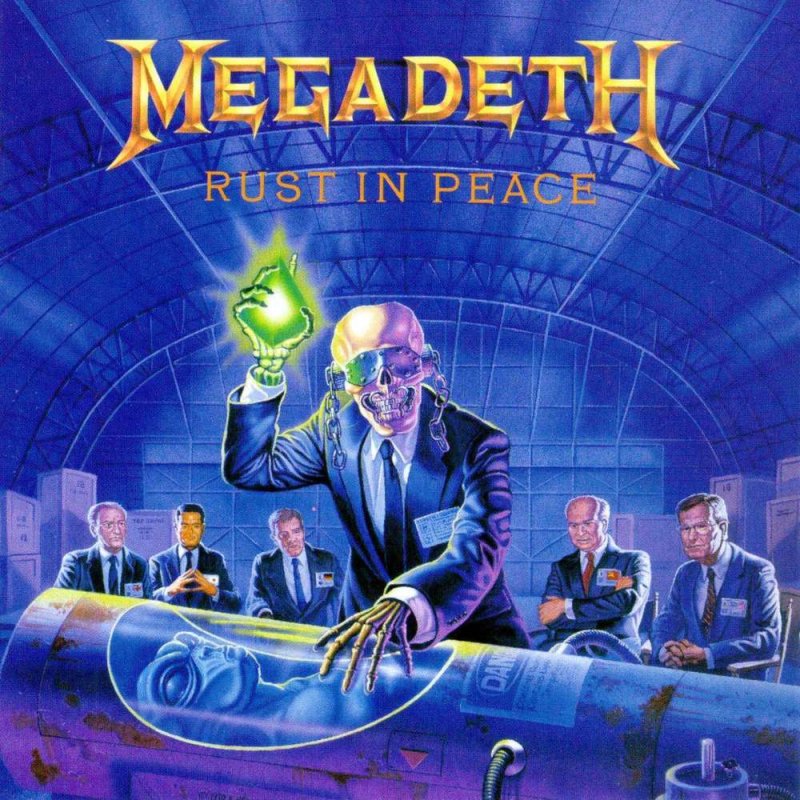 RUST IN PEACE
Here we have what many consider to be the greatest Megadeth album ever and one of the best thrash metal records of all time – "Rust In Peace". Released in 1990, it was the beginning and end of an era for the original wave of thrash metal. Many bands came in the wake or around the time of this album but it became the pinnacle of what truly great thrash metal would become. A flawless album from start to finish, absolutely full of riffs and blistering solos and yet still had the melodies and hooks that captured people's interest. From the opening track "Holy Wars…The Punishment Due" with it's mindbending progressive song structure to the now classic "Hangar 18" to the opus that is the title track "Polaris", this album had it all. Some say it was a downward slope creatively for the band after this but those who were not bound to just the one style of metal saw this as just one of the best albums period. It also heralded what would become the "classic" lineup of Marty Friedman and Nick Menza along with the two Dave's, a lineup that is still being called for a return to. Funnily enough, it almost happened with Megadeth's latest album to be rleeased in 2015 but alas, it was not to be. But if you want to hear what perfect thrash metal is, check this album out.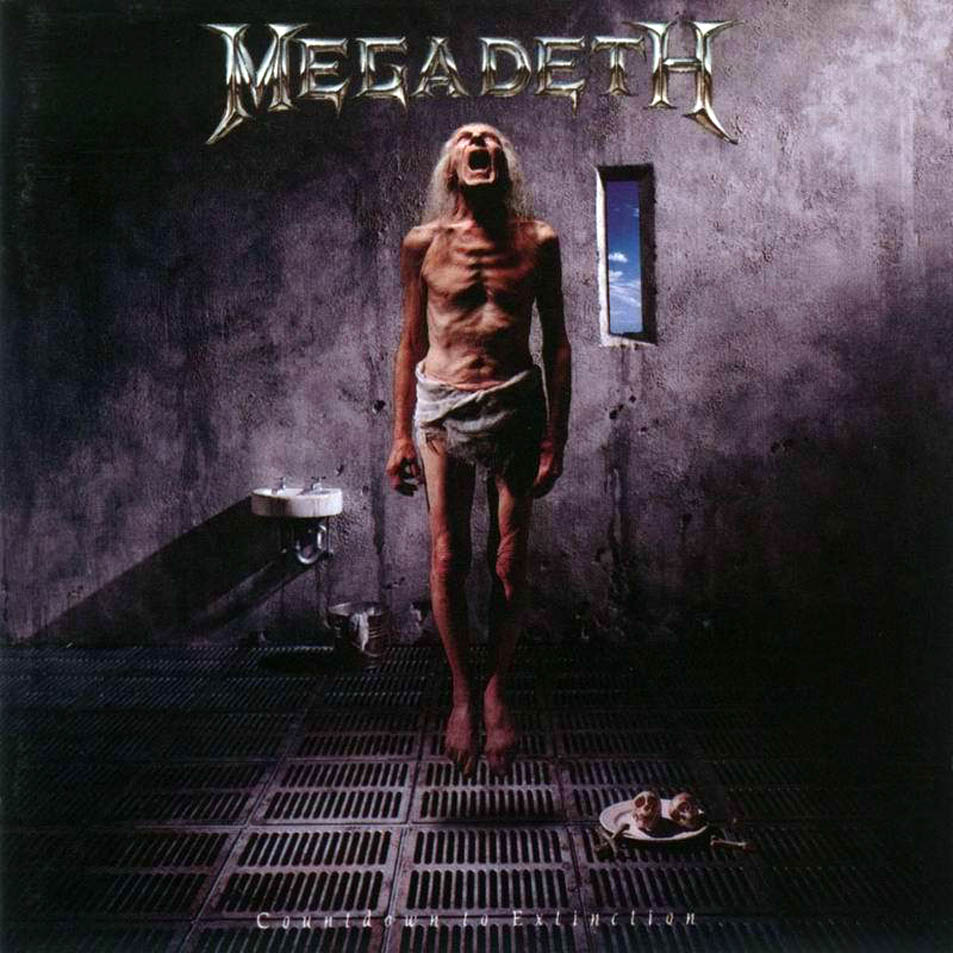 COUNTDOWN TO EXTINCTION
By 1992, Megadeth had already cemented their place in the metal ladder and was up there with the greats. With the success of "Rust In Peace", the band took a slightly different direction with what became their most successful album to date, "Countdown To Extinction". What "Rust In Peace" was to perfect thrash, this album was flawless as far as having the right balance of riffs, memorable solos, groove, heaviness and slick production. By far the best sounding Megadeth album to date, it resonated well with the mainstream and got the band a number 2 slot on the charts. While the songs were more compressed and not as progressive as the earlier stuff, this album still had that massive Megadeth signature sound. In fact that signature sound and style really became stronger from this album onwards and is the benchmark for what Megadeth would forever be known as. The opening track "Skin O' My Teeth" just grooves all the way through with a beautuful mid-tempo beat while "Symphony Of Destruction" would go on to be a classic song that is one of the favorites at the live show, partly due to "Megadeth" being chanted in time with the main riff. And that is exactly what makes this album so great, that those hooks and riffs are just so memorable, they stick in your head for years. When you make music like that, you know you are onto something. Drummer Nick Menza holds back on this album as opposed to the bag of tricks found on "Rust In Peace" but the songs call for it, it's simplicity at it's best and is one of the reasons this album is just so damn good.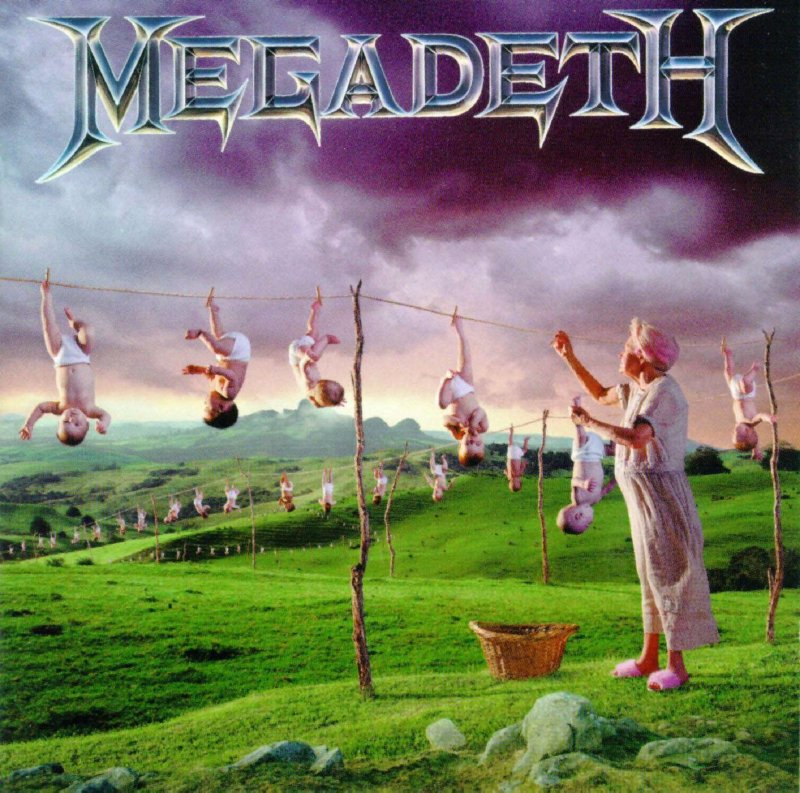 YOUTHANASIA
Two years later saw this album being released as a continuation of "Countdown To Extinction" stylistically speaking. While it was another successful album for the band and many fans regard this as a classic, it was the beginning of where fans started to become divided on Megadeth as it was a bit of a departure from their very early work. Gone were the thrashier riffs and in became a stronger focus on groove and melody but the hooks and the signature sound were still there. "A Toute Le Monde" became a ballad song that resonated very well amongst the fans and has since become a huge regular in the live set but overall there wasn't really any songs that stood out like there had before.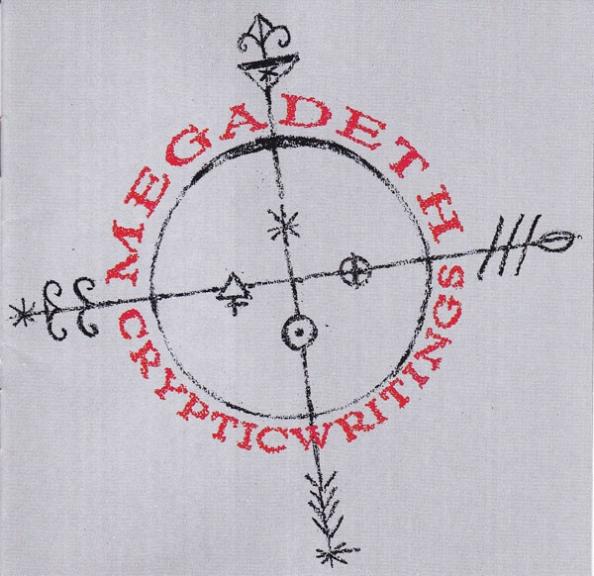 CRYPTIC WRITINGS
1997 saw the release of "Cryptic Writings" which followed on from the last few albums where the focus was on melody and groove. Whereas the thrashier aspect was all but gone on "Youthansia", this album had some blend of the faster riffs along with an even stronger sense of melodic choruses and pockets of mellow parts so the contrast resulted in a different but still great album. "Trust" is a regular on the live set as is "She-Wolf" which harks back to an earlier Megadeth style but songs like "A Secret Place" just had those hooks that really delivered a sense of what Megadeth could do in new territories while keeping intact those memorable riffs that are the main ingredient of their style. It may not be considered up there with earlier albums but this album is defnitely underrated for what it was.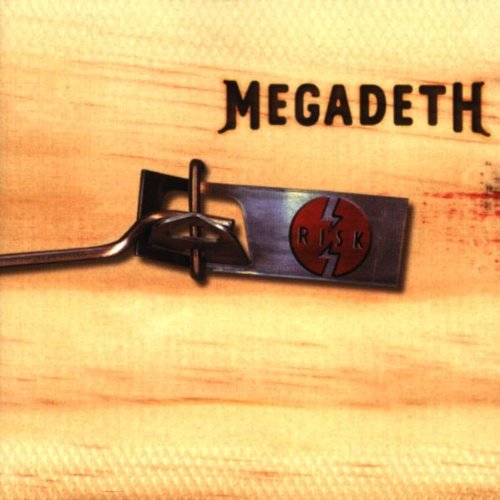 RISK
Controversy rears it's ugly head again but this time on the musical front. While Megadeth had been experiemting and adding to their sound on the last few albums, "Risk" is widely considered to be a huge departure from anything they had done before at this point. With Nick Menza now out of the band and Marty Friedman taking hold of the songwriting more on this one, the result was a very non-Megadeth sounding album, if that makes sense. Virtually none of the trademarks can be found on here aside from subtle hints on "Prince Of Darkness" and "Time: The End", which coincidentally or not, are the two strongest tracks on the album and quite honestly, the only ones really worth anyone's time. The riffs are very loose and layered and a sense of pop rock can be heard through-out the songs. The album title says it all as the band gambled everything for what is now considered a black mark in the band's back catalogue, it also marked the last Megadeth album Marty Friedman appeared on.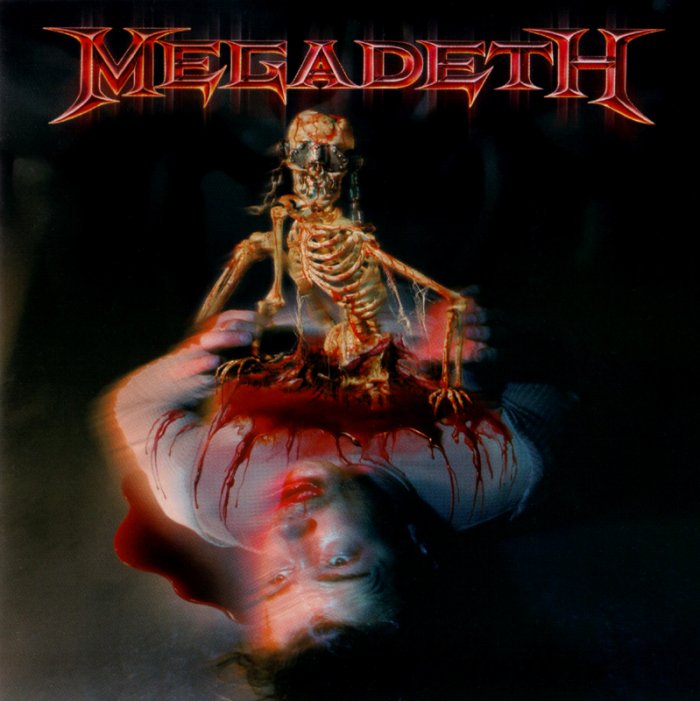 THE WORLD NEEDS A HERO
This ninth studio album released in 2001 marked a much closer return to the vintage Megadeth sound of earlier albums, it also saw Vic Rattlehead make an appearance on the album cover for the first time in more than a decade. Quality-wise, it took a few listens but ultimately turned out to be a fairly solid album. Fans were generally happy that some of the old traits came back, even a return to a classic in a follow up to "Hangar 18" with "Return To Hangar". but the album had it's hit and misses, "Moto Psycho" could have been left out but in contrast, "Losing My Senses" while having a softer touch, is one of the stronger tracks on the album. It was a much needed return to a sound that fans had missed severely.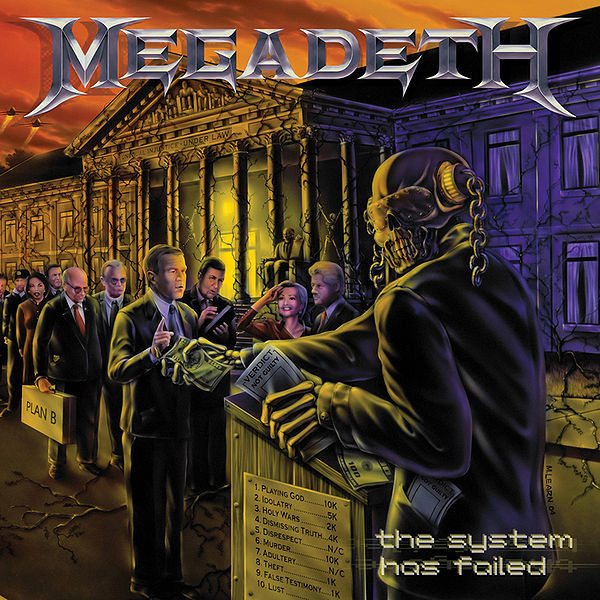 THE SYSTEM HAS FAILED
The album that almost did not happen. "The System Has Failed" was orignally written as a solo album from Dave Mustaine and included session musicians including the return of Chris Poland who appeared on the second and third albums. It was around this time before the album was made that Megadeth was essentially over, original bass player Dave Ellefson did not return to the band and Dave Mustaine himself suffered an arm injury that rendered him unable to play the guitar for a year. But due to contractual obligations, the album was released under the Megadeth name and while it had the Megadeth sound with a strong return to the thrashier style, it was largely a hit and miss. "Kick The Chair" and "The Scorpion" are highlights but not enough to really save the album.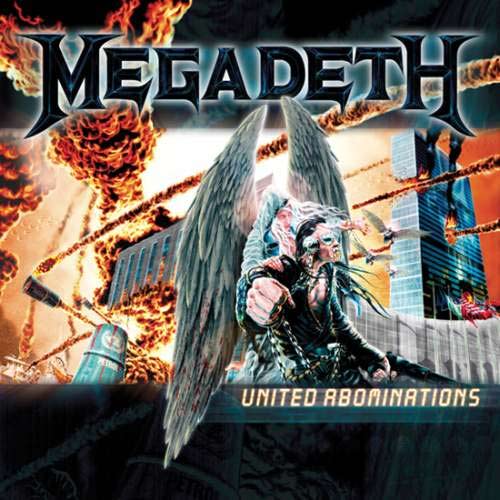 UNITED ABOMINATIONS
The follow up album continued on the same path and again resulted in another hit and miss type effort. An all new lineup including brothers Glen and Shawn Drover saw the album bring more thrashier elements again but what was really missing was the grooves and hooks that were prominent in earlier albums. What sounds good on paper doesn't necessarily work in practice and unfortunately amongst a few little gems like "Never Walk Alone" and "Play For Blood" were too many misses. Interestingly a reworked version of "A Tout Le Monde" featuring Lacuna Coil singer Christina Scabbia is on the album and was performed live with her on subsequent tours.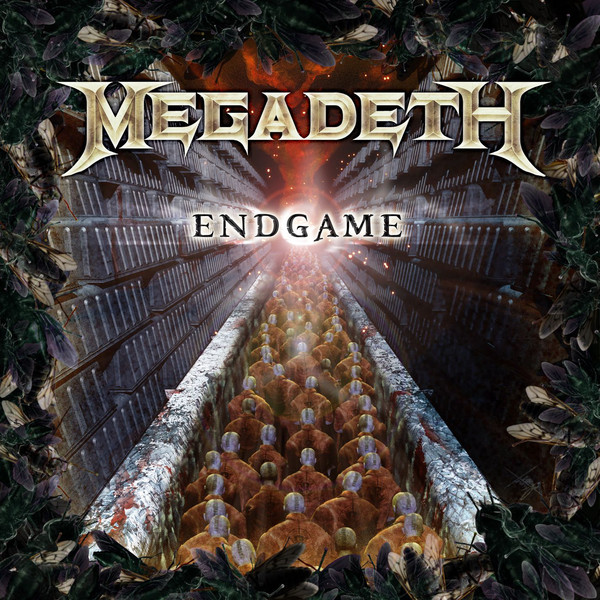 ENDGAME
The 12th album was released in 2009 and saw the band get back to basics in a way. The lead single "Headcrusher", which was similarly cheesy to "The Mechanix", is still a crushing song that had both the groove and thrash aspects working perfect in tandem. The album in general was recieved much better than more recent efforts and it's easy to see why. There was more focus on the songs, the hooks were coming back and guitarist Chris Broderick who made his debut with the band, did a stellar job of handling lead duties. A lot of people credit this as a return to form by Megadeth but it's the next album that takes it a step further.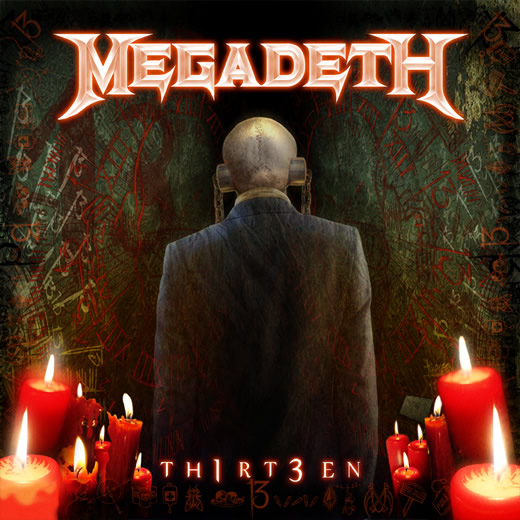 THIRT3EN
The aptly titled thirteenth album saw Megadeth embark on a more focused album again and interestingly enough, a number of reworked older songs were added to the tracklist including an old demo from the early 1990's titled "New World Order" which is one of the better tracks on the album. With some vintage work and a more polished effort, the comparisons to albums like "Countdown To Extinction" and "Youthanasia" were inevitable. Even the single "Public Enemy No. 1" is a decent track so it was great to finally see an all around solid album from Megadeth, certainly the best since "The World Needs A Hero". It also marked the return of original bassist Dave Ellefson who was sorely missed in the previous three albums.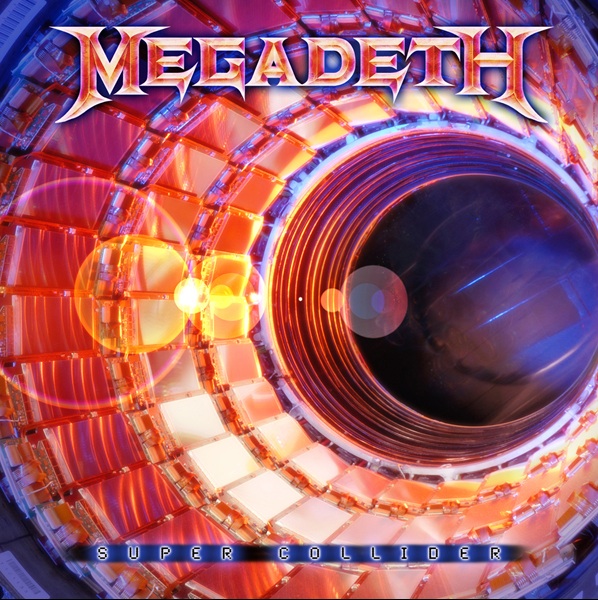 SUPER COLLIDER
Released in 2013 and the final album with Shawn Drover and Chris Broderick, "Super Collider" was received with mixed reviews, mostly negative. What was described in initial reviews was a comparison to "Risk" and while the album is not a super metal one, it was still certainly heavier than "Risk" by all accounts. But like "The System Has Failed" and "United Abominations", "Super Collider" was a hit and miss but leaned more towards the hard rock style than thrash metal. It was a surprise turn considering where the band were going on the previous two albums but ultimately the album didn't go over too well with the fans.
It will be interesting to see where the next Megadeth album goes and whether the addition of Chris Adler and Kiko Loureiro will make the impact that people are expecting it will. But the legacy of Megadeth will always live on and people will always go back to their favorite albums or songs and remember just how important Megadeth is to the metal genre.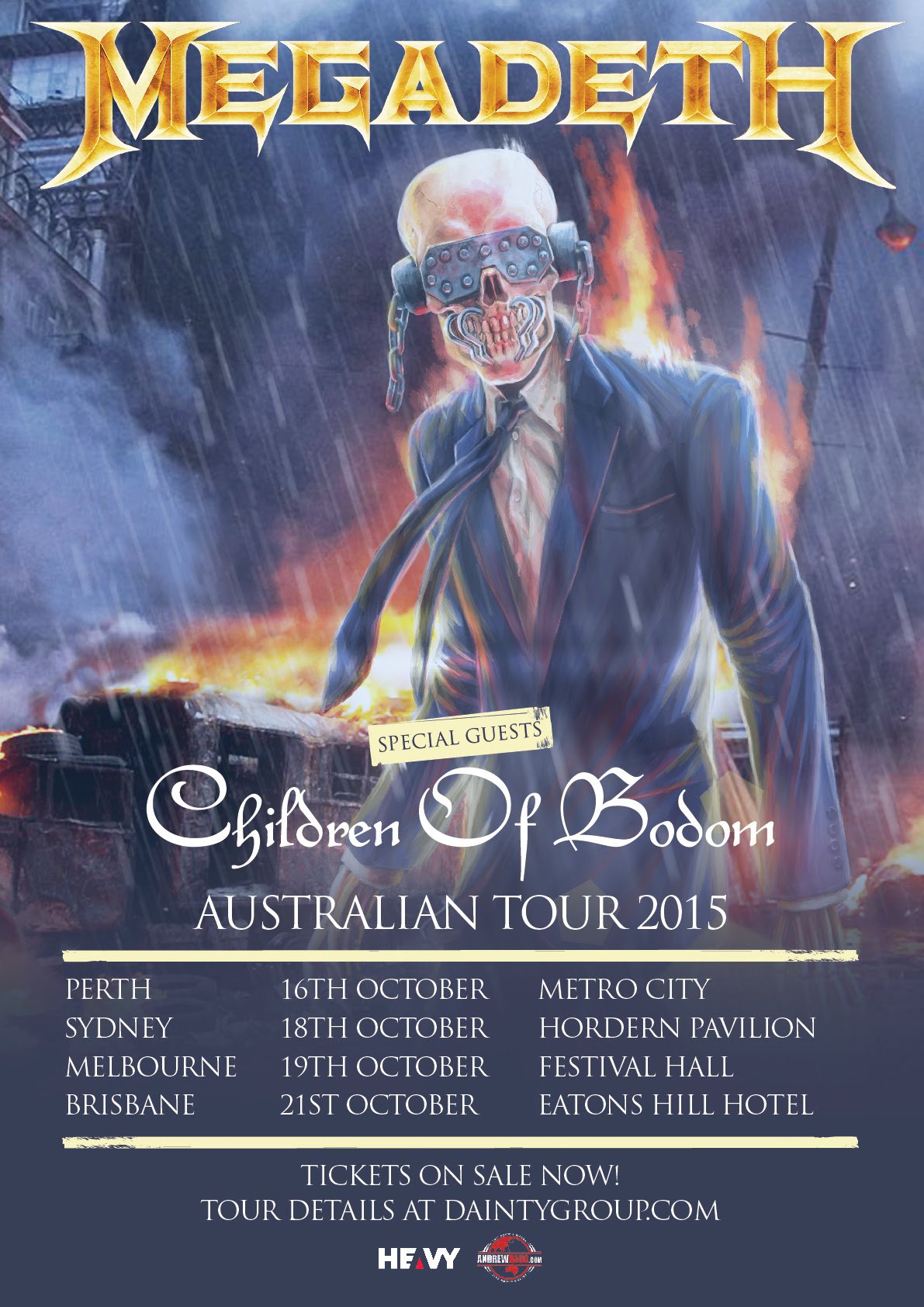 MEGADETH AUSTRALIAN TOUR 2015
with Children Of Bodom
October 16th – Perth: Metro City
October 18th – Sydney: Horden Pavilion
October 19th – Melbourne: Festival Hall
October 21st – Brisbane: Eatons Hill Hotel
Tickets and tour details can be found at Daintygroup.com