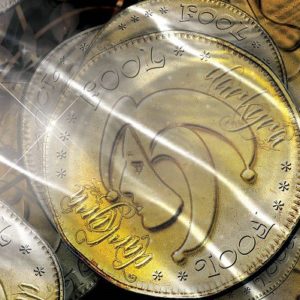 Take a hearty dose of symphonic rock and add a sometimes subtle Gothic undertow, a dash of the sweeping vision of Sisters of Mercy and an Eastern edge to the music and you end up with another fine album. After heartily recommending Darkyra Black's 2014 album 'Dragon's Tears'; new album 'Fool' does what you always hope an artist will do – build upon already solid foundations.  

If anything on this second album the musical palate has expanded and relaxed somewhat, you get the eastern-flavored symphonic rock of 'Pt.2 Behind Closed Doors' and the sweeping, prog-infused symphony of 'Who are they to Judge You' to open what is another concept album. Like its predecessor; this one has a story running through it you see, but it's a story loose enough to allow a host of interesting self-contained stories as different characters visit a wishing well originally built for royalty.

A mixture of epic keys, great vocals, sweeping themes and lyrics and real rock sensibilities at times it's hard to imagine that Darkyra Black is a product of Western Australia – this sounds as grand and as epic as the sort of music we hear in this genre in Europe and Gina Bafile and co have produced an album that will get noticed by many fans of the genre.

If you are looking for standouts then perhaps 'Truth Or Dare' is the most immediate track here with a great all round band performance, though the great melodic rocker that follows – 'Of Fools and Gold' really opens the box and lets loose musically – it's a huge song that really makes you think of Darkyra Black in the same breath as 'Nightwish'; 'Within Temptation' or 'Epica'.

Elsewhere the key-led 'It Takes All Kinds Of Fools' is breathtaking as is the more Metallic 'Fountain Of Frozen Dreams' which leads into a reprise of the opening number. This is powerful stuff, sure-footed, beautifully executed and well-produced.

When we reviewed Dragon's Tears' we said "…this is a great album, with a great amount of talent behind it, none more so than Black who is sure to rise to prominence on the scene if she can get this project out of the studio." The good news is that she has done just that, the band rechristened 'Darkyra' is just about to embark on its first European Tour. We imagine they will go down a storm.