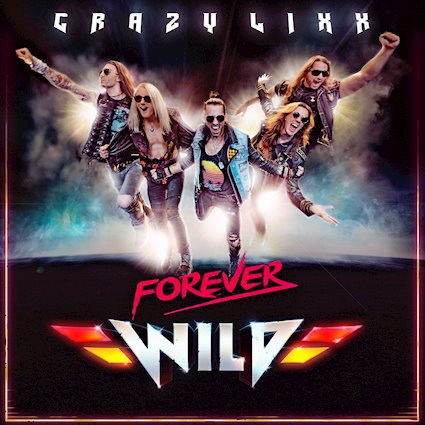 In November 2007 when Crazy Lixx released their first album 'Loud Minority' the highs and excesses of 80's Hard Rock were already almost two decades in the rear-view mirror, now in 2019 their sixth album 'Forever Wild' is just about to hit, and we've a dozen more years on the clock. To fans like you and I of course none of that matters, 80's hard rock – the kind purveyed by the likes of Guns 'n' Roses, Aerosmith,Whitesnake, Def Leppard, Skid Row, Mötley Crüe and countless others is eternal and Crazy Lixx are one of the leaders of the Scandinavian led '80s hard rock revival.
Over the years when a band has produced such an amazing set of albums the first thing that always runs through your head is, where does this new album sit in their catalogue? Is it as cool as their last outing 2017's 'Ruff Justice'?  Is it up there with the very best? Let's just say at this stage that we're in very safe hands.
With the band's line-up now stable after a few changes in personnel over the years this is also guitarists Chrisse Olsson and Jens Lundgren's second release, and the first time the band have released two albums with the same line-up. Like on 'Ruff Justice' they once again prove to be great foils for both Danny Rexon's songwriting and each other. Along with founder member Joél Cirera (drums) and Jens Sjöholm (bass) they sound like a band with one aim –  to raise that already high bar they've set for themselves, even higher.
Stating off with the biggest of bangs is always a sure-fire winner and like 'Ruff Justice' started off with similarly impressive fireworks so does this new record: 'Wicked' is a huge song, a hard rocking anthem that signals Crazy Lixx is back and firing on all cylinders. When 'Break Out' hits it's a feeling of elation – its an uplifting song that hits the groove like vintage Bon Jovi meets Def Leppard and just has you smiling ear to ear. By the third song –  the sweet AOR of upcoming single 'Silent Thunder' you know that 'Forever Wild' is going to be right up there with their best.

Next comes one of the songs that Crazy Lixx do best of all '(She's Wearing) Yesterday's Face' captures that real cool Skid Row-like groove and grind perfectly. It's the next song though, 'Eagle' the longest song here at over six minutes, that sets new ground. Given time to breathe and build, it does so impressively to become an absolutely huge song like the best AOR of bands like Foreigner, it really is sooo good I had to pause and replay it, even on the first listen. 
'Terminal Velocity' that follows is another great rocker with a big chorus that builds smoothly and hits the spot, and 'It's You' with its lighter almost poppy chorus is simply huge! It's right up there with the best here, along with 'Eagle' but the two songs themselves couldn't be more different. This is some album already!

'Love Don't Live Here Anymore' of course is the huge ballad you've been waiting for and takes the mood right down beautifully with lashings of AOR tear-jerking style. Before you know though comes the penultimate track 'Weekend Lover' which lets you know that the heart and soul of this album is Rock and Roll in no uncertain terms, its a great song with those soaring gang backing-vocals and plenty of cool and attitude. That leaves just 'Never Die (Forever Wild)' to wrap up proceedings and it does so in style – its a song that has great drive, wonderful guitars and a chorus that will stick in your head for days: a wonderful way to close.

Crazy Lixx have more than delivered again, producing an album that hits all the rights spots time and again. If you like your Hard Rock with the distinct taste of the '80's glory years then this certainly has that, it also sports huge sing-along choruses, giant hooks, killer riffs, memorable tunes and killer production (courtesy again of Danny Rexon and Chris Laney). If you're already a fan of the band then you'll love this but if you've yet to discover the band but love those names that we checked at the start of the review – then this is a band for you too.
Like 'Ruff Justice' this is an album that sonically feels like the band of old but this time there's just that little more variety. It's an album that is confident, slick and full of passion, but Crazy Lixx here prove beyond doubt that they're not one of the pack, they are right out in front of the game. No one else does it quite this well and this could well be their best yet. Simply amazing, and already my front-runner for the best of the year.
Tracklisting: 1. Wicked | 2. Break Out | 3.Silent Thunder | 4. (She's Wearing) Yesterday's Face | 5. Eagle |6. Terminal Velocity | 7.It's You |8. Love Don't Live Here Anymore | 9. Weekend Lover | 10 Never Die (Forever Wild)
Line-up: Danny Rexon – vocals | Joél Cirera – drums | Jens Sjöholm – bass guitar | Chrisse Olsson – guitar | Jens Lundgren – guitar