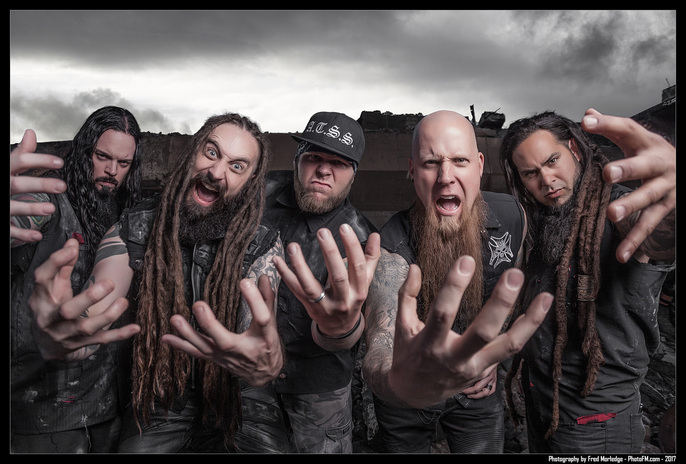 Las Vegas Metal Band Invidia will be joining Over Kill, Crowbar, and others on the upcoming Metal Alliance Tour! Launching tomorrow in Joliet, IL, the tour winds through North America before finishing September 30 in Easton, PA.
We're honored to tour with such metal royalty. We cant wait to share the stage on this run and finally play for all our east coast fans. – Invidia
It may sound trite, but Invidia is truly a brotherhood. Each member of this brotherhood has a story that reflects the quote above. When they came together to make As The Sun Sleeps, they knew just what they didn't want and how far they were willing to go to make it work on their terms. INVIDIA features former members of Five Finger Death Punch and Skinlab. Recently Invidia announced the addition of Evan Seidlitz as the newest member of the band, replacing vocalist Travis Johnson. Seidlitz is no stranger to the frontman spotlight, known for his work in VYCES, Thrown Into Exile and Grimace. The band is very excited to be on this new journey with Seidlitz and has no doubts that fans will be pleased with what he has to bring to the table.
Hot on the heels of the release of their debut As The Sun Sleeps, Invidia are set to return to the road this summer first in support of Wednesday 13 through July. Then following a quick break the band will devastate the nation again as part of the Metal Alliance Tour alongside Overkill,
Metal Alliance Tour Dates:
9/8 – Joliet, IL @ The Forge
9/10 – Pontiac, MI @ The Crofoot Ballroom
9/11 – Pittsburgh, PA @ Diesel
9/12 – Rochester, NY @ The German House Theater
9/13 – New York, NY @ Irving Plaza
9/14 – Richmond, VA @ The Canal Club
9/15 – Atlanta, GA @ Masquerade
9/16 – Ft. Lauderdale, FL @ Culture Room
9/17 – St. Petersburg, FL @ The State Theatre
9/18 – New Orleans, LA @ Southport Hall
9/19 – Austin, TX @ Come And Take It Live
9/20 – Dallas, TX @ Gas Monkey Bar & Grill
9/22 – Mesa, AZ @ Club Red
9/23 – Pomona, CA @ The Glass House
9/24 – Las Vegas, NV @ Brooklyn Bowl
9/25 – Salt Lake City, UT @ The Grand @ The Complex
9/26 – Denver, CO @ The Summit Music Hall
9/28 – Waterloo, IA @ Spicoli's
9/29 – Dayton, OH @ Oddbody's Music Room
9/30 – Easton, PA @ One Centre Square