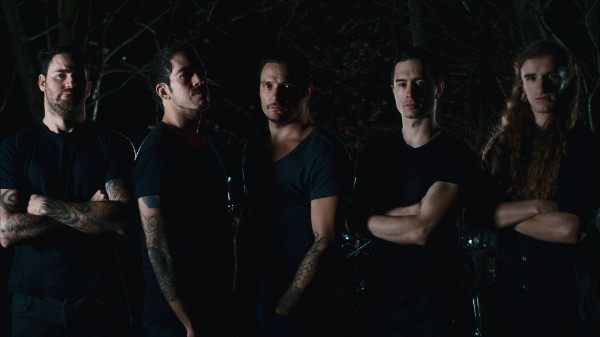 Following their recent announcement of joining the Incendia Music roster, Nottingham based metal outfit The Five Hundred are set to obliterate the scene with their blend of crushingly euphoric and infectious metal.
Big things are on the horizon for the Nottingham-Gibraltar quintet who are raring to set their career ablaze. The band have just launched a new music video for their track 'Ghost In The Flames', which is taken from their second EP release 'The Veil', out now.
Metal Hammer premiered the video which can be viewed HERE
Filmed and directed by Loki Films, the track is taken from The Five Hundred's latest release, The Veil, that was produced by Justin Hill (SiKth, Heart Of A Coward, Betraying The Martyrs).
This is what the band have to say about the story behind the video for 'Ghost In The Flames'
"Ghost In Flames is inspired by the short novel Outer Darkness penned by American writer Grant Skelton, which is taken from the Book Of Blasphemous Words, a weird horror fiction anthology about humanity's relationship with its gods. Not so long ago, human beings were cursed with fear. They clamored for hope in a world of boundless suffering and death. They called out to the heavens and summoned gods. They crafted religions that would serve as a candle against the howling night. We've always been fascinated by how organised religion profiteered from people's fear of death over the centuries, and found it hard to believe that it still exists to this day, in the age of information. Skelton's story about Malcolm Colt, an exorcist with a reality television show…and a very sinister secret, jumped out at us for its modern take on how men of the cloth look to make a profit from people's beliefs."
The Five Hundred are a five-man musical wrecking machine dedicated to pulverising eardrums and rattling bones across the metal landscape. Dealing in an array of down-tuned riffs and barbed hooks, the UK/Gibraltarian quintet unleash an avalanche of crushing groove and belligerent aggression, broken up by some searing leads, haunting vocal melodies and devastating, earth-shaking breakdowns.
Delivering a potent soundtrack to urban warfare and social discontent, the band have shared stages with groups ranging from brutal grind-fathers Napalm Death and industrial pioneers Fear Factory through to progressive death metallers All Shall Perish and metal media darlings Architects & Tesseract.
The recent switch to 8 string guitars has given the five-piece new found power and enabled them to stretch their technical abilities to new heights. The Five Hundred's debut EP saw their single premiered by Kerrang! Radio (Alex Baker's Fresh Blood show), and their video premiered by Metal Hammer, REVOLVER Magazine and Heavy Music Magazine, as well as airplay on BBC Radio 1's Rock Show by Daniel P. Carter.
'THE VEIL' CAN BE PURCHASED AT:
Bandcamp
iTunes
STREAM 'THE VEIL' AT:
Spotify
iTunes
The Five Hundred have recently announced a headline show in Norwich and a support show to BlessTheFall in Nottingham.
September 23 – B2 Venue – Norwich (Headline)
September 30 – Rescue Rooms – Nottingham (Support to BlessTheFall)