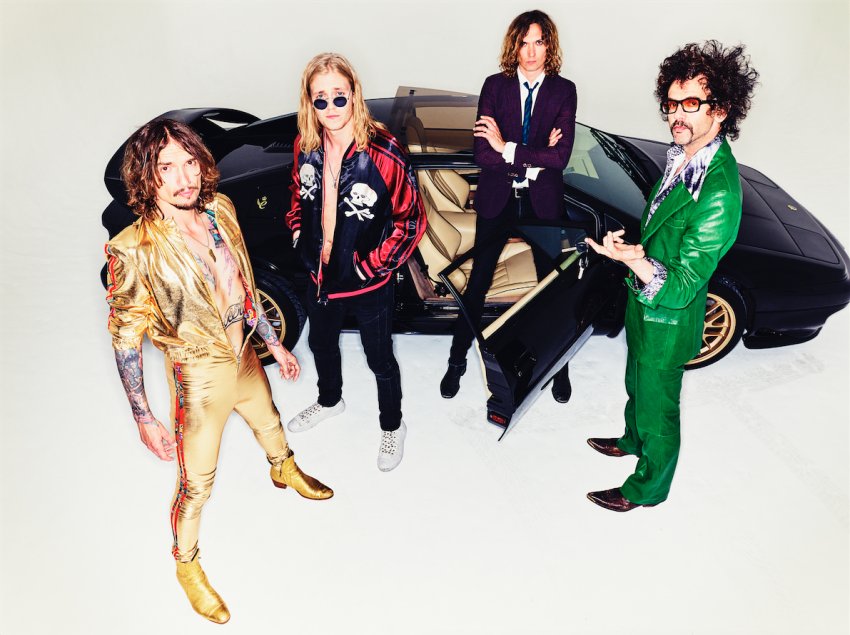 The Darkness have today released their expletive-drenched new single Solid Gold via Cooking Vinyl, accompanied by a video of the self-proclaimed rock legends performing in a huge aircraft hanger amongst a mass of glam-rock lighting and Marshall speaker stacks.

Frontman Justin Hawkins announces, "We have written this song to reassure you all that having now released more music in the period after our well publicised hiatus than in the period before it, we have no intention whatsoever of stopping. Hence the lyric "We're never gonna stop… Shitting out solid gold". Barring any unforeseen circumstances, The Darkness will always be here to delight and beguile. You're welcome."
An absolute monster of a rock song, Solid Gold takes no prisoners whatsoever, taking direct aim at the music industry and addressing record companies, egos and the insincerity that comes with it. It will make uncomfortable listening for A&R men everywhere…
"There's a guy coming down from Sony / Artist and Repertoire
If he likes what he hears in those stupid ears / I can buy myself a faster car
Blowing smoke up our arses / Everything we do is ace
He wants to wine and dine us / He's desperate to sign us
Cos we melted his fucking face"
Well, you don't get that from Ed Sheeran!
Solid Gold is the latest single to be taken from The Darkness' forthcoming album Pinewood Smile, out October 6 through Cooking Vinyl.
Watch the video for Solid Gold here:
It follows the release of the glorious, hard-rockin', autobiographical lead single All The Pretty Girls. Both singles are available on all streaming platforms and also available for download with pre-orders of the album for the instant gratification of fans.
PRE-ORDER PINEWOOD SMILE HERE
Pinewood Smile finds The Darkness on electrifying form, delivering some of the most sharp-witted, infectious, humorous and downright brilliant songs of their career. The album is also the first to feature the drumming and vocal talents of new band member Rufus Tiger Taylor, son of Queen legend Roger Taylor, who shares vocal duties with Justin on two of the tracks.