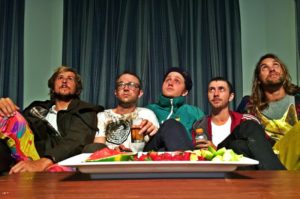 Sydney's "funk punks" Borneo are today excited to release their debut EP 'Alert!' via Habit. To celebrate the release, the five-piece will be bringing their music to live stages along the east coast, playing seven shows across Brisbane, Byron Bay, Gold Coast, Melbourne, Newcastle, and Sydney.
Recorded in Byron Bay with Julian Abbott at No Wave Studios, and in New Zealand with Edward Castelow (Dictaphone Blues) the 'Alert!' EP sees the band tackling some big themes, and as Borneo spokesperson Tubby John describes, "these themes tie back to a question: What does freedom really mean? There's more to life and more to the human conversation than what we believe or what we are told".
"The Alert! EP is the first body of work for the band and the first time we've had a feeling of marrying sounds with concept. Over the last few years Wally (Synths) and Wez (Guitars) both joined the band, each bringing a flavor of ice cream that has transformed Borneo's sound. This debut EP is the first sign of us becoming a consolidated flavor of ice cream; funky punk Sorbet."
Calling Sydney their home, where they have been selling out headline shows, and causing a ruckus on the live circuit, Borneo have crafted a unique blend of dance-punk, influenced by the likes of Devo, The Oils, and The John Steel Singers.
Their previous single 'Hold Me In The River' was added to rotation on FBi Radio, with the music video being allocated a spot on Rage. The track was shown strong support from Triple J presenters such as Zan Rowe saying it "makes me wanna run a marathon while dancing" and Gemma Pike giving the track 4 stars. The single was launched with a very impressive sold out headline show at the Brighton Upbar – no doubt a sign of things to come!
Last year was spent touring the east coast and New Zealand multiple times, along with a slot at Surry Hills Festival. 2017 sees these foundations coming to fruition this year with the May release of their debut EP 'Alert!'.
THE 'ALERT!' EAST COAST TOUR
Friday 26th May, Rare Finds, Black Bear Lodge, Brisbane
Saturday 27th May, The Great Northern, Byron Bay
Sunday May 28th, Prose Art Space, Gold Coast
Thursday 1st June, Woody's, Collingwood, Melbourne
Friday 2nd June, The Yarra, Abbotsford, Melbourne
Thursday 8th June, The Lass O'Gowrie, Newcastle
Friday 9th June, The Captain Cook, Sydney