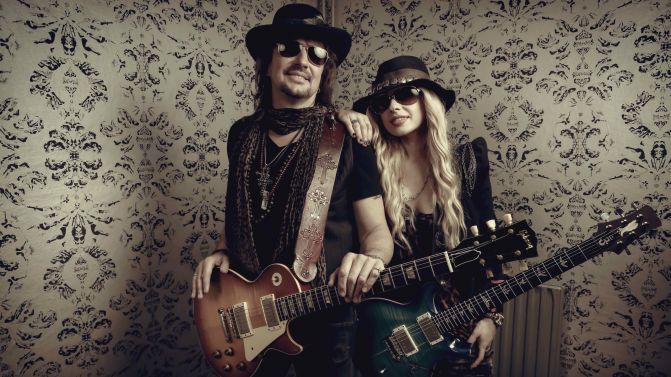 Whatever your take on the whole Bon Jovi saga the new Ritchie Sambora release was always going to attract a certain level of attention from Bon Jovi fans. With Jon going his own way there was a feeling out there that Ritchie might just pull a real Rock and Roll rabbit from the hat. After all we've been more than teased and tempted in the lead up – back in January Ritchie was quoted as saying:
"We have an open door policy at my house so you never know who is going to walk in. We've been working with Robby Krieger, Greg Allman and Billy Gibbons….. we're probably going to lay a new song on you guys at NAMM"
So critical it seems was that day in the studio and so very special that just over a year later that release is due to land. (yes that day made all the difference in the year that followed.) With all the anticipation of those 22 songs AND that something extra special, so incredibly special it seems that it had to take precedence over playing for the fans and absolutely couldn't wait there was only one possible explanation- this double album was going to be so earth-shatteringly good that it was gonna be like all your Christmas all come at once… surely?
In eager anticipation I headed straight for the Ritchie Sambora website – but hold on it's still under construction, a new site is on the way… Not a problem I hit the RSO website – which just offered a 'sign up for updates' (yeah enter you details and hit 'submit query' – submit query???). No worries next I hit Facebook and found the Ritchie Sambora page had become the RSO page, there was no real news there just a header with the release date and presumably the album cover but no details. Still no problem we hit the RSO Facebook page – not a lot on there either really.
Checking back a day before the release and it's still the same and trying to find details has to be the most frustrating thing ever. Is this record being marketed at all? Is it still being released? Is it still a double album?
STEP FORWARD TO 29th SEPTEMBER
After a few hours this morning trying to find the release I gave up, though it appears the potential double-album has now become a five-track EP.  There's also a track-listing practically nowhere to be found prior to 29th September here down-under, though after the US clicks into Friday all the usual online and streaming suspects put up the EP for the eager masses.
Out of the 25 or so tracks Sambora and Orianthi say they recorded, they chose what you might call a 'mix of styles' for the five track EP. It's certainly a product that is 'Pop' to the core and to be honest rather self-referential – with most lyrics reflecting on the "trials and tribulations" of their own relationship. The most surprising thing though is not the length of time we've had to wait, nor the self-absorbed lyrical content, not even the brevity of what has eventuated (though we are promised there will be another release this year) its the fact that there are so few guitars on here.
In the end it's all rather underwhelming in almost every way. We should I guess have taken heed of when Ritchie warmed us "People think we're just the guitar players — that's what we do…"
Opener 'Rise' might be the best here and certainly the most 'Rock' of the 5 tracks but it's rather confused, a little angry and a little forgettable… but it does get worse. No one for example could accuse 'Masterpiece' of being anything more than a 'Pop Idol' styled rather soulless piece of 'fluff'. Flick on any radio and you'll hear a thousand songs like it but better, and to be honest its not the best title for such an uninspiring listen.
'Truth' sees Ritchie take the spotlight, it's a better song, still slow and creeps in with a piano before a pretty decent harmony, it's a great sketch, a nice idea but feels strangely unresolved. Things stay light with a gentle country flavour on the next and whilst he manages to muster a bit of feeling on 'Take Me' is all rather cliched and downcast.
That leaves us with the closing track 'Good Times' a country song that sees Ritchie and Orianthi duet, now I'll be the first to admit I'm not a huge fan of the genre, but to me this is the only song here that seems to really gel. It's a track not unlike material on Bon Jovi's 'Lost Highway' and is only ruined for me by the 'token' inclusion of a dose of Rap by 'K-OS' (possibly not their real name and strangely the only think I can think of that Rap has in common with Hair Metal – the belief that making up crap pseudonyms is cool?).
I still have no idea if this release is available other than just via download or streaming, and as to that 'Something Special' we were promised? Maybe that is the Reggae version of 'Good Times' which comes as a bonus track, actually maybe not, I love Reggae myself but this isn't a particularly rewarding a listen.
'Car wreck' might be unkind, but to be honest if it wasn't for that last track we wouldn't be too far from the truth. I don't know what happens next, but I care, I've grown up listening to Ritchie and as a woman I am inspired and awestruck by what Orianthi has down so far, but this just isn't right. I didn't write this to disrespect or hurt anyone I wrote it because I care and really hoped that this was the start of something wonderful. I hope its just a case of throwing things out there to see what sticks because I'd hate to see the next EP follow the same unfocused path. maybe put this one down to a slight misstep in two wonderful careers.