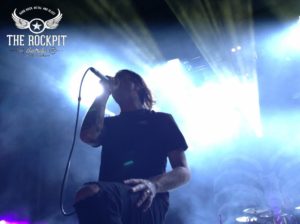 2016 was difficult for metal festivals in Australia given the big hole Soundwave Festival amongst others had left since their cancellations. One such festival that put on a smaller scale event was Redfest which was held at the beautiful Red Hill Auditorium in the hills of Perth and featured such Aussie acts as The Amity Affliction, Northlane, Deez Nuts and more. It was the final show of the year and one that many may not forget.
New Years Eve in Perth is set to be a monsterous night, with a hardcore lineup for Redfest at Red Hill Auditorium that's sure to rock you into 2017.
First up on stage were Perth's very own Savior. After welcoming everyone to Redfest they got straight into it. A crowd gathered as they got the party started with some infectious tunes that really got you into the mood early. The pit had started early tonight!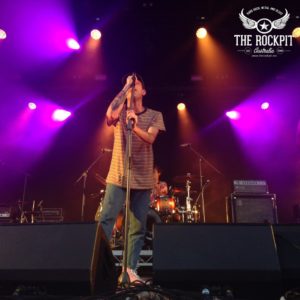 Next up were Sydney's Hellions. With Dre Faivre's (Who later on came out with Northlane) awesome vocals Hellions certainly didn't let the Australian side down, playing songs from the new album Opera Oblivia to hardcore perfection. Definitely a stand out of the night.
We then came to Make them suffer These guys were hard and heavy. The pit was chaos as these guys ploughed through one hell of a heavy and violent set. They were tight and brutal.
Hardcore Punk band Deez Nuts jumped on stage and really lit up the stage with some full on hardcore songs like 'If you dont know now you know'. Legendary frontman JJ Peters tore up the stage commanding the crowd to jump around and get messy with him.
Northlane exploded on stage with a mixture of amazing lights and sounds. They were surreal tonight, I'm personally a big fan and when they played 'Dispossession' I was in awe of the talent that these guys produce not only on their albums but in their live performance. I strongly urge you to see Northlane when they come around again, an absolutely mind blowing set from them.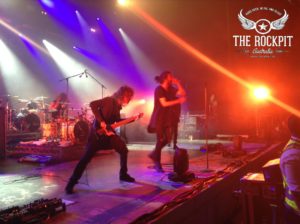 The Amity Affliction boys came out and rocked us to the core. With Ahren Stringer on guitar and vocals, we were so entranced with them that no one knew it had already turned midnight. No one had counted down and it wasnt until Amity Affliction themselves said "Oh, Hey it's after midnight, Happy New Year"! that we celebrated the arrival of 2017 with the always loved song 'Shine On'.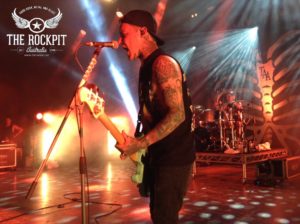 PHOTO GALLERY
Photos by Paris Daniel Pfeiffer