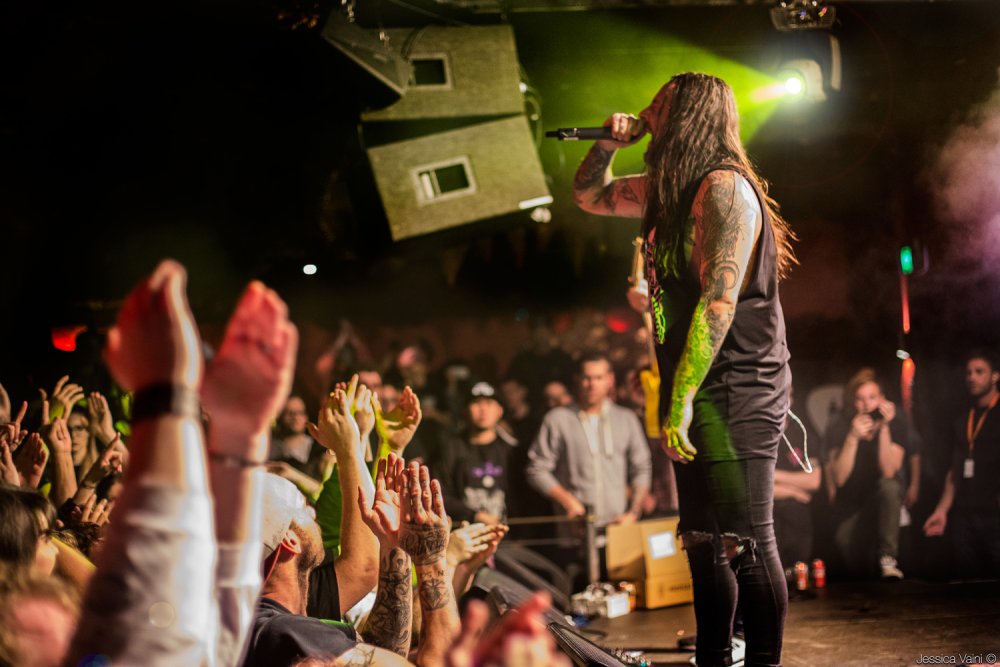 Aussie metal giants Thy Art Is Murder rolled into Perth on the first date of their 'Death Sentence' Australian tour on Thursday night, a sold out show and a packed crowd meant this was always going to be a wild one. Towing along were supports from Daybreak, Alpha Wolf and Cursed Earth who are cementing themselves a nice path for a big future, our resident metalhead Steve Monaghan took in the show and captured his experiences below.
Tonight saw a sold out show hit Perth, first to take to the stage was hometown band Daybreak. From the small portion I saw of this set these guys really brought the early crowd in and made us all take notice, highly entertaining and I look forward to catching a full set.
Next up on stage was Alpha Wolf, now these guys are a part of the fresh crop of up and coming bands blending crushing guitars with equal parts torturous vocals. Taking tracks from this year's monolith effort "Mono", tracks like "Golden Fate; Gut Ache" are simply stand out, I'll put it to you bluntly – checking out "Mono" on the live scene is where these guys truly shine commanding the stage in every sense of the word with pin point bludgeoning riffs.
Next up, Cursed Earth took to the stage and brutal is the only word I can come up with and I'd go as far as to say front woman Jazmine Luders could take it to any male fronted band period, charging around the stage like a pitbull looking for a fight! With razor sharp guitar and drumming that to my mind is unparalleled, expect huge things from these guys. By the end of the band's set the crowd was in fever pitch, blending straight forward hardcore elements and solid break down's, you've been warned!!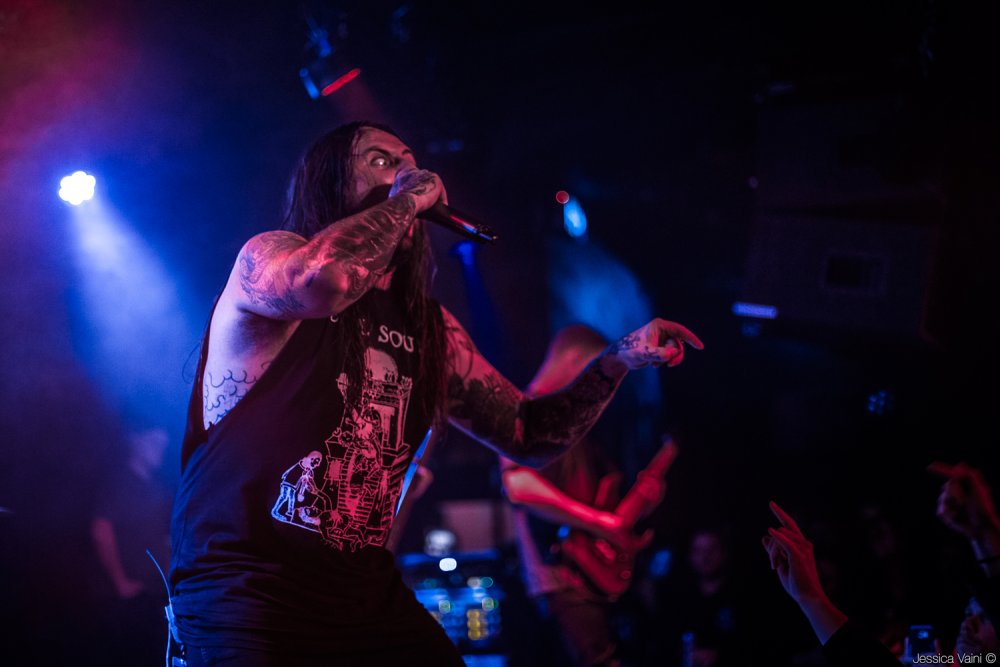 Finally Thy Art Is Murder take to the stage to a by now capacity crowd, opening the set with a storming rendition of "Holy War". and front man CJ Mcmahon looked every bit in control striding out on stage in a trade mark black hoodie. "Slaves Beyond Death" was next in taking people's breath away, taken from the upoming 2017 album "Dear Desolation" and if this is what we have in store then we are in with a treat!
"Coffin Dragger" was another stand out track with endless stage diving and unbridled enthusiasm, CJ even spoke of his addictions and his long road to recovery which at this point seemed to empower the crowd to go even further. "Light Bearer" also stood out for me in terms of sheer power, this band are simply unstoppable and the new album will be a giant leap forward and they can only get stronger from here. The track "Reign Of Darkness as the closer was a perfect example of the band going from strength to strength and a fitting way to close out the show.
PHOTO GALLERY
Photos by Jessica Vaini at JV Photo Film
Graphic Nature Management, Human Warfare & new world artists present…
THY ART IS MURDER
THE 'DEATH SENTENCE' TOUR
Thu 27 Jul – Badlands, Perth*
Tix here
Fri 28 Jul – Enigma, Adelaide
Tix here
Sat 29 Jul – Max Watts, Melbourne
Tix here
Wed 2 Aug – The Basement, Canberra
Tix here
Thu 3 Aug – Uni Bar, Wollongong
Tix here
Fri 4 Aug – Oxford Art Factory, Sydney
Tix here
Sat 5 Aug – The Cambridge, Newcastle
Tix here and here
Thu 10 Aug – Crowbar, Brisbane
Tix here
Fri 11 Aug – Wharf Tavern, Sunshine Coast
Tix here
Sat 12 Aug – Miami Tavern, Gold Coast
Tix here
*Deadlights not appearing