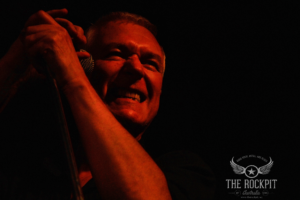 We got our dancing shoes on and they finally came…
The masters of British Rock are finally here in Australia and only a mere 28 years after forming. Still on the strength of the four shows they played in Australia on this whistle-stop tour we've got everything crossed that they'll be back.
Some bands were just made for the live arena, some bands just know how to take a stage and hold an audience, but few do it with the sheer class and style of the band our editor calls the finest Rock band of the 80's.
Tonight in Perth it's, let's face it, a slightly disappointing crowd in size, but certainly not in enthusiasm or volume and at my first ever Thunder show I find myself in the front row, something I know would have my European and UK mates green with envy.
The crowd is pretty cluey and love their Rock and Roll and I don't bump into a single person who isn't relating their Thunder stories – there's even a group from Glasgow Scotland who are seeing them here then flying back to catch them back 'home', it makes my four and a half hour drive seem proportionately insignificant!
Taking the stage to the strains of AC/DC's aptly titled 'Thunderstruck' it's immediately game on for both crowd and band. The fact that this must be one of the smaller shows Thunder have played in some while just seems to amp up both band and audience and it's immediately clear who owns the house:- Danny Bowes is a perfect mixture of frontman  assets – a voice as good as any you've heard that hasn't diminished an iota in almost 30 years, stage moves to die for and an immediate connection with the crowd that you have to witness to believe!
The rest of the band aren't too bad either – Harry's sadly hidden behind the drums but both Matthew and Childs have more than a few moves, and Luke Morley – man not only does he write some killer songs that man is a seriously underappreciated guitar hero, reeling off solos with so much feel and passion you can't help but grin like a fool!
For the faithful this is the night many thought would never come, but here it is and its not just everything you anticipated it's more. Of course when a band has so any years behind them (and hopefully a good few ahead) a setlist is an issue when you've not ventured into a particular neck of the woods. Many fans here like me, have been hanging out since 'Backstreet Symphony', they've missed the Aerosmith support that launched them to a wider world, missed the ground-breaking Monsters of Rock Show and missed the other 20 years or so that followed. The tours, the albums, the sheer fun of seeing a band of this calibre live.
The biggest question for many is of course the setlist – and it's not as you might imagine a 'greatest hits' set to let us catch up here Downunder. I suspect its pretty much the set they'll play when they get back to their primary stomping ground in  the UK and Europe, heavier on the scorching new album 'Rip It Up' than on the seminal 'Backstreet Symphony' and with some albums completely overlooked.
We open tonight with 'No One Gets Out Alive' and 'Enemy Inside' from new album 'Rip It Up' but there's no 'Right From the Start' to follow the evergreen 'River of Pain' like there has been on the rest of the tour, instead we're treated to the debut of album closer 'Always a Loser' to mellow things out after the wild crowd reaction to one of Lue Morley's finest songs 'Resurrection Day' from the comeback album 'Wonder Days'.
It's a set that surprises some with its definite emphasis on new material – with five tracks from the latest album, three from the previous outing 'Wonder Days' and five from their debut that leaves only 2 tracks from the remainder of their history and their other 8 albums. It's a lot of great songs to miss out on but the thing that amazes you is that it doesn't really matter at all, the new material stands upon its own merits and sonically tonight Thunder sound like they could well be the finest live band in the world.
Of course no Thunder show would be complete with the banter and Danny's playful stage persona, at one point he tells the crowd it's about time for an old one ('Higher Ground' and an epic version at that) and when the crowd roars with approval he feigns concern "What's wrong with the new ones?" he grins. It's that easy going banter that over the years has cemented the connection Thunder has with the fans. Tonight in Perth despite it being many of our first meetings we all feel like old friends.
As the set progresses there's no lull in intensity from either band or crowd as Danny told The Rockpit earlier in the year – a Thunder concert is all about everyone having a good time and he hasn't done his job unless the crowd go home as exhausted as he does. It's certainly a great workout with the crowd waving their arms in the air, jumping and screaming when implored; and you know what for a relatively small crowd we make some real noise.
The songs whether new or old have the crowd completely captivated and involved but there are two set pieces in the main part of the set that really stand out – both epic songs that build and ebb and flow, both songs that really sum up how great this band is: the epic 'Don't Wait For Me' and 'Love Walked In'. If you love Rock music in general you need to hear these songs.
The main set closes with latter day classic 'I Love You More Than Rock and Roll' which has everything a song needs and sees the crowd dancing, singing and generally having a great old time. And there are just the two encores tonight: 'Serpentine' from 'Wonder Days' and the classic Thunder song 'Dirty Love' gets crowd participation to the max.
Nobody goes home tonight without getting one of the finest nights of Rock and Roll they'll have in years. Thunder are a truly great band and it was certainly the best show I've seen in years by some distance. They came, they saw and they conquered and we brought our dancing shoes. If you didn't get the chance to see Thunder this tour pray for another because you just missed the best concert in years… Next time don't leave it so long alright?