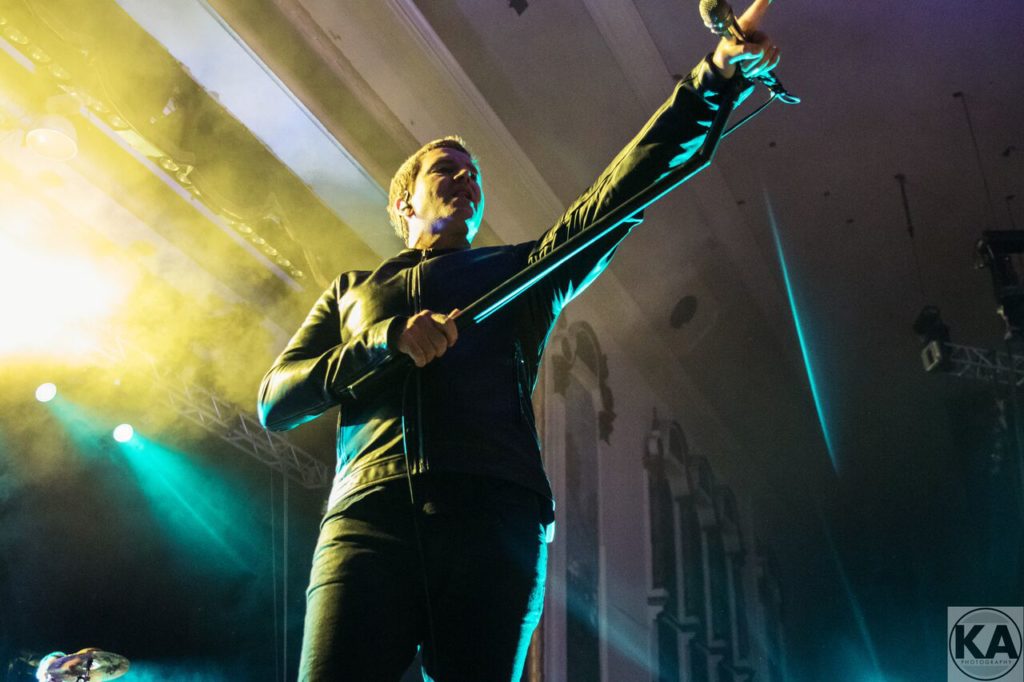 The All American rock band Third Eye Blind took the stage at Asbury Park Convention Hall in New Jersey on Thursday October 19, 2017. The band was nearing the end of their Fall of the Summer Gods Tour. They were the only band performing at the venue that night. During the show, they mostly played songs from their 1997 hit self-titled album which turned 20 earlier this year. Members consist of…Stephan Jenkins (Lead vocals, Rhythm guitar), Brad Hargreaves (Drums, Percussion), Alex LeCavalier (Bass), Kryz Reid (Lead guitar, Backing vocals), Alex Kopp (Keyboard, piano).
 Third Eye Blind announced that it was their first time performing at Asbury Park Convention Hall. This was a great setting for a rock show on a Thursday night in the Fall. It brought back summer memories when you could hear the waves crashing on the beach in the background and the smell of boardwalk food. During the show, fans sang along to most of the songs which brought a lot of energy to the crowd. Songs like ''Wounded" and "Semi-Charmed Life" were big hits that have been around for nearly 20 years.  Lead singer, Stephan Jenkins encourages crowd to sing together for "How's it Going to Be." For this song, the singer played a solo with his acoustic guitar. 
 Setlist also included the song "Crystal Baller" from their third studio album "Out of the Vein." This album was released in 2003. The song lyrics describe someone looking into the future or a chance about finding a lost love.  Another popular song played during the show was "Jumper". It's a song about having strength during the tough times and walking away from the ledge. You can hear the guitar riffs flowing smoothly into the solo. Great song to listen to if you are having a bad day, it reminds us to stay strong and "put the past away."  Third song of the night was "Faster" which fans sang lyrics to on the top of their lungs while blue balloons went bouncing through the air.

 After an almost two hour set, Third Eye Blind ended the show with "Never Let You Go."  They also announced that the band will be taking some time off to make another record. The crowd cheered in excitement to hear about the future plans, as this band keeps going strong. Third Eye Blind will be continuing their tour up until January 1st. Their last show will be at the Observatory North Park in San Diego, California.
PHOTO GALLERY
Photos by Kimberly Ann of Garden State Band Connection