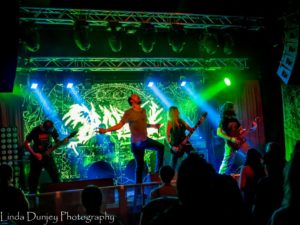 The Savage Hunt tour ended in Perth at the newly revamped Jack Rabbit Slims on Friday night with Sanzu and Daemon Pyre pulling all stops to put on one seriously heavy show. Metal in Australia is looking pretty good right now!
Local rockers Old Devil and instrumental protagonists Absent Hearts opened the show with a much more mellower start to the evening than was expected considering the extreme nature of the other bands. Not that that's a bad thing as we saw some great guitar driven rock that added some variety to the night.
Death metallers Depravity rolled up next and by stark contrast to the previous bands the crowd was pummeled with their brand of extreme heavy music, made even more so when put up next to each other. The sound was a bit iffy but I put that down to the old venue which despite the name change and some refurbishment from the old Black Betty days, not much had changed.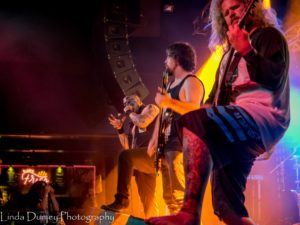 Hailing from Sydney, Daemon Pyre hit the stage for their first ever Perth appearance and judging by everyones response, they made a great first impression. I had been looking forward to seeing these guys for some time after hearing some great things about the band over east and they did not disappoint. Coming armed with a slick and tight professional set, the band tore into the place to make their mark on the west and easily left a mighty impression with a huge melodic death metal sound. Catchy riffs galore, brutal at times with frontman Sam Rilatt's commanding stage presence the driving force behind the bands impeccable sound. Another gig in Perth in the future might cement the band as a must see amongst the local metal community this side of the country.
Local groove stompers Sanzu are well known in Perth and seeing them tour Australia with Daemon Pyre just made perfect sense. After some killer gigs recently including supporting Lamb Of God last year, it's easy to see why this band are making some headway as they consistently throw down some seriously heavy grooves. While comparisons to Gojira seem to be rampant with Sanzu, I do feel they also have their own sound especially in Perth of all places and in any books, that makes them unique in that respect. Tonight was no different as they consistently delivered the goods to the metal hordes who were clearly here to see the band throw throw down their signature sound, it was a fitting end to their tour in their hometown.
PHOTO GALLERY
Photos by Linda Dunjey Photography