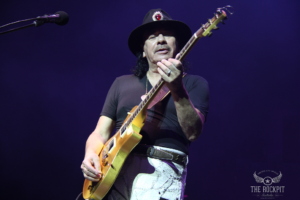 Carlos Santana and The Doobie Brothers kicked off their joint Australian tour together in Perth on Friday night, in the country to also perform at this year's Bluesfest in Byron Bay. We were lucky enough to catch the classic rockers first on the Transmogrify Australian tour.
The Doobies Brothers are pretty much an institution in classic rock, their hey day back in the 1970's is legendary stuff and while some may say it's probably not the same now in it's more somewhat tamer incarnation, tonight was pretty much spot on with numerous hit after hit songs showcased in solid display. The famous "Jesus Is Just Alright" opened the show much to the excitement of the crowd who were pretty eager to see the veterans at work given how full the venue was early on – and rightly so. No matter if they were before your time or if they just didn't catch your attention the first time around, The Doobie Brothers showed their experience in the game with a pretty flawless and energetic show.
Singalong stuff was abundant, "Clear As The Driven Snow" was an absolute highlight, "Spirit" was infectious and "Takin' It To The Streets" were stuck in many heads long after the show. It's the melodies and blues driven pop elements that really shone through but it wasn't until later in the show that things stepped up a few notches with the massive "Black Water" and "China Grove" that really hit the sweet spot for many of the fans at the show. Not only are those songs part of our musical culture still to this day but the word 'Doobie' is just as much fun to say as well!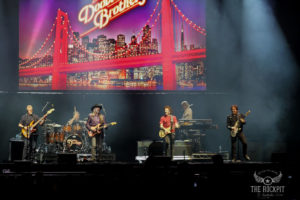 Carlos Santana and his crew of well rounded musicians that includes his wife, drummer Cindy Blackman (who had performed with Lenny Kravitz) came out in a blaze of world class Latin and African inspired tribal rock and some cover songs before "Maria Maria" entered the set and kicked off what would become a pretty epic set of classics, cultured sounds and an energetic performance all around. The bluesy tracks while far and few, were true highlights and showed Santana at his primal best while the more interesting cover songs like Enya's "Sail Away" were injected with Spanish flavours and the trademark Santana sound. The Doors "Light My Fire" however took the cake for being the most challenging track to cover in the set, being completely changed from the original to fit Santana's style but in saying that, it's hard to not include that famous chorus line which makes that song.
2 Vocalists in tandem, both with their unique style, 3 drummers, a keyboard player who mostly sounded like an organ was playing plus additional guitar and bass players filled the big stage in what looked like a small party as it was! Kids from the audience later joined the band on stage during the Woodstock chant which behind them on the big screens were footage of the now infamous Woodstock Festival in which Santana himself was a part of. The psychedelic nature of some of his music and his hippy-like attittude on stage led him to say jokingly to the crowd at one point during the show that he was still high from that Woodstock show some 40 plus years later. Still it's amazing to see someone like that who was actually there as a performer to now be standing in front of us decades later. Apart from his amazing show, that in itself is pretty mind blowing stuff.
CATCH SANTANA & THE DOOBIE BROTHERS ACROSS AUSTRALIA & NEW ZEALAND
ADELAIDE – Sunday 9th April – Botanic Park
MELBOURNE – Tuesday 11th April – Rod Laver Arena
SYDNEY – Thursday 13th April – Qudos Bank Arena
CANBERRA – Saturday 15th April – Royal Theatre
BRISBANE – Sunday 16th April – The Tivoli (*DOOBIE BROTHERS ONLY)
AUCKLAND – Tuesday 18th April – Vector Arena

Also appearing at Bluesfest Byron Bay April 13th-17th. More info at santana.com & Bluesfest.com.au
PHOTO GALLERY
Photos by The Buffman