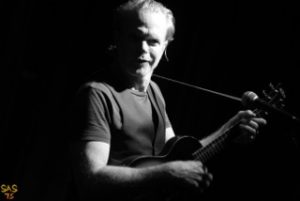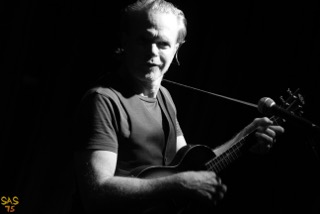 Who would believe it's nearly 25 years now since Not A Day Goes By, Heaven Knows and Walk Away Renee stormed the Australian charts and launched Rick Price as an international superstar?  There's been a swathe of press surrounding his recent Work That Fire tour, which for some may have been the first they've since heard that familiar name in the years since.  Based out of Nashville these days and with 8 albums under his belt and numerous return tours to Australia, Price has been anything but quiet in recent years.  Tonight drawing equally from his recent gospel influenced Tennesse Sky album, as well as the classics and deeper album cuts.
Armed with his incredible voice, an acoustic guitar and occasional piano, stripping the songs back to a bare bones campfire sing along, this is where Price is at home these days.  His voice is just as remarkable as it has always been, whilst he's also no slouch on the acoustic guitar. No better example than the tasty licks of Days Of Gold off Tennesse Sky, which he opened up with tonight in a set spanning over 2 hours.
Drawing on the gospel, soul and country influences of Nashvile where he now calls home, tracks delivered off Tennessee Sky are as equally as joyous and uplifting dealing with death (No More TearsTo Cry) as they are hope (Can I Get A Witness / You're Not Alone).  Even those who'd never heard these songs couldn't help but be swept up in their infectuous nature with the sounds of tapping of feet and clapping hands filling the room.
The trio of songs from second album Tambourine Mountain, released in 1995, work perfectly with their roostier and bluesier arrangements, starting with River Of Love.  In fact, I'd go as far as saying I enjoy the reworked versions of these songs far more today, than back when.  Bridge Building Man takes on whole new meaning, with a slower tempo and a poignant tribute to Rick's father and grandfather introducing the song and their background as bridge building men.  Likewise, Love Never Dies a dedication to his mother and all mothers in the room, is one of the sets highlights and gives Rick a chance to regail us with tales of his musical upbringing as an 8yo playing barn dances in Beaudesert, Queensland complete with flares and platform shoes.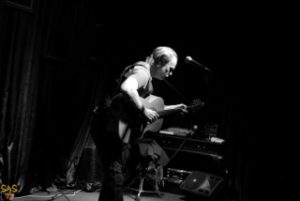 When it came time for his 1992 #1 Heaven Knows, we were transported back to the day when this song virtually wrote itself.  Filling in time between recording another vocal for a TV commercial, that oh so familiar piano melody came to Rick's fingertips like a gift from above.  Checking with his trusted songwriting partner Heather Field that this wasnt already an existing song, the rest as they say is history… Not A Day Goes By, Fragile and Walk Away Renee are also featured from the debut album.  We were treated to a couple of brand new songs – one shall we call A Song Without An Ending, which in their early stages hint at another highly anticipated album, hopefully coming soon.
I have to say I've never really been a massive fan of the song Hallelujah, probably from over-saturation, but unquestionably hearing it performed by Rick Price on numerous occasions now, his is by far the ultimate version I really only care to hear.  A stunning showcase for his amazing vocal abilities, but primarily the raw emotion dripping from his delivery.  Time for a cliche here, yes the room was so quiet during this rendition, I think I heard a pin drop…
If the setting wasn't intimate enough, grabbing his portable pleasure machine aka ukele, Price wandered the room serenading each table to the tune of the Hank Williams classic Lovesick Blues.  Closing the set with Work That Fire, here was the chance for the promised dancing in the aisles and up on stage for the 20+ fans who took up Rick's invitation to give the hand clapping, dancing and gospel choir this song demands.
Whether you're a seasoned Price attendee such as myself (15 times now), or seeing him for the first time, Rick's honest banter and engaging stage presence has you leaving his gig feeling like you've known him for years. When it comes to Australian male vocalists and songwriters, Rick Price deserves to be regarded among the very best.  With this tour now over, don't miss him next time he returns, possibly in May legend may have it?