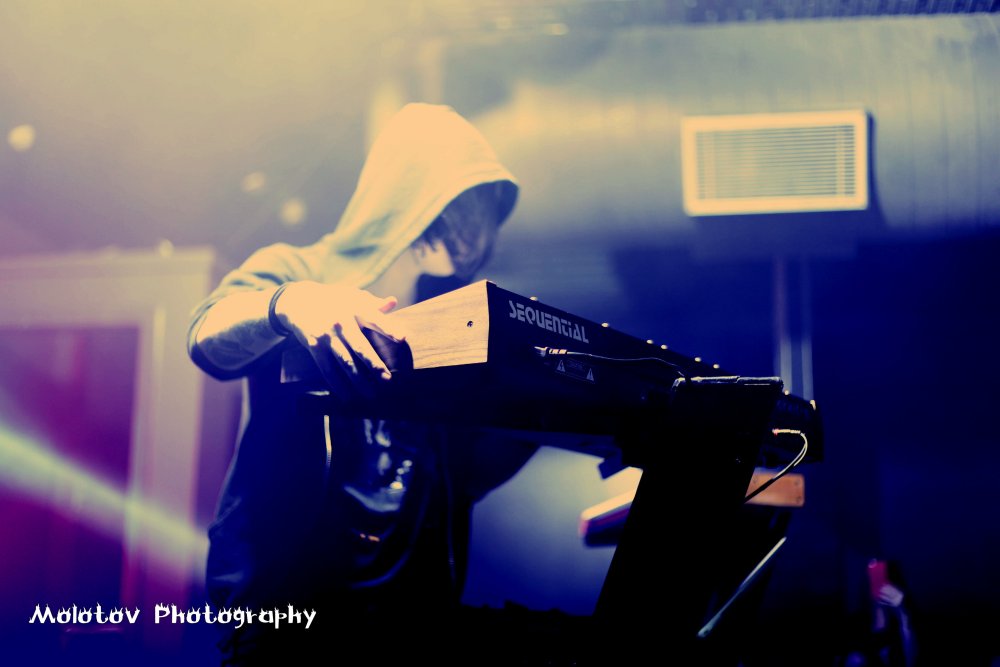 Pinpointing my first experience with what's now known as the broad umbrella of synthwave is a difficult moment to pin down, and one I could at best pin to one of three separate experiences. Like most experiences with a new genre, there was a single moment that I remember so vividly where the sound, and everything it stood for was galvanised in my mind and it all made sense. For me, that was upon listening to Perturbator's sophomore release, 'I Am The Night', one quiet night in early 2014. From start to finish, I couldn't pull myself away from the dark, grimy soundscapes crafted, complete with the retrofuturistic inspired synthesizers, heavy, distorted bass, punchy electro beats, haunting guest performances and perfectly selected samples from iconic films to complete a deep, dark, layered experience unlike anything else. From this moment, I knew I'd found something truly special. It goes without saying then, that learning of the reigning French synth master's Australian tour, saying I was excited would be the understatement of the century.
Hosted at one of Perth's newest venues, Tetsuo NC, there was certainly no better suited locale for a night of grim, occult retrofuturistic beats. The grimy, cyberpunk insipired aesthetics of the interiors feels plucked right out of Katsuhiro Otomo's Akira, and served as the perfect backdrop to the ensuing night of dystopia that would enshroud us all.
The doors opened and the crowd slowly, but surely filtered into the dimly lit floorspace; some parts of the venue were illuminated only by the pale neon glow of signage, adding to the grimy, NeoTokyo vibe. Not long after, the night's opening act kicked off- Perth's own DJ Amnesia, with a dark, atmospheric medley of the iconic Stranger Things theme spliced in with various samples and 8 bit patches, as well as various dark/minor key mid tempo arpeggiated riffs. The atmosphere was now complete; you could almost see Rick Deckard having a drink at the bar.
Spinning a set of dark, atmospheric and hard hitting tracks saw Amnesia bringing the likes of Megadrive, Gost and Niky Nine to the foray; a set with a very technophilic vibe, evocative of a 'future is now' world where technology seamlessly integrates with our daily lives, first prophesised during the technology boom of the 1980s and truly fitting of the things to come.
Up next was Snorri, Perth's enigmatic blackened metal three piece. Hailing their sound from early forebearers in the genre, the sound is minimal and harsh, saturated in distortion and completed with punishing relentless drumming. Their appearance ritualistic (complete with matching hoods and masks, as well as stage banners bearing the same logo emblazoned on their matching vests), Snorri wasted no time whipping the rapidly growing crowd into a frenzy, with fast aggressive riffy black metal (with some clear hardcore/crossover/crust punk influences present, owing to their first wave influences).
Snorri's drumming was punishing and relentless, with frequent frantic punk inspired beats set against a punishing double kick onslaught more akin to a modern death metal sound. Offset against heavily distorted guitar and bass completed a sonic assault that amounted to the final preparation for the evening's headline act. The only criticism I can find is that due to the distortion, some nuance of the bass playing was lost through the dense wall of distortion.
Perhaps initially it might seem unusual that the crowd mostly looked like metalheads- one would not immediately presume that such a crowd would be drawn to anything electronic; though if the forerunners in the genre are anything to go by (as tonight's headline act, the legendary Perturbator, as well as fellow countryman Carpenter Brut, and American counterpart Gost), are all metal scene defectors, and appear to have brought a sizable portion of the fanbase with them. Recently through Perth, Phaserland also hails from a metal background and has described in interviews how cutting his teeth in playing metal formed his musical sensibilities. Carpenter Brut, Perturbator and Gost all cut their musical teeth as metal musicians, and have all brought different aspects of the dark, heavy groove of metal through to their synthesized punchy beats.
The time had finally come and the venue, now packed was charged with anticipation as the reigning dark master of synth, Perturbator took the stage. The swelling opening track culminated in Neo Tokyo, from his 2016 worldwide success, The Uncanny Valley. Strobes flashed, the uptempo beats kicked off and Perturbator's unparalleled energy was truly infectious as the crowd was whipped into a frenzy; some dancing, some moshing, but all thoroughly feeling the dark synthwave groove filling the room as the flashy strobe and minor key syncopated synth riffs evoked the feeling of speeding through a futuristic city.
Following this explosive opening track was the blazing hot Disco Inferno, also from The Uncanny Valley- The strobes and heavy synth darkness enveloping the stage were a true saturation of the senses, as the floor erupted into dance, as the dark, disco inspired grooves were offset within an oscillating dichotomy of shimmery 80's italo-disco set against dark, heavily distorted synth bass.
Going from strength to strength, Future Club, from 2014's Dangerous Days was burning through our senses as the ominous, washy opening synth tones washed over the crowd to the iconic pulsing bass through a thick sea of strobe, until the iconic minor key motif hit, driving the crowd into a frenzy. The dark, hypnotic grooves set against some juicy live synth by the man himself conjured a layered, rolling wave of darkness that washed over the crowd.
This was followed by the powerhouse tracks, the frenetically fast paced 'She is Young, She is Beautiful, She is Next', and Tech Noir from 2012's I Am The Night. It wastes no time in evoking a sense of dread, before kicking off into the full blown thumping beats set against a low end-heavy arpeggio, with small touches of Brad Fiedel present. Perhaps an alternate universe Sarah Connor might have enjoyed something like this on a less eventful night out at the eponymous, iconic club.
Taking a turn in a lighter direction, the bouncy hit off the eponymous EP, Sexualiser. This bouncy, heavily italo-disco inspired track had the floor jumping with its bright, springy bass leads guitar riffs carrying the piece along with some sparkly synth, reminiscent of an 80s videogame, or morning cartoon soundtrack, as well as some stellar lead guitar work by Flash Arnold.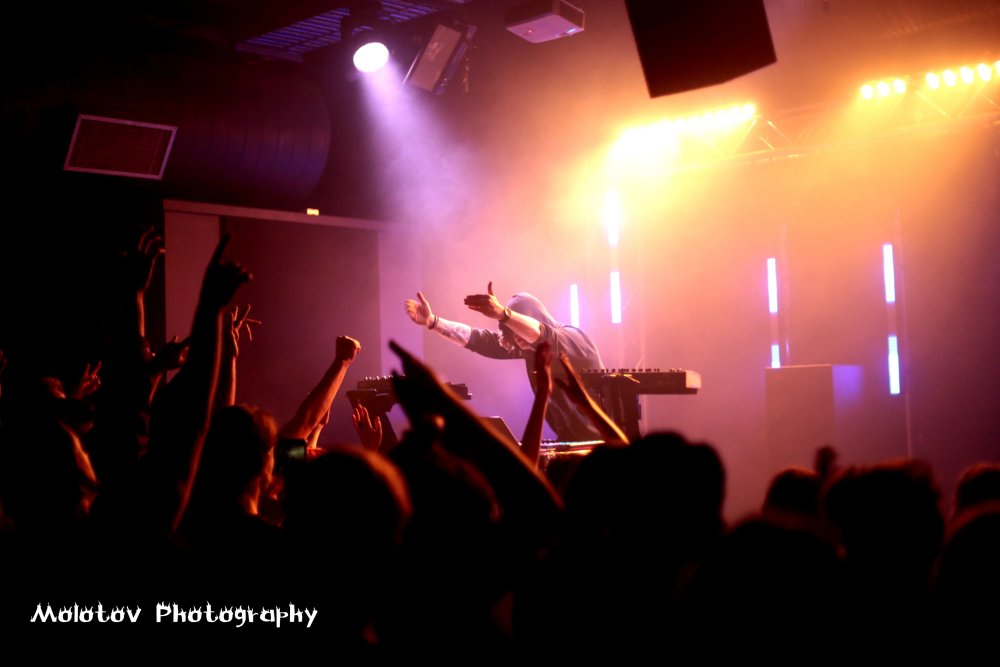 Up next was the midtempo groove of Satanic Rites; a layered, almost garish track with rich and varied synth patches covering a full dynamic range, set in a slightly comic horror tone, fleshed out nicely with some lush, live eerie synth leads. This lead into Diabolous Ex Machina; fast, relenting and unforgiving as it juxtaposed dark, digital mechanized beats against a hefty onslaught of uptempo, distorted basslines with nicely enunciated tones where, despite the high dynamic range, everything sounded clear and defined. Nothing was lost.
This led us into another Terminator-sampled track with the iconic Kyle Reese speech opening for 'Humans are such Easy Prey', with a beautifully syncopated minor key motif, layered over hard driving bass lines and hard dance beats, leading into the Carpenter Brut collab piece Total Domination- The synergy of influence is strongly evident here as both artists evoke a strong sense of layering to create a complex, yet articulate sound, combined with the tight arpeggiated sequences strongly associated with the Carpenter Brut sound, with some leads reminiscent of the pacing of arpeggios in smash hit Le Perv, as well as octave-jumping bass lines set against the rising tension of synth strings, creating a climactic buildup.
The setlist was well honed in that Perturbator stuck to the more hi-energy tracks; rounding out the set with Venger (ft Greta Link), whose amazing vocal performance over the dark synthscape evokes the glamour of 80s pop icons, while her larger than life voice and performance sounds like it belongs right on the stage of the Tech Noir.
Perturbator's set rounded out with two tracks from his 2017 release, 'New Model', which exhibited mind blowing dynamic range and thoroughly immersive grooves, notwithstanding the heavy distortion, remained well articulated and extraordinarily arranged. The end of the set was met with cheers from crowds, who summoned back the dark synth legend for an encore- the joint hits of the coincidentally titled Dangerous Days opening track 'Welcome Back' leading into the conveniently titled 'Perturbator's Theme', a high energy neon-soaked joyride through the cityscapes of the not too distant future, evading the cultish authoritarian presence.
If the recent Phaserland tour, and now Perturbator is anything to go by, it's that there's a growing interest in the retrofuturistic sounds that synthwave offers, and Perturbator has indeed delivered on so many levels. It's exciting to see something so new and so promising on offer in the possibilities of live music.
Review by Tim Sezer
PHOTO GALLERY
Photos by Tammie Molotov – Molotov Enterprises & Photography