Prog masters Periphery brought their Australian tour to a halt in Perth on Thursday in front of a packed crowd, supporting their latest album "Periphery III: Select Difficulty". It was a rainy night but that didn't stop the punters filling the venue and letting loose in front of  a band that put on one hell of a show!
Supports came from Perth stalwarts Make Way For Man and Chaos Divine, both bands who have gained a solid reputation for their live shows and off beat rhythms which were a good fit for the show. THe 6 piece lineup of Make Way For Man filled the stage to the brim with duel singers working in tandem to rile the crowd up for the night, Chaos Divine however did their usual thing and let the music speak for itself. Being used to playing bigger crowds showed as they pummeled their way through 10 years of divine goodness.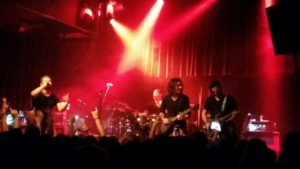 As soon as Misha Mansoor and the lads known as Periphery rocked up 30 minutes later it was time to get to business. The band's main focus was new materail from their latest album and a few songs in saw that happen,  "The Way The News Goes" kicking off with it's clean intro before blasting it's way through some epic wizardry. The band seemed to be in a good mood tonight despite having being on the road in the tough Australian circuit, vocalist Spencer Sotelo was energetic and having a ball despite fans jumping on stage for some crowd surfing (one even having the balls to try and plant a kiss on the singer much to the dismay of Spencer!)
Missing from the lineup was bassist Adam Getgood who seems to have retired from touring but that didn't stop Periphery from going on with the show making use of backing tracks which was quite prevalent in their shows.  Sonically the band nailed it, a somewhat crummy sounding venue didn't have too much of an effect as they plowed through tracks like "Flatline" and the crowd pleasing "Make Total Destroy" which was one of the highlights of the show. The band kept it light with the encore stuff, going out with some fanfare rather than a bang while keeping the vibes strong. The song "Lune" while fairly mellow had the crowd singing along and which kept the momentum going for after the show as the members of Periphery hosted a DJ set at the room next door at Amplifier. Great night of live music, Periphery need to come back sooner rather than later!