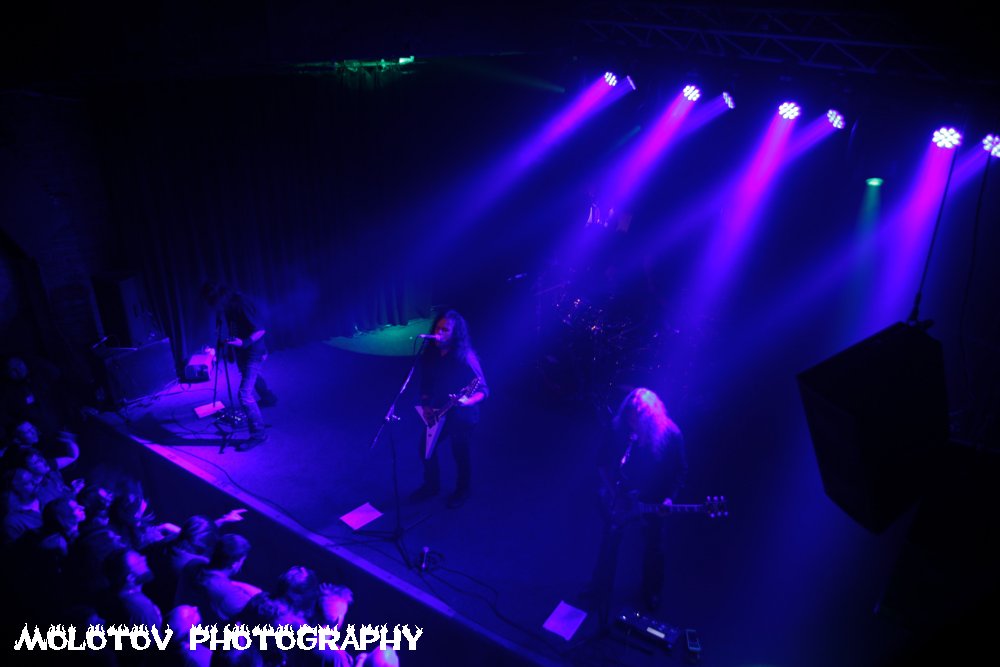 If extreme aggression is what you want, then look no further than the double bill of German thrashers Kreator and Polish death metalers Vader who team up for an Australian tour of biblical proportions. Kreator were last here just a few years ago when they teamed up with Bay Area thrashers Death Angel and while the attendance was a little disappointing, the show was spectacular nonetheless. Tonight however scored extra points on both counts.
It's been some time since Vader has been down under and they more than made up for it at tonight's onslaught. Still touring on the back of their last album "The Empire", the now veteran extreme metallers from Poland launched a tirade of blistering metal that was both on point and focused and clearly showed who the heavier band of the night was. While not everyone in the crowd were super familiar with Vader's brand of intense and energetic songs which were littered with both new songs and a few from the back catalogue, by the end of their set the band showed their muscle and pulled a few of Kreators dedicated into their stronghold while the few that were clearly fans judging by the erupted moshpit from hell knew along just how powerful Vader can be. Let's hope they return promptly!
Kreator jumped onto the stage following one of many intro interludes which helps create an atmosphere of anticipation and a darker vibe. Showing why Kreator are still one of the best in the business, the stage presence alone is an indication that no matter what happens before they hit the stage, they always come out with guns blazing and tonight was no different.
Their latest album "Gods Of Violence" is a continuation of the newly revamped Kreator sound that strings together both heavy thrash and melodic harmonies, catchy as hell but with enough meat on the bones to appease even the hardcore old schoolers who all agreed that 'the new shit is just as good!'. "Hordes Of Chaos" kicked things off and from here it was a smattering of later material with the odd vintage Kreator track here and there. The new stuff, including "Satan Is Real" and the heavy groove foot stomper "Fallen Brother" fitted nicely amongst tracks like "Phantom Antichrist" and "Enemy Of God" and while there are tons of beautiful harmonies in a lot of these tracks, it was always the thrashier and more aggressive stuff including the oldies like "Extreme Aggression" and "Total Death" as well as newies like the title track from the new album that riled the crowd up.
"Pleasure To Kill" wrapped things up in the encore stage of the set but looking back on the show itself from start to finish, it was a pretty intense performance and while some may argue that Vader's set was brutally in your face, Kreator still shined in only the way that the German quartet can only do which is thrash it up and serve the fans a serious dose of pure heavy metal. Metal doesn't get much better than this!
PHOTO GALLERY
Photos by Tammie Molotov – Molotov Enterprises & Photography
Kreator
With special guests Vader
Saturday 2nd September – Auckland, The Studio
Tuesday 5th September – Perth, Capitol
Thursday 7th September – Adelaide, The Gov
Friday 8th September – Melbourne, 170 Russell
Saturday 9th September – Sydney, Manning Bar
Sunday 10th September – Brisbane, The Zoo
Tickets From: http://davidroywilliams.com/tours/kreator-with-vader