The legacy of Entombed in death metal has been one that many fans look at as not only pioneering but revered as legendary that inspired many bands in all forms of extreme metal. The fact that the band has managed to continue in it's current form despite the legal battles over the name as Entombed A.D. is a testament to the longevity of their signature style and the loyalty of fans worldwide. More astounding is the fact that the Swedish veterans made it all the way to Perth Australia after what seems like forever since the last time they were here. We certaintly were not going to miss this one.
Local metallers Depravity and Grotesque opened the show and a decent sized crowd saw the two bands warm things up with a mix of technical ferocity and undeniable heaviness. It's been a while since I had seen Grotesque and made me realize I need to see them more often, already we are off to a good start!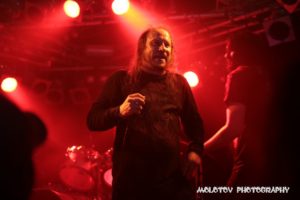 Having never had the privilege of seeing Entombed live back in the day, it was great to finally see this incarnation of the reformed band. Their most recent album "Dead Dawn" is a solid reminder of the death and roll genre and one which is damn fun to listen to, live it's just as good as they broke out not only the new stuff like the title track and the groovy "Midas In Reverse" but a healthy dip into the classics.
LG Petrov fronting the whole thing is a character on stage, his friendly and funny demeanour contrasts the aggressiveness of the music that pummels it's way through a series of ultra fast tempos and some serious rock n roll fun. Occasionally some almost  bluesy like licks come through on guitars and the fun nature of the band shines bright which makes the whole thing stand out. But make no mistake, these guys may be old school but they can put their music up against any of the modern best as songs like "Revel In Flesh" show. The rhythm was also on point even as chaos ensued during blast beats and crazy tempos but all had a groove factor that gave the headbangers a workout on their necks.
Many people here who came to see the legendary death metallers may not have had the chance to see them live before but it's safe to say after tonight, they are glad they did and can tick another great band off the live experience bucket list.
PHOTO GALLERY
Photos by Tammie Molotov – Molotov Enterprises & Photography