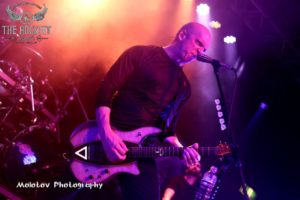 The machine known as The Devin Townsend Project featuring none other than the maniacal and entertaining Devin Townsend himself rolled into Perth to a much welcome embrace considering they missed this side of the country last time they hit the soil burnt country in 2015.
Support band for the entire tour was sleepmakeswaves who quite literally have been making waves in their own right, touring on the back of their latest album "Made Of Breath Only". It was good to see the band make their way back to Perth having just recently been here and while musically they are a little on the lighter side of things compared to Hevy Devy and the DTP crew, they were a good fit as they pounced on this opportunity that I'm sure will win them more fans.
DTP arrived to slightly less theatrics this time around compared to their last jaunt this way in 2013 where huge video screens and an appearance by Ziltoid himself made a spectacle before the band even hit the stage. A more simplistic approach with minimal backdrops made for a more intimate show as Devin himself along with the band came out and proceeded with opener "Rejoice" before letting loose with an arsenal of tracks from both Devin's solo material and DTP.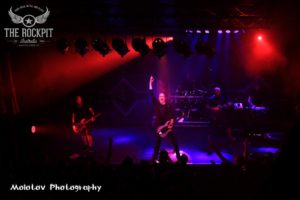 The riffy "Hyperdrive" is always a highlight as it grooves along as the crowd headbanged to it's simplistic beat but cool as hell riff, drummer RVP really showcasing how feel is important in laying down the glue that holds things together. The melodic and atmospheric "Deadhead" cruised through as the animated frontman showed every facet of his rubbery face, never stepping off and really interacting with the punters as much as possible in both comical and entertaining fashion.
"March Of The Poozers" stormed through into the set with it's jilted and orchestral sound, a groovy beat that marches to a tempo that is both addictive and 'happy' while the crushing "Kingdom" closed out the first part of the set, full of high energy and one which the crowd jumped all over immediately. At this point Devin did the usual encore schtick before the acoustic based "Ih-Ah!" was pulled out much to the surprise of the audience and while trying his best to overthrow the sound of the band next door who threatened to overshadow the softer sound at the Capitol theatre.
Devin made it work in pure comical and professional fashion however and as the rest of the band joined him for the remaining tracks "Bastard" and the epic "Higher", we are reminded once again the brilliance of DTP and why we will never get tired of the theatrics and the stage presence and the power of the music that they put out.
PHOTO GALLERY
Photos by Tammie Molotov – Molotov Enterprises & Photography