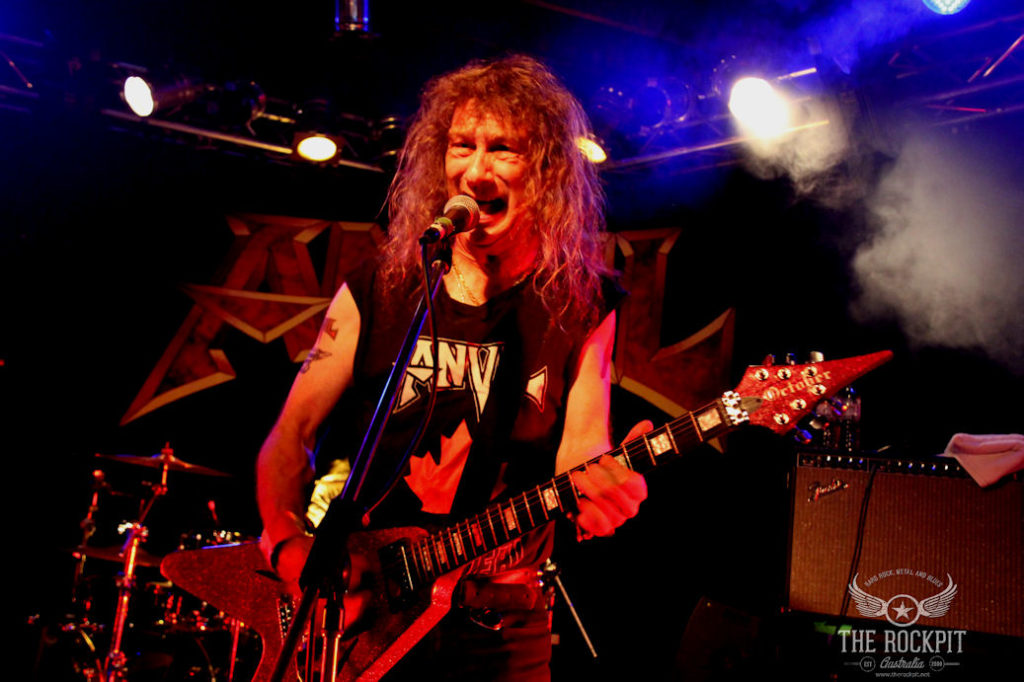 The legend that is Anvil, a band that has truly seen the ups and downs of a career in the music industry returned to Perth on not only the final show of the Australian tour but also the last show of their world tour supporting their 2016 album "Anvil Is Anvil". This show felt a little more special than their previous run and even their Soundwave Festival appearance in 2009 for some reason, it felt right this time around and the fans that rocked up for the event gave a nice send off to the band before they embark on the next phase of their follow up album.
Opening act Death Dependant, coming in from Bunbury warmed things up early on but it was 20 year veterans Psychonaut that really set the room on fire with their eclectic brand of rock n' roll infused metal meets Sabbath inspired riffs. Frontman Mark De Vattimo set the mood with a barrage of guitar riffage and quick one liners, the latter of which seemingly went completely over the heads of the punters who seemed either cautiously shy or just bewildered on whether to respond. Either way there's no denying the rampage of fire that the band threw in as drummer Louis Rando and bassist Simon Hallett helped kick things in overdrive  to make the set equally tight. As far as opening acts go, this was one to highlight.
The Canadian three piece that is Anvil came out not long after and proceeded to kick things off in style, frontman Steve "Lips" Kudlow embracing the small Perth crowd by jumping straight into the middle of the front stage area and opening the show with the crowd surrounding him. This was about as intimate as you could get and really what sets this show apart from any of their other appearances in previous years. The vibe of the smaller room completely suits Anvil down to a tea like no other setting and the band knew it and embraced it. The revamped Rosemount Hotel with the old bar in the middle now gone gave the band and the punters even easier access to each other, sound wise Rosie lost a little of it's edge in the new setting but that didn't stop Anvil from sounding as raw and gritty as they always have.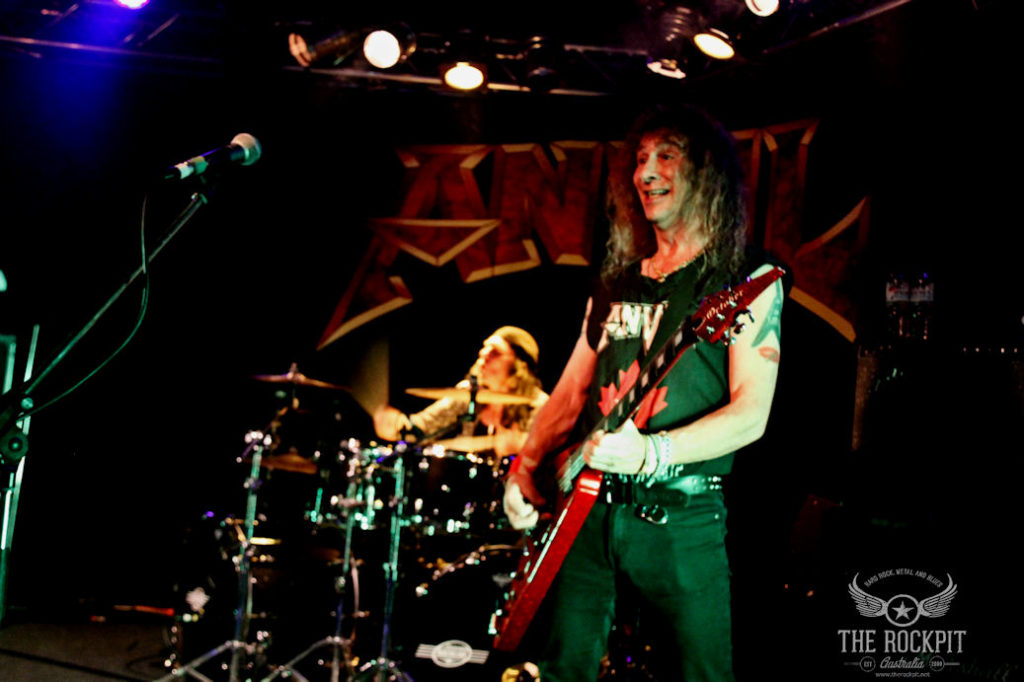 Highlights of the set included both new and old tracks including "Badass Rock n Roll", "Fire" "Daggers & Rum", "This Is Thirteen" and of course the closer and one of the more well known Anvil tracks, "Metal On Metal" which easily had the biggest response on the night. The band may have gained a few years on them since that iconic release more than 30 years ago but that hasn't seemed to stop the energy and grittiness of Anvil as they played a kind of best of set from their back catalogue. Rob Reiner's epic drum solo towards the end of the show was a sight to see, showcasing an underrated talent that Anvil may not necessarily be known for when it comes to pure musicianship. The band may have gotten a bit of flak over the years for being a bit wobbly in their output of music in some respect but there's no doubt that these guys really do have the chops when it comes to the live show, the animated Lips flailing around on stage and grinning that wide smile all night really does rub off on you after a while and you can't help but reciprocate that to the band who really do give it their all.
There's probably more than a few things I've missed from the night here but whether you are a fan or not, seeing Anvil live is a must. Even more so when you know just what they have been through as a band over the years as seen in the wildly entertaining documentary they had a few years back. With a new album coming up next year, we look forward to seeing these guys again if they do decide to return, let's hope!
PHOTO GALLERY
Photos by The Buffman