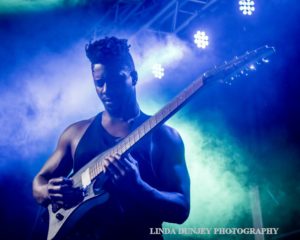 Instrumental prog heroes Animals As Leaders finally returned to Perth after having last seen them in Australia at the very last Soundwave Festival in 2015 and the fans came in droves to catch a glimpse as the technical wizardry that they had to offer. It was a hot one both in the weather and on stage as we saw a powerhouse show from the 3 piece instrumentalists.
Kicking off the show were guitar virtuoso Nick Johnston who more than warmed the crowd up with a dazzling display of guitar work while Aussie instrumentalists Pilini who are enjoying huge successes at the moment showed some colorful sides of their music which ranged from Joe Satriani style rock to Steve Vai weirdness, all while having some fine grooves going on which the packed crowd enjoyed.
Animals As Leaders rocked up on stage and without much notice got to business going straight for new material off their latest album "The Madness Of Many". The technical aspects were mind blowing to say the least from all 3 members but was coupled with a great atmosphere from both backing tracks and their own melodies layered on top.
Sonically as was the other bands on the night, AAL sounded crystal clear despite a stuffy sounding venue, Tosin Abasi's funk driven guitar style that was mostly done by fingers had a creamy tone matched only by Javier Reyes on the other side of the stage where the two went hand to hand combat in an almost friendly war of guitar solos. The Meshuggah like grooves were mesmerizing and showed the more heavier side of the band which the crowd seemed to enjoy more, as well as the highly technical stuff like "The Brain Dance" which is fittingly titled for it's intricate melodies and riffs.
One of the many highlights of the night however has to go to drummer Matt Garstka who absolutely blew us all away, his drum patterns were detailed, on point and flawless and was a show all on itself. With a few drum solo parts thrown in and some mighty grooves along with some of the most insane drum beats ever seen, it was spectacular and even Tosin at one point was standing back in awe of what was going on near the tail end of the show.
After "The Woven Web" ended the show, the band came back for a quick encore of "Cafo" which received the biggest noise and movement from the crowd on the night which was easy to see why. Heavy, complex and hooky, it was the only way to end a night of some truly brilliant instrumental rock!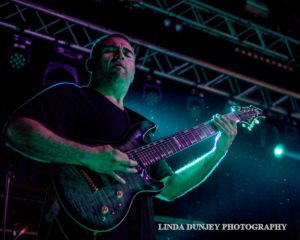 PHOTO GALLERY
Photos by Linda Dunjey Photography