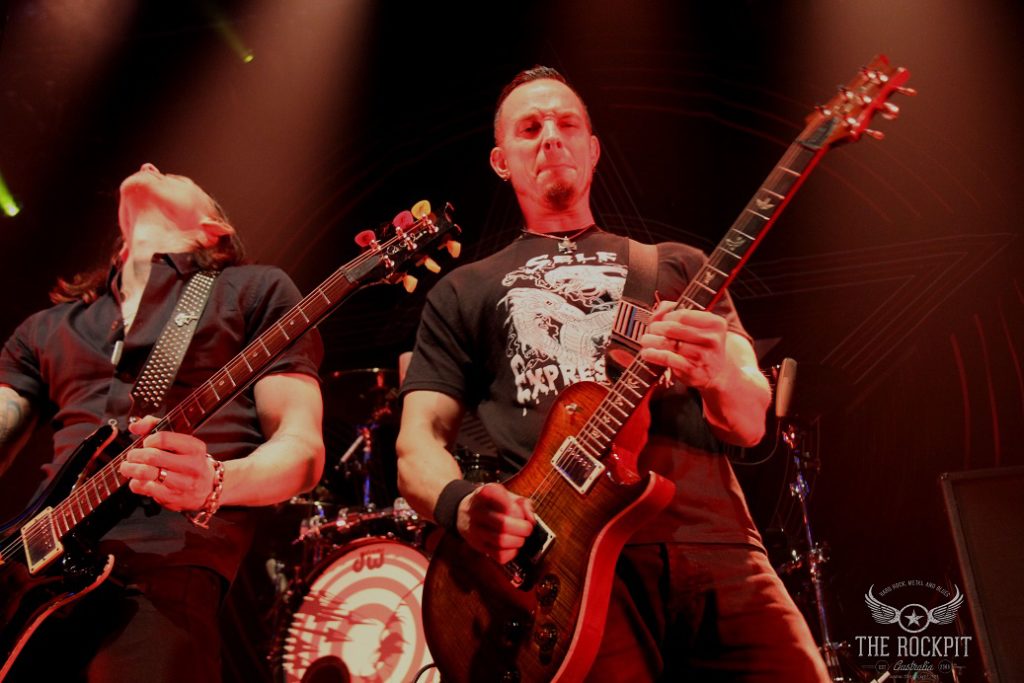 Alter Bridge made their way to Fremantle on the final show of the Australian tour in support of their latest album "The Last Hero" and the anticipation to hear the new songs live was high given the quality of the new tracks. The darker and somewhat more political tone was the perfect blend of some melodic but also heavy rock on the night.
Opening the show as the main tour supports was New Zealand/American rockers Like A Storm who were fairly new to the West Aussie crowd. Musically it was a little surprising to hear how well they actually fit alongside Alter Bridge even with a slightly heavier sound overall. Vocalist Chris Brooks sounded a little like he was struggling vocally at times however with a raspy voice possibly the effects of a grueling tour schedule. Whatever the case may be, he plowed through it like a pro and while the crowd were not overly enthusiastic in reception, they embraced their efforts and at least appreciated the odd entrance of a didgeridoo towards the end of the set.
Alter Bridge of course was the main act everyone was here to see and they brought their A game to Freo. It was great to see the duo of Myles Kennedy and Mark Tremonti tearing it up on stage as they plowed through a set filled with various hits and melodic heavy hitters. Myles has one of the best voices in rock and even though last time we saw him was with Slash's solo band, here it was his main focus as he sang his way without faltering in any way. Opening with "The Writing On The Wall" and ending with "Show Me The Leader" was the perfect set, filling in all the gaps with both new material and older tracks.
Tremonti was brilliant of course but what really spoke to the crowd was the way they interacted with the punters in the pit and on the balcony, truly a class act as they not only put on a great show but made the crowd feel part of it too. Part of why bands like Alter Bridge are successful and why they continue to grow and hook people into seeing their shows again and again is the fact that they make you feel close to the band like they are one of us, it's a mentality and an idea that classic rock acts in general stick by.
Jam sessions abounded through out the show, Kennedy and Tremonti both guitar dualing in the encore set, Myles sitting for a short acoustic set midway as well as showing us that the band blend both classic melodic and modern heavy rock extremely well. What else is there to say other than we simply cannot wait until Alter Bridge return to give us another true rock show at heart.
PHOTO GALLERY
Photos by The Buffman