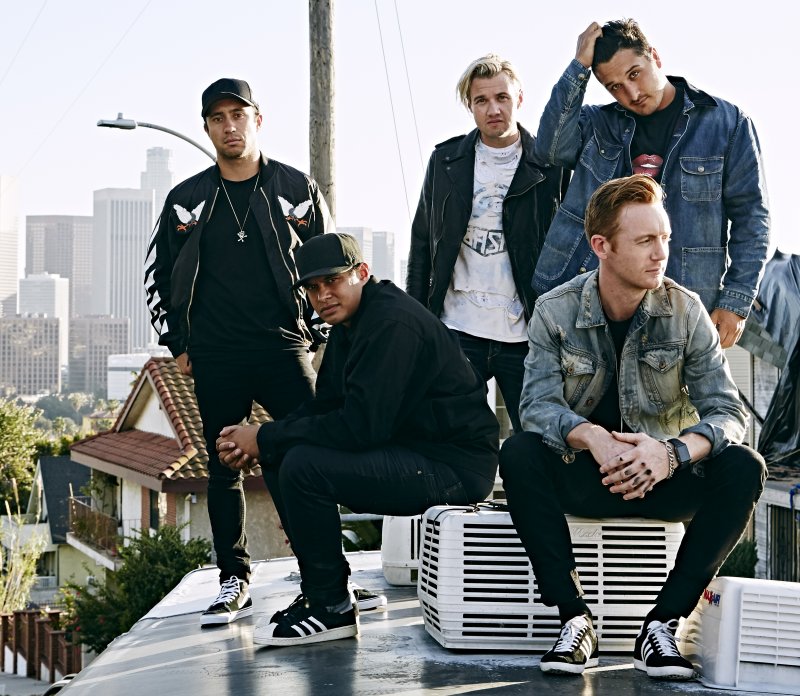 Since New Zealand rockers Six60 emerged in 2008, they have traversed tens of thousands of miles throughout Australasia, Europe and The USA, following the success of their quadruple platinum selling self-titled debut 'SIX60', which went on to pick up 6 New Zealand Music Awards. In February they return to Australia for a series of shows including headlining spots at Raggamuffin Festival in Sydney and Melbourne, we get a few words from the band ahead of the tour.
The Rockpit: Since your amazing debut in 2008 with the self titled album, you've
become more and more popular. What is the secret?
Six60: The songs we release aim to have longevity which means they are timeless. At their core they reflect the truest form of who we are. Harder than you think. Then we sprinkle the songs with a bit of what most popular at the time in terms of the music. Not the other way around which is seen a lot.
With that we put a lot of work into our live show. Making it a show instead of merely playing the songs live. This incorporates things that make the crowd feel included in what we are doing and showcasing us or each of us via playing our instruments. Lights and other gags always compliment these and not drive them.
In short, be as authentic and honest as possible and use other external tools (popular music trends, staging, lights etc) to amplify these.
The Rockpit: Being New Zealand boys, How do you stay true to your roots?
Six60: Making sure everything we do really feels right and that feeling is born and raised into us naturally from living in NZ. Again easier said than done.
The Rockpit: Coming to back to Australia after your sold out shows in 2015, What are
you looking forward to most about your return and what can we expect to
see this time around?
Six60: We have worked really hard on our live show since our last tour in Australia, especially with playing songs off the new album. Expect to see a great live show and be ready to be taken on a ride with us together!
The Rockpit: What would you say to someone who has never seen you live?
Six60: You will most definitely feel a part of the show and not just a witness. A spiritual experience.
The Rockpit: How does performing live compare to Recording for you?
Six60: We do treat them differently. There are more senses involved live and we work hard to stimulate all. Most importantly the soul.
The Rockpit: Do you have any favorite Aussie artists?
Six60: Really loved Silverchair growing up!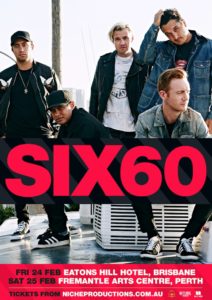 The Rockpit: Where do you draw your inspiration from? And do you have any musical
icons/hero's?
Six60: I currently draw inspiration from 10-20 min jams on my piano. I record them and fish out the good stuff.
I find myself naturally playing a whole bunch of stuff I'm into at the time. Currently I'm into Nina Simone after watching 'What happened, miss Simone?' on Netflix.
The Rockpit: you have a mix of genre's in your music, how do you keep it all
together and make it sounds so good?
Six60: By making sure at its core it is us. That is what is the common thread though all the different songs we write.
The Rockpit: If you could have 5 people around a dinner table alive or dead, who
would it be and why?
Six60: Richard Feynman – a brilliant mind and personality.
Jesus – want to know what he truly was about. I have a feeling his teachings have been misinterpreted over time.
Tim Ferriss – I've learnt a lot from him. Love to delve deeper into his knowledge.
Albert Einstein – to talk about philosophy and of course physics.
Bob Marley – smoke and talk about music.
The Rockpit: If you could be a fly on the wall for the recording of any classic
album in history, what would it be?
Six60: The Beatles – Sgt. Pepper's Lonely Hearts Club Band
The Rockpit: What is the meaning of life?
Six60: To discover who you truly are. Then learn to be fully present.
The Rockpit: Any last words for the Australian fans?
Six60: Sorry its taken nearly 2 years to come back. We will make up for it!
SIX60 AUSTRALIAN TOUR 2017
February 19th – Raggamuffin Festival: Margaret Court Arena, Melbourne
February 19th – Raggamuffin Festival: Hordern Pavilion, Sydney
February 24th – Eatons Hill Hotel, Brisbane
February 25th – Fremantle Arts Centre, Pert
Tickets for Raggamuffin Festival at Ticketek, tickets for others shows at Niche Productions.