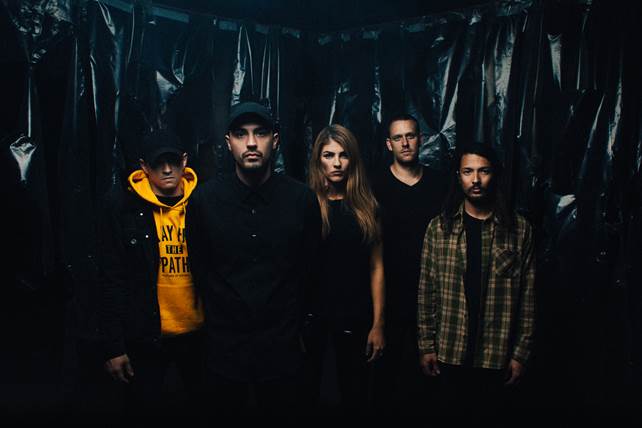 Make Them Suffer have had the pedal to the metal since the release of their last album, Old Souls, in 2015. The band has toured relentlessly both at home and abroad with artists including Parkway Drive, Architects, In Hearts Wake, August Burns Red and Whitechapel, everywhere from Indonesia to Poland and in between. They found the time to get back in the studio to create "Worlds Apart", their latest album which comes out this Friday July 28th, all the while pushing and pulling the limits of their writing behind the scenes to make something new. The band also hit the Australian tour circuit in September with a final stop at their hometown in Perth at the end of the tour, we chat to vocalist Sean Haramanis about the new album and the story behind some of the songs.
Steve: Hey Sean! How does it feel to have a new album dropping?
Sean: I'm Just excited for people to hear it. I think this is probably my favourite album, it's definitely a leap of faith for us. It 's exactly what the title suggests, worlds apart from our previous material but at the same time it's still Make Them Suffer. But when a record comes out I like to listen to it a couple of times and that's how you improve and analyse things, that you should have done better and things that you did well and I've had the album for a couple of months and I haven't really put it down so I think it's a really good record and I'm super excited for people to hear it.
Steve: I agree. I've been fortunate enough to hear the album and much like yourself I can't stop listening to it either, in particular the track "Vortex".
Sean: Cool that will be out by the time this interview gets published because it's coming out at 5 PM today (14th July).
Steve: It has elements of your earlier material, I'd take it back as far as "Lord Of Woe" EP. Would that be a fair statement?
Sean: Yeah for sure, particularly tracks like "Dead Plains" because it was like, let's just write a song as heavy as possible bringing back all the high screams with lower overlaps that create that driving rhythm similar to tracks like "Weeping Wastelands". So yeah there is definitely that thing of bringing it full circle, trying to bring something new while keeping those core values that are Make Them Suffer.
Steve: Sure! So when you walked into the studio did you go in with a plan in mind or did you just want to hit record and see what comes out?
Sean:Well we had a couple of months writing the record before we hit the studio and we wanted to be as organised as possible, the more organised you can be before hitting a studio the better in any situation. Obviously some things do come together in the studio, little things will be tweaked here and there because you never really know until you hear something recorded but I think for the most part in terms of what we were writing there was definitely a different mind set taken when it came to the guitars rather than looking at something and saying, 'Well that's not really under the Make Them Suffer brand', if you were to look at a riff more analytically in the sense of, 'Is this a good riff? and if it's a good riff then let's use it' sort of thing. And then with the vocal phrasing it's still a lot of conceptual story telling stuff but it's very much a modern setting this time around and a huge influence placed on really hooky vocal phrasing and more of an emphasis on the phrasing and creating really driving rhythms that compliment the music.
Steve: And for those that haven't yet heard the album yet, in your own words what would you say the story is behind the album? You mentioned that there is a story going, what's your take on it?
Sean: Yeah well you won't be able to piece the story together unless there is some hidden numbers in there and if you organise the tracks in that particular order you might get a bit more of an insight into what the story line actually is. But generally it's just, long story short, boy meets girl boy, stands girl up, boy goes crazy, answers a phone call, gets sucked into another dimension and then realises he was never in another dimension to begin with but was actually in a toy on the girls shelf sort of thing. So it's a bit of a weird one, it's definitely very weird for us but I'm stoked with it.
Steve: Very Twilight Zone! (laughs). But this one I think will be on repeat for quiet a while.
Sean: Yeah I was watching a lot of "Stranger Things" and stuff like that when I was doing it.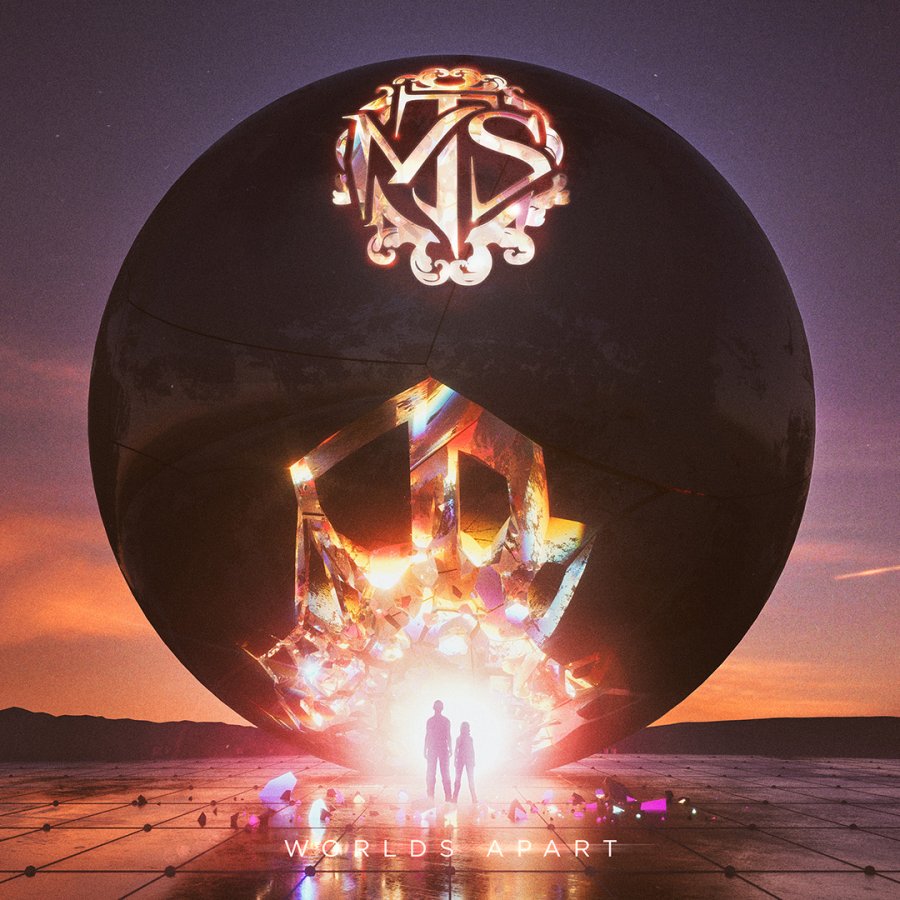 Steve: Yeah cool, nothing wrong with that show either! So in terms of inspiration for the album I mean you've mentioned "Stranger Things" but did you take anything musically away or are you the kind of artist that likes to lock themselves away from any kind of distractions?
Sean: I don't listen to a lot of super heavy bands these days but there is definitely a shoe gaze 90's influence that comes in bands like My Bloody Valentine, Nothing and then bands like Thrice have been a huge influence. Metalcore influences would probably be….. actually I don't want to speak of Nick Mclernon, the lead guitarist's influences but yeah, I've been listening to a lot of Deftones, Thrice, even like Eminem, David Bowie, Morrisey, a bunch of stuff. It's kind of weird being able to incorporate those into metal but it's awesome being 12 and the Marshall Mathers LP coming out and I was obviously obsessed with Eminem at the time and those vocal phrasings and I was like, 'Wow! That's the Eminem coming out in me!! (laughs). It sounds weird but it's super cool when I can bring it all full circle like that.
Steve: Absolutely and that makes for a much more interesting album as well if your able to draw all your influences from so many different genres?
Sean: I think metal in general is quite saturated with a bunch of stuff that sounds similar and it's bands that are making waves like Deafheaven that are doing something completely different like black metal and post rock. I think it's always an idea that people had but they went and did it, I think that more bands in this genre should really push to experiment and get their influences from other sources other then just metalcore or metal.
Steve: Absolutely. So what do you think has kept Make Them Suffer so prominent? I mean obviously you've been touring like absolute road dogs for years and crafting what you do to such a fine point but what do you think has kept the momentum going?
Sean:I think your fan base in the genres we play is kind of fleeting, your time in the spotlight is so short. I think it's true to all kinds of music. I've never really seen a fan base as loyal as ours, people are still talking about our first album in a really huge way, it seems it seems to have this massive cult following which is just crazy and unfathomable for us particularly in the genre. So I think it comes down to the loyalty of the fans, just giving people that little bit extra in the albums like when when you're able to delve into the lyrical content a bit, there is a a bit more of a story there that just gives people that bit more appreciation that's going to give the album more shelf life and I mean, people are still talking about our first album. I think "Old Souls" is a great album but it's my least favourite, this new one is easily my favourite. I think that we survived the Old Souls cycle through the amount of touring we are doing, it has some great song – don't get me wrong, but with this one I think it will be on repeat for some time and when you put a bit more thought into what you can do to make it interesting, have that extra layer of depth that's what keep people interested.
Steve: Ok and without sounding rude, what made old souls stale for lack of a better word?
Sean: I think the songs are good, it was a step away from "Neverbloom". "Worlds Apart" is more of a stride or a leap of faith in a different direction and I think my main concern with "Old Souls" was that it had a bunch of different producers. I think we had four different producers with a different style of mix so a song like "Fake" will sound completely different to a song like ""Marionette"in terms of it's style of production, how the guitar tone and drums sound and stuff like that and I think that was such an important thing for us to do because "Old Souls" was us essentially experimenting and learning about that sort of stuff and then from "Old Souls" we decided the mix on the song "Old Souls" was our favourite of the mixes. Working with Forrester Savell (producer) on this album we decided to get him back for the entire album so it was about taking that leap of faith and experimenting like we did on "Old Souls". At the end of the day I think if we had one producer over the whole thing it might have made it a bit more cohesive but then we wouldn't be in the position we are in today so I think it's important to do that stuff, it was a really important album for us.
Steve: Sure because if you don't take those kind of risks then you'll never find out where you can end up?
Sean: Yeah for us it's not terribly exciting to just write albums like "Neverbloom". When you get writing down to a formulaic state, it's a verse riff therefore it has to be this type, is when it starts to get stale. At the end of the day we have to be enjoying it as artists and we make a lot of sacrifices to pursue this career and if we aren't enjoying it and pushing our own boundaries then what are we doing it for?
Steve: Sure. So can the hometown fans expect to see you guys on stage anytime soon?
Sean: So after our run in the US we'll be coming back here, we'll be doing an Australian tour including Perth. I don't think Alpha Wolf can make it for the Perth show unfortunately but our main American tour support Wage War will be joining us and I'm super excited about them being on the tour. Also excited about Alpha Wolf being on the rest of the tour, the album will be out about two months before we are back here.
Steve: Excellent looking forward to that and it's been great speaking with you today. I really appreciate your time, good luck taking it to the masses in the US and we'll see you soon.
Sean: Thanks very much, take care mate.
MAKE THEM SUFFER WORLDS APART NATIONAL TOUR
WITH GUESTS WAGE WAR AND ALPHA WOLF
Fri 15th Sep – Enigma Bar – Adelaide, SA
Tickets available here
Sat 16th Sep – Max Watt's – Melbourne, VIC
Tickets available here  
Wed 20th Sep – The Basement – Canberra, ACT
Tickets available here 
Thu 21st Sep – Cambridge Hotel – Newcastle, NSW
Tickets available here
Fri 22nd Sep – The Brightside – Brisbane, QLD
Tickets available here
Sat 23rd Sep – Oxford Art Factory – Sydney, NSW
Tickets available here
Sun 24th Sep – Rosemount Hotel – Perth, WA