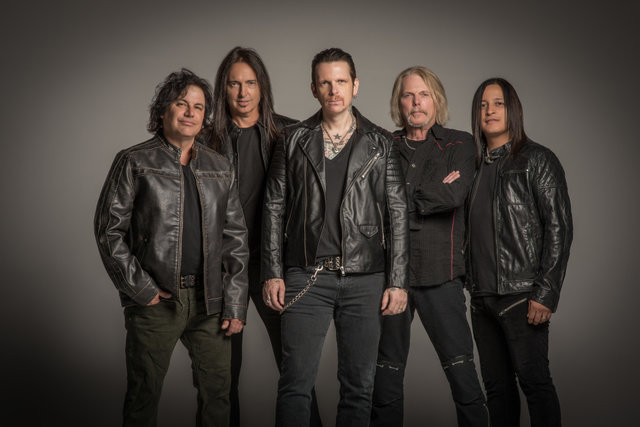 Black Star Rider's third album HEAVY FIRE already could be the album of 2017, building as it does on the sound they honed on their impressive debut and even more impressive follow-up. Indeed it is the growth of the song-writing partnership of Damon Johnson and Ricky Warwick  that really impresses here and if it carries on at this rate it's that collaboration that will see Black Star Riders' star climb ever higher. If you thought Classic Rock was consigned to the history books – this is the exciting new chapter.  
After talking with Damon earlier we caught up with singer/guitarist Ricky Warwick to get his take on the new album.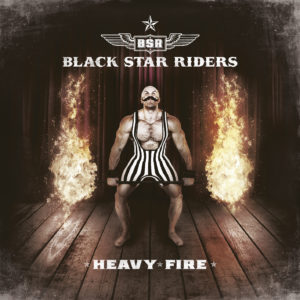 Ricky: How's it going my man, are you well?
Mark: I'm great thanks Ricky and you?
Ricky: I'm doing OK thank you.
Mark: Well I guess there's only on way to start – with the new album. With Black Star Riders the albums just keep getting better and better and HEAVY FIRE is the best – you must feel, and I normally say nervous, to hear the feedback from fans – but surely you must feel confident!
Ricky: (laughs) you know I don't want to sound facetious, maybe not. You know what the last two albums did really well for us which we're very grateful for and I think we knew that we had really done well with this album. I think we felt it was a bit special, we felt that the songs were a bit special, we had a great time working with Nick and I think we all knew we were onto something pretty good. So confidence levels were pretty high.
Mark: You're right (producer) Nick (Raskulinecz) has done a great job but he's helped by the fact that he's had some killer songs to work with!
Ricky: You know what I'll give Nick his dues he gets his hands dirty in the pre-production big time. He really mucks in and puts us through the wringer when it comes to rearranging the songs and making sure they're in the best shape they can be in before we record them. And we did come up with twenty songs so there was a lot of material and a lot of work to get it down to the ten that finally made the record, you know.
Mark: The chemistry between you and Damon as far as song writing goes is amazing – as someone who has written a lot of songs of their won what's it like to collaborate with Damon?
Ricky: It's good! My brother from another mother! It's great, I mean it's one of those things where when we first got together four years ago for 'All Hell Breaks Loose' we both came from bands where we were both the front men and main song-writers. And I was thinking shit, and you're thinking shit thee's going to be a clash of egos here, there just is. But Damon came over to my place in Los Angeles and we got ready to start writing, made some coffee and a Supreme's song came on the radio and I started talking about my love of Motown and Damon said 'Oh Diana Ross is great' and I said "Let's rip that song off" you know, and we did and we were up and running! I think we've got a great understanding of each other, a great way of working and I think we just compliment each other really well when we're working together. It's really nice to be part of that it really is.
Mark: I love the two singles so far, but how do you choose what to release from an album like this?
Ricky: I think we do let the management and record company have quite a big say and we've got a great radio guy in the UK who works with the songs and we've had a lot of success on BBC Radio in the UK which is hard to get onto these days. And 'Testify or say Goodbye' has just been made single of the week on BBC Radio 2.
Mark: Following in the footsteps of 'Finest Hour' from the last album?
Ricky: Yeah 'Finest Hour' was too. He's just got a great ear and we trust him, we really do. We'll play him the songs and he'll go "There's your three singles" and I can't even remember a time when we've disagreed – There's no "what do you mean you don't like this one?" It's usually yeah, we get it that's great. Usually we do try to get what's most representative of the band first out of the hat, but we know that some people like the heavier stuff and we like to keep all of them happy and I think we felt that 'When the Night Comes In' had that and then we went with the more 'poppy', and I don't mind that word, its a good one, 'Testify or Say Goodbye' you know.
Mark: That is of course one of the great things about Black Star Riders, like Thin Lizzy previously there's a lot of diversity without losing that distinctive sound.
Ricky: Yeah, you know, I think that's why we loved 'Lizzy' so much. The best thing about that band was that they could write a 'Sarah' or 'Dancing in the Moonlight' alongside a 'Thunder and Lightning' and an 'Emerald' and I think it's great to have that diversity. That's certainly something that singing Phil's songs and being such a fan of his, I certainly learned from that experience, you know.
Mark: I saw that Scott in the press release said that he really felt that now you had stepped out from under that shadow? Thin Lizzy will always be there and it's a great legacy, but you really are a band in your own right now and that must feel good?
Ricky: Thank you yeah, it feels great and I think you hit the nail on the head. It's great, and a testimony to cot that he's been so open and is coming along for the whole ride. Scot Gorham was such an integral part of that Thin Lizzy sound and to have that in Black Star Riders is invaluable to us and we're so honored to have that. But Damon and I were just a very small part of the history of that great band, and we were both born and bred Lizzy fans when we were kids, but what a great situation to be in, to be in this band that has Scott Gorham and that legacy and that influence but yet the page is blank and we can do anything and go anywhere with it. There's pressure but it's obviously different pressure when I'm fronting Thin Lizzy, then I'm very conscious of delivering the songs to the best of my ability in the way we all know them and love them. And they are Phil's songs, I'm still singing them with all of my heart and soul, but they are Phil's songs at the end of the day. This is different, this is something that I've helped to create and something that I feel very much a part of and, you know, that changes things quite a bit.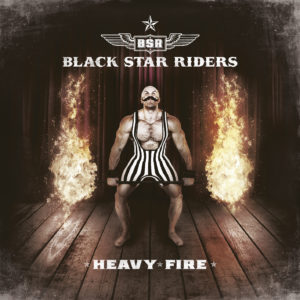 Mark: You're a great live band and I've only managed to catch you a few times, most recently on the 2015 Monsters of Rock Cruise, who'd have though that a few years ago, get a bunch of great Rock bands and put them on a boat to the Bahamas!
Ricky: That was great for a Cruise wasn't it, a real good laugh! What a great concept! It's funny I'm actually off next week to do one with Thin Lizzy.
Mark: I was saying to Damon earlier that must be so cool, you look one side there's Scott Gorham, then you turn the other way and it's Tom Hamilton (of Aerosmith)!
Ricky: Yeah, that is pretty cool and you've got Scott Travis behind you! It's definitely freaky, we did some festivals over the Summer it was a lot of fun, and like you say Jesus, my 14 year-old self back in the day would have wet his pants at the thought of it, you know!
Mark: Looking at the songs on the album, and I still can't pick a favourite, it's one of those wonderful albums where it changes with each listen, what's resonating with you at the moment on the lead in to the UK tour?
Ricky: Thank you. You know I think like you it changes a lot at the minute, but 'Testify or say Goodbye' for me, being such a Northern Soul and Motown fan to write a song with that feel and emotion, and just that back-beat with Jimmy and Robbie hitting that groove, and having that real Holland-Dozier-Holland vibe. Then to add those guitars into the mix, and the way that came out was very satisfying. I'm a big fan of… I think 'Who Rides the Tiger' is a full on 'face-melter' which I love, that's one I'm really looking forward to playing live. And then 'Ticket to Rise' because the girls just make that so special for me, I guess it's us trying to get that Stones-vibe , you know, and I think it worked really, really well and really took that song to another level. Again the grove and the Gospel- thing going on in the chorus is great.
Mark: It is, and to me that's what Rock and Roll is all about that lack of boundaries, I mean in the 60's we all thought that music was going to change the world, in the 70's it seemed possible, in the 80's it was maybe a long shot, but especially since the latter part of the 90's it seems to have lost its power?
Ricky: Well I think that people keep trying, but its technology that takes the soul out of music. And it's the soul that makes music so amazing. We certainly try to put that back in as much as we can. I think once you take the soul out of it the heart goes out of it and that's when you get the bland sounding records with the same production techniques. The Pro-tools using you rather than you using the Pro-tools. I mean listen, we stand in a room, we play live, that's how we put the basic tracks down. Yes we use Pro-tools but we only use it in editing like when before you'd cut the tape, there's no lets do the guitar and use the Pro-tools to play one chord and use the computer to put it all through the song. There's none of that you know, everything that's played is played and there's no 'flying in' – no we got the first chorus let's fly it in for the second chorus. Because you might pay it different the second chorus, you might play it angrier, you might hit the strings a little differently, and to me that's great, to me that's what's exciting about a record. It's not just done by numbers, and sterile and soulless.
Mark: I don't think anyone could have summed that up better.
Ricky: That's why all those songs from back in the day to me still stand up and still sound amazing, and then you can put something on where technology was obviously the driving force, and you put them on and they're lame.
Mark: You've got a massive tour of the UK starting in March, are you looking at expanding that outside the UK later in the year?
Ricky: Absolutely, we're working on going everywhere and anywhere with this album and we're starting to put it all together now. We want to try and take this to as many places as we can.
Mark: Hopefully the offers will come and we'll get you down here?
Ricky: Oh, we'd love to, we'd absolutely love to.
Mark: We last saw you back in 2013 as Thin Lizzy with Kiss and Motley Crue, that was a great show.
Ricky: Yeah, four years ago next month which is unbelievable. That was a great experience, we really enjoyed that whole thing, so obviously myself, Damon and Scotty are really anxious to get down there as Black Star Riders for the very first time.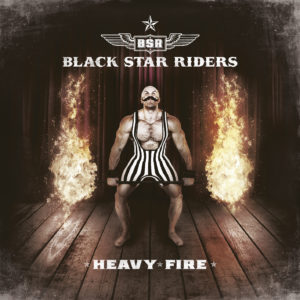 Mark: Which of the new songs will find their way into the set?
Ricky: I think we're looking at playing maybe five or six from the new album. Obviously your lead singles off the record will be there, and 'Heavy Fire' for sure, but personally, and we haven't been into rehearsal yet, I'd like to do 'Who Rides the Tiger', and maybe 'Thinking about you Could Get me Killed' – I think that would be great live as well. Those are just a couple that come to mind.
Mark: Taking it all the way back to the beginning, when did you know that music was going to be your life?
Ricky: I remember being about six or seven and being really obsessed with the radio, and listening to it a lot and sneaking it into bed at night., and laying in bed on a Saturday morning and listening to BBC Radio 1, all the songs of the day and just being mesmerized by the tunes. Then later on Top of the Pops (a music show on TV in the UK) that really had an effect on me too. But really when I moved from Belfast to Scotland, I'd got my first guitar in Belfast just before we moved, my first electric guitar and there I was my first day in Scotland after we moved and word had got out that there was this new kid over from Ireland who had an electric guitar, and suddenly there's Stumpy from the Almighty who comes up and says he's git drums, and Floyd comes up, he's got a bass, and two weeks later and we're rehearsing in Stumpy's front room in his house! And that was when it was 'wow this is great' and they're turning me onto bands that they were into and vice-versa. And it just felt great, there was no other feeling like it, it was really empowering and, I don't know, it 'lifted me up', you know. I just couldn't wait to play guitar and sing. I think that was when I first thought 'I really want to do this, I want to be in a band that tours and makes records'. And that was really a bit of a conflict of interest as I'm a farmer's son and the thought was that I was gonna leave school and come home and work on the farm. Which I did do for three years, but it was always music every chance I got , so I was either picking potatoes or playing guitar! But I was very lucky that my father was very supportive and he saw how driven I was and the I got my first opportunity to play with New Model Army back in 1987 and he said "Go do it". And I really never looked back after that to be honest with you, my foot was in the door and away I went.
Mark: The Almighty was a great part of my growing up, I used to see you guys all over the place back in the UK.
Ricky: A wonderful time of my life.
Mark: I know you reform every now and again and have played a few festival dates, Are you all still in touch?
Ricky: Well we are and we aren't. We haven't played since 2008 and Universal have reissued the albums. I'm still very close to Stumpy, he and I talk a lot, but Pete and Floyd don't really want anything to do with it anymore, which is kinda sad, but it's their choice. But I haven't spoken to them for four years, five years, which is a bit of a shame but there you go. There's certainly no bad blood, they just decided they didn't want to be a part of the re-issues or anything. It's great that they've moved on, they're doing stuff and everyone seems very happy with their lives. They're great guys, wonderful people but we've all kinda moved in different directions. Stumpy is still very much in te music industry and I see him quite a lot, I think he and I were always the closest in the band anyway, we were the ones that roomed together and stuff.
Mark: Just pulling a few questions from readers off the internet now, here's an interesting one "Being on stage is different for everyone. Do you have any 'pre' or 'post' stage rituals or warm-ups that you do?"
Ricky: Nothing too strange or weird, you know, I just take ten minutes to be with myself, think about the show, what I've got to do, what's in the set-list and then we all do a shot of Whiskey!
Mark: (laughs) cool!
Ricky: Then we give each other a quick hug and we hit the stage. there's no praying or stuff like that! That's it really.
Mark: And how do you look after your voice?
Ricky: I keep fit, I'm a bit of a keep-fit junkie – I run all the time, go to the gym a lot. When I'm on the road I watch what I drink, watch what I eat. At our age I think if you want to keep doing it and be energetic and run about like you're still twenty, you need to look after yourself. And that seems to look after my voice. I warm up a bit, not any vocal exercises, just get the acoustic and sing a couple of songs before we go on. I just get the voice working that way and that seems to do the trick for me.
Mark: You've also got a few other things going on – I think there's covers album on the horizon?
Ricky: It's only out at this stage through Pledge-music, but I did release a double solo album at the start of last year.
Mark: And we loved that, readers can find our glowing review up on the website. And you're making a foray into the Film World too this year we understand?
Ricky: You know what I don't think that is going to happen now, there was a lot of talk a couple of years ago and I was up to be in it but I don't think it will go ahead now. I've no aspirations to be an actor at all, but it just sounded like it was going to be a bit of fun. I'll stick to music!
Mark: That's a shame it sounded like it was going to be fun.
Ricky: Stick to music!
Mark: (laughs) that's right, stick to what you know as my Grandfather used to say. Speaking of which, what advice would you give to a young musician today who's just picked up his first guitar?
Ricky: Practice, you know that's it: practice, practice, practice. Decide what you want to be, if you want to be a song-writer or a guitar player practice both – if you want to be a great guitarist and a brilliant song-writer you're gong to have to do double the work. Work hard, be respectful and always learn – keep your eyes open to everything, music-wise, business-wise. At the end of the day it's all about hard work, like every vocation in life: you work hard at it, you'll get there.
Mark: Do you think it's harder these days than it was say back in the late eighties when Rock was more in the spotlight?
Ricky: No, I think it's always been hard . I think more crap gets out there these days, I don't think as much gets filtered out, but I think to make it has always been hard to make it successful and make it a career, rather than just a 'flash-in-the-pan'. To make it into a career that sustains you your whole life, that's the hardest thing you know.
Mark: What was the song that really changed things for you the first time you heard it?
Ricky: Wow, probably 'Take Me Back 'Ome' by Slade. That was the first single I actually bought, the first time I bought a single 'cos I'd heard it with my own money when I was a kid.
Mark: If you could have been a 'fly on the wall' for the creation of any great album just to see how the magic happened in the studio, what's the album for you and why?
Ricky: There's so many, there's so many. I think it would have to be 'Born to Run' by Bruce Springsteen and the E Street Band. I'm a big fan, bought the book the day it came out. I just love the Blue-collar working class thing, it's something I have real empathy with being brought up in such a small farm, we didn't have very much at all and had to fight for everything. But always still being instilled in you to keep your feet on the ground, and the lessons my Dad taught me you see that in Springsteen's writing. The way he looks after himself and the way he'll go out and play for three hours and give people real value for money and keep them entertained with a smile on his face. I just think that's great you know. It would have been easy for me to say a Thin Lizzy album, which would have been my choice had I not have been in the band. But I've talked to Scott and I know what went down when all of them were made! (laughs)
Mark: (laughs)
Ricky: You know what I mean, I've heard all those stories, so I know what went on when they were making all of those wonderful records! I had to pick something a bit different.
Mark: What is your favourite Lizzy album though?
Ricky: 'Black Rose'. I mean I love all of them, even going back to albums like 'Vagabonds of the Western World' there's great moments on all of them, but I think just the songs with Gary (Moore) and Scott playing it's just phenomenal, and Brian. I just love the songs on 'Black Rose' I just feel that every song is really strong on that record.
Mark: I know what you mean, I can never choose between 'Black Rose' and 'Bad Reputation' myself.
Ricky: 'Bad Rep' is great as well, there's so many, I mean 'Fighting' is another great album, I mean 'Borderline' what a beautiful song. It's tough there's anot really a Thin Lizzy song I can say "I don't really like that one!" Maybe I'm too close to it but I love them all really.
Mark: It's getting like that for me and the Black Star Riders, I really didn't think you could top the last album but you did!
Ricky: Thank you.
Mark: What are you likely to do with the additional tracks from 'Heavy Fire' – were there any you recorded fully that we'll get to hear?
Ricky: There's a few, there's one extra bonus track called 'Fade' that we did record that is gonna be a bonus track. There were other tracks that we just demoed that we didn't get to fully record of course, we'll revisit some of those ideas I think maybe next time round. Some will maybe end up in the trash can, some may end up on a solo record, who knows, you know?
Mark: And finally to close the really easy one: "What is the meaning of life?"
Ricky: Love.
Mark: Simple as that.
Ricky: Simple as that.
Mark: Thank you so much for taking the time to talk to the Rockpit today Ricky, you take care and good luck with the new album.
Ricky: Same to you, good to talk to you again and thanks for your support, its all appreciated. We'll see you soon. Thanks brother, take care.
Mark 'Rockpit' Diggins spoke to Ricky Warwick January 2017
Check out our other Black Star Riders interview with Damon Johnson – up now!