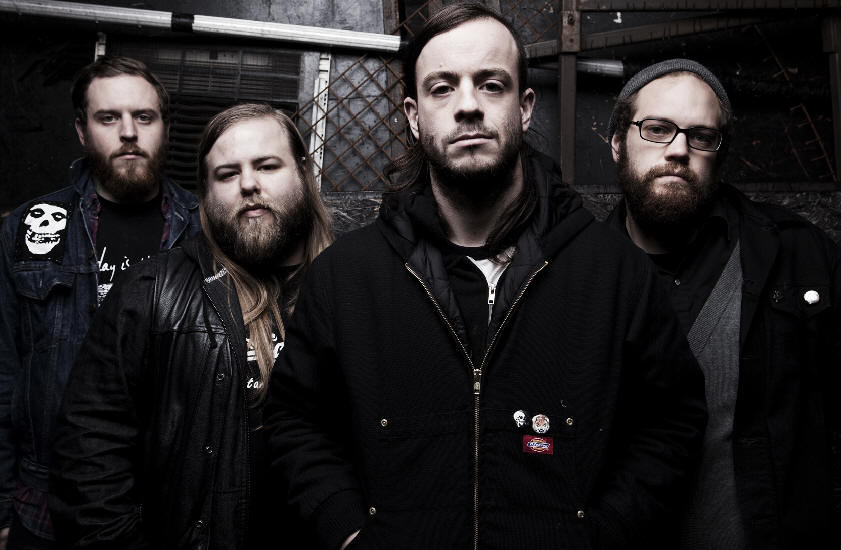 Fueled by a burning desire to rage harder, play louder and have more fun than any other band, Canadian rockers Cancer Bats mix hardcore, southern metal and punk rock into a lethal rock and roll explosion. No stranger to Australia, they will be touring the country with Frank Carter And The Rattlesnakes in February 2018 which frontman Liam Cormier himself was pretty excited about when we spoke over the phone in promotion for the tour.
"I can't wait to rip with everybody, I feel like there's no way that this tour isn't going to rule. Kind of like a perfect storm where we're going to tour with Frank Carter but the tour is also in Australia? This is going to be insane!"
We caught up with vocalist Liam Cormier to discuss the tour, the similarities between Australia and Canada and more.
Andrew: So hows things with the band at the moment?
Liam: We're just hanging out, we just finished an east coast Canadian tour with Bat Sabbath and some Cancer Bat shows in between and it was awesome. So just having some time at home letting our creative juices spew before we get back together and maybe bang out some more tunes.
Andrew: So you're in writing mode at the moment, coming up with some new songs for the next album possibly?
Liam: Yeah we're slowly chipping away at it, we're maybe halfway I would say.
Andrew: Cool well we are also pretty excited to see you coming back to Australia in February with Frank Carter and The Rattlesnakes which looks to be a fun tour by the sounds of it.
Liam: Yeah I'm super pumped! When we got asked I was like, 'Oh this is going to rule!'
Andrew: Have you guys toured with Frank Carter before?
Liam: We've toured with Gallows a ton all over the world but other than playing some festivals here and there, we haven't toured with Frank Carter and The Rattlesnakes. But I definitely know all of those dudes from other bands and from touring so definitely looking forward to hanging out with all those guys.
Andrew: It's a great combination and obviously musically you guys are slightly different but there is a similarity as far as energy and things like that, what can the fans expect this time around as it's been a couple of years since you have been to Australia?
Liam: Yeah it's definitely been a minute since we've been over but I think those who know us know that we will come and bring the heavy. I love how Australian fans are up for going nuts, it's always a wild show and everybody parties really hard so I'm really stoked to definitely crush. We've been coming for 10 years now to all of these cities so knowing that we're hitting all the major spots that it's going to be the best, but I love all these towns and know where I want to go and hang out and drink coffee and what shops to go and check out so we're all super excited.
Andrew: So what's your favorite thing to do in Australia then on your off time?
Liam: I usually like to check out a ton of motorcycle shops through the city, like Deus being from Australia, that's always super fun so I always go and check that out. I really want to go check out Kustom Kommune in Melbourne so that's kind of what I'm really looking forward to do but there's also the fact that there's really rad food and really good coffee so I feel like every neighborhood has a really rad coffee shop and a really good place to eat a pie and all those quintessential things to do. We'll be cliche and go to Lord Of The Fries, we definitely never get sick of that!
Andrew: [laughs] Well Lord Of The Fries is one of those places that has now spread across Australia, it used to be just in Melbourne I think and it's literally to the west of the country now which is great to see.
Liam: Oh really? Oh crazy!
Andrew: Yeah it's everywhere now, I guess it's one of those places that people love and has caught on everywhere. I've been there myself and I love it, it's a great place to go to. So the last time you were in Australia was maybe 2014 or 2015 I guess?
Liam: Yeah 2015 was the last time we were over.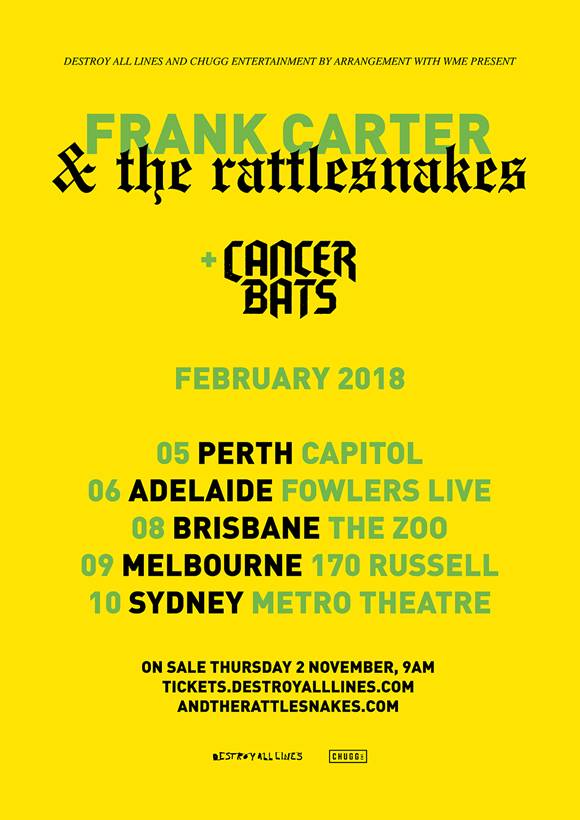 Andrew: How was that tour? I think that was with High Tension right?
Liam: Yeah that tour was amazing! For us we always wanted to do Australia in a van and not fly to every city and tour to some of the spots that you don't always go to. Because every tour is just the major cities and we know there's other spots that we can play in the same way that we tour Canada and that was really important for us to want to go and play at some of those other spots. We all grew up in smaller towns outside of major cities so for us it was that same vibe and I guess because we feel like there's such a close connection between Australia and Canada that this was something that we wanted to do forever and was so important to us. So we were super stoked to be able to do that, those shows were amazing. They were so fun because I feel like sometimes in smaller towns that they don't get as many shows so it's more of a wild party and especially to do it with an Australian band like High Tension who we already liked as a band. But then meeting them as people and being like,'Oh these guys are wicked'. They played us the Cosmic Psychos documentary one day when we were hanging out at the hotel and we were like, 'This was the best'. We were really crushing about every single thing about Australia!
Andrew: That's cool that you hit some of the regional places because you are right, a lot of those places don't get to see especially international bands which is something that they miss out constantly. It's funny that you mentioned the similarity between Australia and Canada because I remember speaking to Lips from Anvil a couple of years ago and he talked about that exact same thing where he said when coming to Australia for the first time, he thought it was quite similar to Canada in a weird sort of way.
Liam: Yeah I definitely think it's really interesting how two very separate…I mean maybe it's because they are both Commonwealth. They have got such a similar vibe, even in the way of the cities. We have a lot of similar cities like Perth, Adelaide, Brisbane, Melbourne and Sydney vibe wise we can always go, 'This one is sort of like Vancouver and this one is sort of like Montreal and this one is like Toronto and this city is like Ottawa'. Everything has it's own similarity within the country, so that was really interesting too. Even though obviously climate and geography are different but in a lot of ways we have some real similarities. I think being like these Commonwealth kind of spots that people came to from the UK and from other places, I feel those similarities socially kind of have the same vibes and also by default I think also there's tons of Australians that have come to Canada and live in Canada, there's a lot of Australians that live on the west coast and even in Toronto. When I was at Violent Soho there was 400 Canadians in the bar watching them [laughs].
Andrew: I've never been to Vancouver myself but I hear I guess because of the weather and all the rain that there's some similarity to Melbourne?
Liam: Yeah and I think because of the hustle of certain cities, like some towns are obviously more mellow and some have more of a hustle to it. Toronto has such a crazy hustle that is more similar to a New York or a London and then I find you go to the equivalent of another spot where you are like, 'Oh this has that same Toronto vibe' where everyone is hustling super hard or where you go some place else and be like, 'Yeah this is way more mellow', like Vancouver. I like those interesting similarities because I love all those cities so Melbourne is rad, Sydney is rad and I like those little differences.
TOUR DATES:
Monday 5 February – Capitol, Perth 18+
Tuesday 6 February – Fowlers Live, Adelaide 18+
Thursday 8 February – The Zoo, Brisbane 18+
Friday 9 February – 170 Russell, Melbourne 18+
Saturday 10 February – Metro Theatre, Sydney 18+
Tickets:
www.tickets.destroyalllines.com