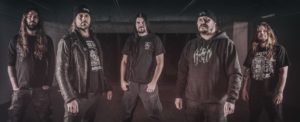 Despite some legal battles over the name which has forced the continued legacy to go under the name Entombed A.D., the Swedish metal veterans are still as vital to the extreme metal genres as they have ever been. It's been a long time since they have graced Australian shores but that will change in May when they come over for a headline run on the back of their latest release "Dead Dawn". We spoke to LG Petrov about the tour and news on the band working on new songs again.
Andrew: I think we spoke about a year ago when we were talking about the new album "Dead Dawn" so how's  things been since then?
LG: Yes it's been good! Touring like no other or some other at least [laughs].
Andrew: Yes I remember when we spoke that you were quite keen to get back on the road so I'm guessing things  have been going well at the shows for you?
LG: Yeah we got what we wanted! We did 2 U.S. tours and 2 really big European tours and a lot of festivals  so we're still here and still happy and now we come to Australia.
Andrew: Yeah that's the big news here for all the extreme metal fans is that you guys are finally coming  back to Australia. Do you remember the last time that you were in the country?
LG: I have heavy metal brains [laughs]. Was it 1998?
Andrew: I think it may be 20 years.
LG: Yeah that is ridiculous man! [laughs] But now we will start to come more frequently after this one. It  was good to have it organised at such short notice but if you don't get a grip on things, these things will  never happen so we're really happy that this came through.
Andrew: Yeah definitely and looking at the tour dates, you are playing all across the country not just on  the east coast but you are also coming over to the west coast which is where we are actually based and which  will be the last show on the tour.
LG: Yeah and I think our plans are to stay in Perth two days after the show just to drink beer, so if you  are around we can hookup!
Andrew: [laughs] That's great would love to! Will you be doing a bit of sightseeing like going to Fremantle  and seeing Bon Scott's statue and that kind of thing?
LG: Yeah I have never visited Fremantle, I would love to go there. The show is on the 13th I think and then  we stay the 14th and 15th and then go back home on the 16th.
Andrew: Before coming to Australia will you be coming from another tour?
LG: Actually on the 7th we play a big festival in Jakarta, it's going to be with Abbath and Megadeth and a  couple of big bands so we play that on the way down. So we'll be playing that on the 7th and then we come  down to Brisbane on the 9th and go through the whole country there and finish off in Perth, do two days  there so it's going to be a nice trip.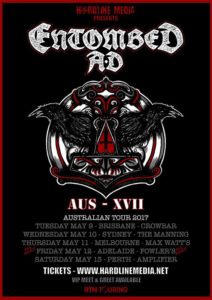 Andrew: I hope you guys enjoy yourselves while you are here. Obviously you have the new album that came out  last year, "Dead Dawn", how has the reception been from the fans at the live shows so far?
LG: It's been great! We toured Europe with Voivod and that was great, a lot of people showing up and then  when the album came out we did a tour with Behemoth, Inquisition and Abbath which was good and then we did a  big tour with Amon Amarth in the States and then we came back for one more tour. So we've been constantly  touring and with all the summer festivals and now filling up with festivals again so it's going forward.  Plus we're also working on new songs for a new album.
Andrew: Oh wow already!
LG: Yeah! Constantly working but I don't think it will come out this year but early next year. So that's the  plan anyway and then the cycle comes around again and do it all over again.
Andrew: And just with "Dead Dawn", what kind of feedback have you been getting from fans and critics so far?
LG: People like it! Of course there's thousands of people with different opinions, an opinion counts as an  opinion whether it's positive or negative and shows that people actually do care. It's been good and the  amount of shows we've been getting, it's been positive and it gives the strength and power to continue. It  all feeds from the fans.
Andrew: Obviously you have been around for quite a while now, playing music for a long time so is that one  of the main driving forces on why you keep doing this?
LG: Yeah and even if we didn't sell records I think we would be stuck in the rehearsal room playing songs  anyway [laughs]. That is the only thing we know how to do but we're just happy and keep going. If you don't  really know when the album is coming out and you don't have any particular songs, you need to have a basic  plan to follow anyway so you don't stand there and go, 'Oh it's 3 months until the record is released', and  then you stand there without songs! But we don't stress, we take it as it comes but still working on other  stuff and when we feel good about it we just put our fingers on the record button and record and release  another album and then as I said we do it all over again.
Andrew: What inspires you collectively or individually as far as coming up with new ideas for songs?
LG: We keep sending ideas to each other all the time, it's constant work. So when you hear a new riff  whether it's good or bad, it's still an idea. If you just pump ideas out there eventually it turns into a  song and if you are happy with it, you put it on tape. We have a plan but we don't think too much about it  either, we just let it roll and hopefully in early 2018 we will release it so we don't have to wait another  6 years like back in the day.
Andrew: As far as the tour side is concerned, are we going to be hearing many of the new songs on the  setlist?
LG: Especially for Australia since we haven't been there in over 20 years, we'll do a longer setlist with  all the oldies and new stuff. I think everybody will be happy and I think we will do a longer setlist as  well while we're there, we're looking at least a one and a half hour shows.
Andrew: is that difficult these days to put together a setlist every time you have a new album come out?
LG: Not really, most of the time you can play as long as you want. We have a basic setlist and we just add  to it, it doesn't have to be an arranged setlist. At the end of the show we can just, 'Oh that was great',  and we just continue, 'Let's play another one, OK one more'. before w get tired for the audience [laughs].
Andrew: I think it's going to be a great tour! I've been a fan for a number of years and I've never had the  opportunity to see you so I think this will change when we finally get to see you in May. I hope you enjoy  your stay here and hopefully we can catch up, take care!
LG: Yes sir, looking forward to it man!
ENTOMBED A.D. Australian Tour Dates May 2017
Tuesday 9th May – Brisbane – Crowbar
Wednesday 10th May – Sydney – Manning Bar
Thursday 11th May – Melbourne – Max Watts
Friday 12th May – Adelaide – Fowlers Licensed All Ages
Saturday 13th May – Perth – Amplifier
Tickets On-Sale Tuesday 14th March 9:00am AEDT from www.hardlinemedia.net
Limited VIP meet n greet available