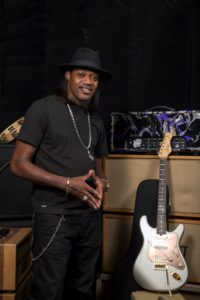 Eric Gales stands head and shoulders among other guitarists in his genre and is out to blow your mind and expand your musical horizons, in fact Joe Bonamassa calls him "One of the best if not the best guitarist in the world today". He is known for mesmerising fans around the world with his uncanny connection to his guitar and finally Australia gets to see his talent in person at this year's Byron Bay Bluesfest. We had a chat to Eric about his latest album "Middle Of The Road" which comes out on February 24th as well as find out about his history with Carlos Santana, coming to Australia for the first time and much more.
Andrew: I was just listening to your new album "Middle Of The Road" and I have to say it's fantastic, you must be happy with how the songs have turned out.
Eric: Very happy with it! It's amazing to have the opportunity to get the ideas that churned out in my head to be put on the record in the way like that, the different things that I try to get my point across with.
Andrew: Great stuff. I want to ask you about the album title first before anything else, "Middle Of The Road". You can look at it in a personal way but you can also reflect on how the world is at the moment, is that title a representation of how you feel personally and how you look at life as well?
Eric: It is, absolutely it is. A representation of how I feel about life and how I feel about how I am. I am absolutely in the middle of the road for everything, going forward and not looking back.
Andrew: I want to read you a little quote from your press release that says, "Unfortunately you have to go through some things to be free" which sort of spoke to me quite personally as well. What does that mean to you personally?
Eric: That "Unfortunately you have to go through some things to be free", some things you have to go through to know that you can make it through. Sometimes life isn't all a bowl of cherry's, sometimes it can be a little rough or sometimes it can be a missionary by your own self. I'm fortunate to make it through and not die from it, life can manage to deal you a hand that you can play your cards right and survive from it and be an inspiration to somebody else.
Andrew: One of the songs that I really like is the song "Change In Me" which again I can also relate to as well. Tell me  a little about that one and how it came together.
Eric: Well it was a song that I had put out in 2010 but I did a different version of it, the lyric content is the same but it has a whole new meaning. The album title is a new outlook that I had, "Change In Me" has a different story to it, it's autobiographical and it speaks volumes.
Andrew: There's so many great songs on here but I have to mention "I've Been Deceived" as I love the solo on that one, it just takes off and really wild kind of stuff. When you do solos like that is there a lot of improvisation going on or do you think about what you are going to play when you sit and record it?
Eric: I never think about, I sit down and pure emotion and pure heart flows into pretty much everything I do solo wise. Everything I do is all heart, spontaneous and it turns out better for me that way and I'm glad how it turned out. I really am and how it manages to naturally come about and all of that, I'm just a tool used by a higher entity that is out there. When it's time to call the big man upstairs, it just works through me and having the opportunity to have time with my craft and the capability to play with everything that I require and everything that I have learned is an amazing thing to watch. It's refreshing to see it received by others as an inspiration which is initially the reason why I like to do what I do.
Andrew: Yeah definitely I do think it's inspirational for everyone involved. The other good news for the Aussie fans is you are coming down to Australia for the Bluesfest which is great to see.
Eric: Right, we're excited! Can't wait to get there as well being it a beautiful place, it's going to be an intense show.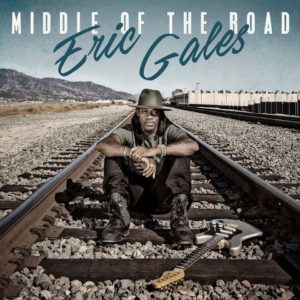 Andrew: Have you been to Australia before?
Eric: No I have not been to Australia before.
Andrew: Ah so first time then! Aside from playing in front of the crowd, will you be doing a bit of sight seeing while in Australia?
Eric: I'm going to try to! I'll try to get as much sight seeing as possible if I can, as much as possible. I've always been a fan of Australia, never been there but it's going to be great to witness the land down under.
Andrew: Yeah and Bluesfest has a great lineup, some great guitar players.
Eric: It does!
Andrew: Anyone there in particular that you are looking forward to seeing?
Eric: There's quite a few people there that I know. There's the possibility that I may get onstage with my Godfather Carlos Santana, it will be a grand event but we'll see. I'll keep my fingers crossed but I think it's a strong possibility that it will happen.
Andrew: Yeah obviously you have a great history with Carlos Santana himself, you played with him I think at the Woodstock festival back in 1994 right?
Eric: I did and we just played again together last year in July in France and it was a great reunion once again and I look forward to connecting with him again. Even if I don't play, just to get a chance to see him again. His energy is just amazing.
Andrew: I want to ask you about your influences, Santana is probably one of them but who were some of the people that helped you to decide to pick up the guitar and start playing?
Eric: It's a lot of people. Stevie Ray, Hendrix, Eric Johnson, Robert Trower, John Lee Hooker, Albert King. There was a lot of people that I listened to, a lot of people that I fused together that were an inspiration to me and I just incorporated in a way that I like to put my own spin on it.
Andrew: What was it about the guitar in particular and the sound of the guitar that drew you to that instrument?
Eric: I don't know man, I just liked it. Music was all around the house so my brothers played guitar and everybody around the house so it was definitely something that forever wound up fledged in some sort of way and I'm glad that it did.
Andrew: Do you have any last words for the Aussie fans before you come down, especially for those that are not familiar with your work in what we can expect?
Eric: What they can expect is a highly intense powerful show and make sure they bring their seat belts to strap in.
Andrew: [laughs] Good to hear man! Thanks for your time and congratulations on the new album, brilliant stuff.
Eric: Thank you so much man.
Eric Gales will be appearing at the 2017 Byron bay Bluesfest on April 13th-16th.
THE 2017 ARTIST DAILY PLAYING SCHEDULE IS AVAILABLE ON BLUESFEST.COM.AU
All 5, 3 & 1 day Festival and Camping tickets are now on sale through Bluesfest.com.au or by phoning the Bluesfest office on 02 6685 8310