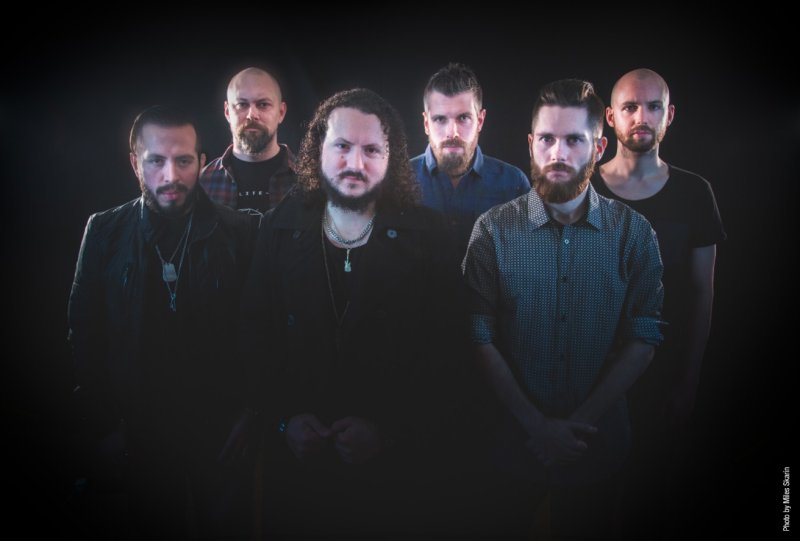 British Space-age progressive virtuosos Haken are touring Australia for the first time ever in their 10 year career, bringing their technical wizardry and 80's inspired synth rock to the Aussie audiences. Their latest album "Affinity" has been critically acclaimed and widely considered to be their most innovative and greatest work yet, we chat to keyboardist and creator of the whole atmospheric sounds Haken are known for, Diego Tejeida about the upcoming tour and the new songs and what inspires Haken.
Steve: How's things with you guys?
Diego: Yeah it's all been good! We've been very busy with all the touring we're doing, we've been involved with Mike Portnoy and his Shattered Fortress that's kept us very busy this year.
Steve: I see you guys are heading down to Australia in a couple of months so is this your first time to Australia?
Diego: Yeah first time ever! Not only as a band for the first time but for most of us so we're very excited to be there.
Steve: Awesome! So for the first time listener, how would you guys describe your sound? Because I pick up a lot of different things, I get Dream Theater and Devin Townsend just to name a few so how would you describe your music to a first time listener?
Diego: Well if I met someone who asked me about the music, I would say it's very progressive music. I wouldn't say rock or metal because it's between the two, sometimes it's metal and sometimes it's rock and most of the time we mix a lot of genres. I mean outside actual prog it's more evident on "Affinity" that we have so many electronic influences and some 80's synth pop influences as well and with approach to heaviness, [it's] modern sounding and definitely prog!
Steve: Yeah absolutely! I kinda backtracked a little for my own research and had a listen to a bit of everything and you can definitely pick up some of those influences. With "Affinity" how does it go over with the crowds? Do you have particular crowds who just eat it up? Which I suppose is what you want every night but do you have particular cities where the crowd goes crazy for you guys?
Diego: Well it depends, everywhere we go we play to different sort of vibes and you get all types of different ages as well. I think with the "Affinity" album there's a lot of younger audiences as well, we just finished our European tour a month ago and we seem to get a lot of younger fans. As I said everywhere you play people are different and it's a very cultural thing, sometimes when you are playing you can't tell if they are enjoying it or hating it but at the end of the show they are completely blown away and they love it and are very complimentary. But when you're playing they can be very quiet and some fans go really crazy and start doing the moshpit and stuff like that and that's something we really like of course, to see that when you're playing that everyone is having a good time. But I cannot pinpoint one place, even though it's a different vibe everywhere we play is great and so being able to be playing music for people who are actually enjoying it is what we love doing.
Steve: Of course! Are there are any bands out there that you can think of that are exciting you at the moment where you stand back and go, 'Woah these guys are doing something really interesting'?
Diego: Yeah definitely. Leprous is a band that I really love, I mean if people really know our influences and I'm not sure how you would know if you haven't heard Leprous but they are from Norway and they are fantastic. The live show is one of my favorite shows ever. Also I've been listening to a lot of Pain Of Salvation's latest album "In The Passing Light Of Day", I love it! I love the album so much, they've been around for quite a while and I grew up listening to them and "Remedy Lane" was one of the first prog albums I got into and I absolutely love it. Also I've been listening to an obscure band, a German band called Bohren & der Club of Gore and they describe themselves as female doom jazz, so basically it's interpreted as a jazz quartet if I'm not mistaken but playing extremely doomy sounding music and I saw them once live in London and the stage was full of smoke and all you could see was a hand moving and not their faces or anything so it's extremely exciting, especially their live show. I would also say that I love Meshuggah and their live show is just mesmerizing and out of this world.
Steve: Yeah I'll definitely back you up on that one, I've seen them a couple of times and every time I've walked away with my mind blown.
Diego: Yeah absolutely, it's just amazing.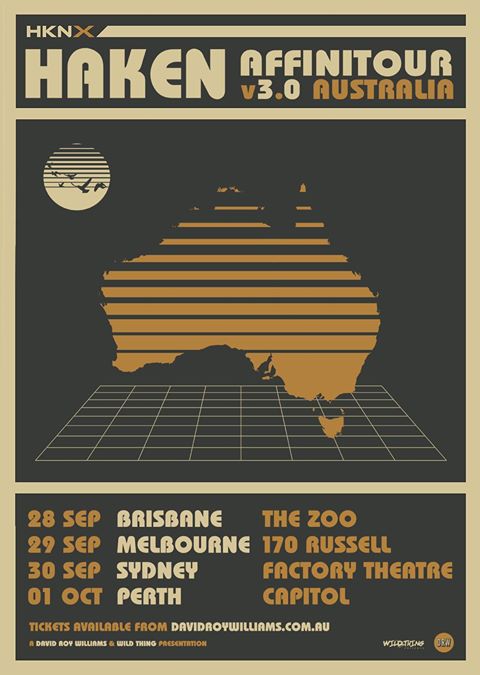 Steve: So with "Affinity" which I rated one of my top albums of last year by the way, where did you guys get your inspiration from?
Diego: As I mentioned before, there was a lot of influences which we never do that. There was a lot of influences from 80's music, particularly from a point of view from a guy called Vince DiCola who was a guy who wrote the soundtrack for the Transformers movie in the 80's and I think he did a couple of Rocky soundtracks as well. So he's a phenomenal keyboard player, synth player and his sound is very reminiscent of that era, all the digital synthesizers. The main thing to write an album is the music itself, we just try to write something new and we try to put all our influences in place. The main thing is to write music that interests us so most of the time doing that means we have to step outside our comfort zone and do something that we haven't done before to keep it fresh so we are very strict when we write music. All of us are perfectionists and have an eye for detail so we can argue about a 2 second passage about whether it's perfect and if we feel it is right but the main thing is to focus on how the music flows, how the album flows and the melodies and the hooks. Normally we have an initial idea of what we want to do with the album but most of the time we end up in a different space, it's like the album becomes alive and tells us where to go. We just try to experiment every time with something new in the melodies and techniques and try to keep it fresh for us.
Steve: And do you draw inspiration from anywhere in particular yourself? Like books or other music or do you go in with a fresh plate?
Diego: Well when we come to the actual recording process, in the back of the mind I think there's a lot of inspiration and a lot of influences but when you're actually writing you just have to leave it because most of the time you have a very tight deadline so you have to leave it. But most of the time when I'm not actually writing or working on something I like to recreate stuff I like so I listen to a lot of electronic music for instance so if I listen to a sound that we like and I can think that sound be used on how I play and maybe recreate that sound or if I'm reading a book and I get an atmosphere, in my head I might try to recreate that sound in my world. Personally speaking my main goal is to create atmospheres and to paint a picture when you create a sound and that's kind of my job as a synth player because I can play absolutely anything. I can make a sound from any instrument or I can just create something very spacious that gives a sensation to the listener when you listen to that section, it's a complex world with the influences to say that, OK yeah I read a book to make this part but I think it's a combination of a lot of things. What you read, what you experience, what you listen to and when it comes to actually delivering when you are recording or writing a piece, it all comes together.
Steve: When it comes to touring, what's the best and worst part of touring besides obviously being away from family and loved ones?
Diego: I definitely love touring, I could do it for a whole year. Maybe I would go crazy if I did that for a year because it's very unhealthy in the sense of your sleep patterns and what you eat. But I love touring, it just keeps me going but I think the worst part of it is lack of sleep. So you are in like automatic mode but during the day before a show you are like a robot, you are doing things automatically like at soundcheck and getting your stuff ready and when it comes to the show it's like you're alive again and you're happy again and in a good mood but when the show is done, you're like really tired again! I think health wise that's the worst part, you're not getting enough sleep. The stress of it, I don't mean it in a bad way like being angry but stressful in a sense that you have to adapt every day to a new situation. You're in a new place every day, you're in a different country most of the time so most people like to be in a routine in their daily life, they go to work and come back which allows them to think about something else which could be walking to work or driving to work and thinking about something else. But when you are in a different place and you're doing stuff differently every day, it applies a certain amount of stress. And food, most of the time not really good but apart from that it's just tiring and a lot of hard work in that sense but I absolutely love it. What I probably love the most is the music, being on stage and playing music live to me is the best thing in the world. I could do that every day, every time, every month and I'm fine but the most important thing is to actually see people enjoying what we are doing and enjoying the music and realizing something we created is being adopted by the audience which is now theirs. So I think that's the best part of it.
Steve: Yeah absolutely! Travel the world and share what you love would be an amazing experience.
Diego: Absolutely it's the best part of it.
Haken: Australia September 2017
Thursday 28th – Brisbane, The Zoo
w/ Archetypes, kodiak empire
Friday 29th – Melbourne, 170
w/ Orsome Welles, TERAMAZE
Saturday 30th – Sydney, Factory
w/ James Norbert Ivanyi, Sevsons
Sunday 1st – Perth, Capitol
w/ Chaos Divine, Nucleust
Tickets available from: http://davidroywilliams.com/tours/haken/