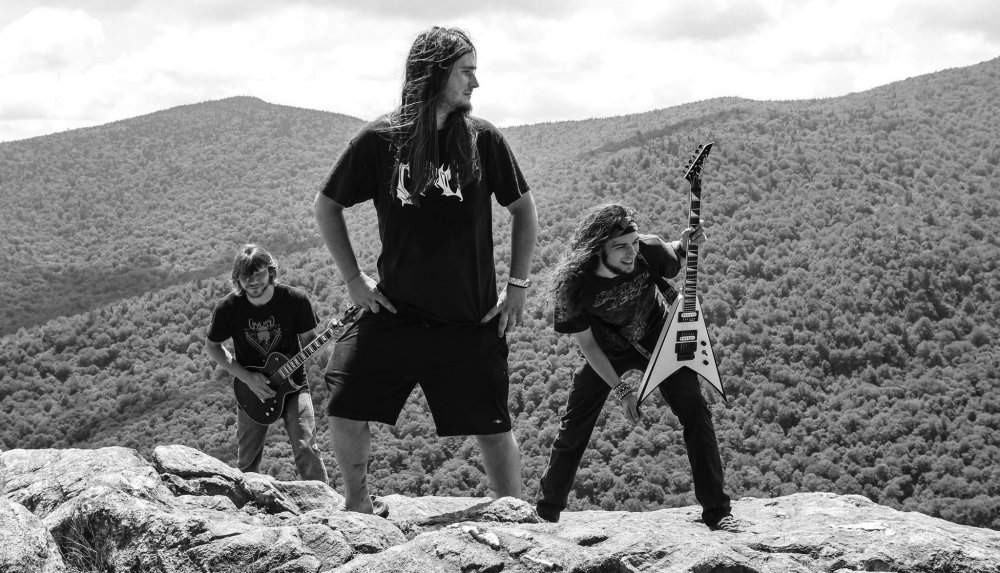 Crypitus is a Vermont metal band originally formed in 2015 and revamped in 2016 with a new line up. The founding member Doug Friend in collaboration with Zach Patch and Peter Snee have reworked the framework for some original 2015 Crypitus tunes as well as an arsenal of their own new songs creating a good array of music. Crypitus is Heavy, Death, Thrash and Black Metal influenced band but reach out to pull from genres such as jazz, punk and even hardcore. The band have just recently released their first studio effort titled "Exhibit 1: Prelude to the Dead World" in which they discuss the process of recording and writing here for us.
On the writing and recording process:
Zach: It was really easy for me. The songs were already mostly written. I just had to figure out how to make the drums sound.
Pete: One of Doug's friend's dad recorded everything for us between his home studio and Zach's basement.
Joe: I wasn't around for recording the demo.
Doug: The process was interesting. It was pretty cool to see these songs form life. Although I was sick like every time we went to record so that made it difficult! The man who recorded us; Doug Norford also laid down the bass tracks too. His son Zach did the mastering work.
Zach: I always love jamming on new music, but as far as the writing process goes, the guitarists do the composition.
Pete: I'm always playing guitar and improving my parts. Our writing process is usually jamming to riffs and seeing what sticks.
Joe: Creating stuff is cool, not that I've done much of it.
Doug: I love creating. Our process is so organic we haven't been under the gun to write anything, we have plenty of material.
On what the band wanted to achieve with this release:
Zach: Really were just trying to get the first taste of what we have to bring to the world, and spread it as far as we can.
Pete: We want to give a good example of our music. We have a lot more songs than just the three on the demo.
Doug: It's our "just the tip" release.
On how it feels to have the songs released:
Zach: Its all excitement for me.
Pete: I'm excited for people to hear a professional version of what we've been playing live.
Doug: Super thrilling! It's like a child, you know that's like not gross/unwanted.
What were the lyrical themes and inspirations for the songs?
Doug: The overall lyrical theme of the demo is a portrait of Dystopia; Breakdown is the first song on the album which is supposed to be a ride to the mentality of a crazy person who has trouble perceiving the world. Tundra is about the harsh reality of an arctic transcendentalism world. And finally Thunder is about the vicious retaliation of Mother Earth. The inspiration for the release is a demonstration of who Crypitus is and a warning to the world of the end.
What are some favorite moments or songs on the release and favorite songs to play live?

Zach: Thunder is my favorite song on our demo. Its really intense, and my parts make me sweat like a waterfall.
Pete: Thunder is my favorite on the demo. Doug's solos are pretty buttery too. Symphony #1 is a lot of fun to play live. It's our only instrumental song and it's one of our best ones I think.
Joe: Breakdown is cool. Ash or symphony #1 are fun to play.
Doug: I love how the solo in Tundra came out! I love playing all of them hahah. Crypitus is fun to play because I see Zach turn into liquid.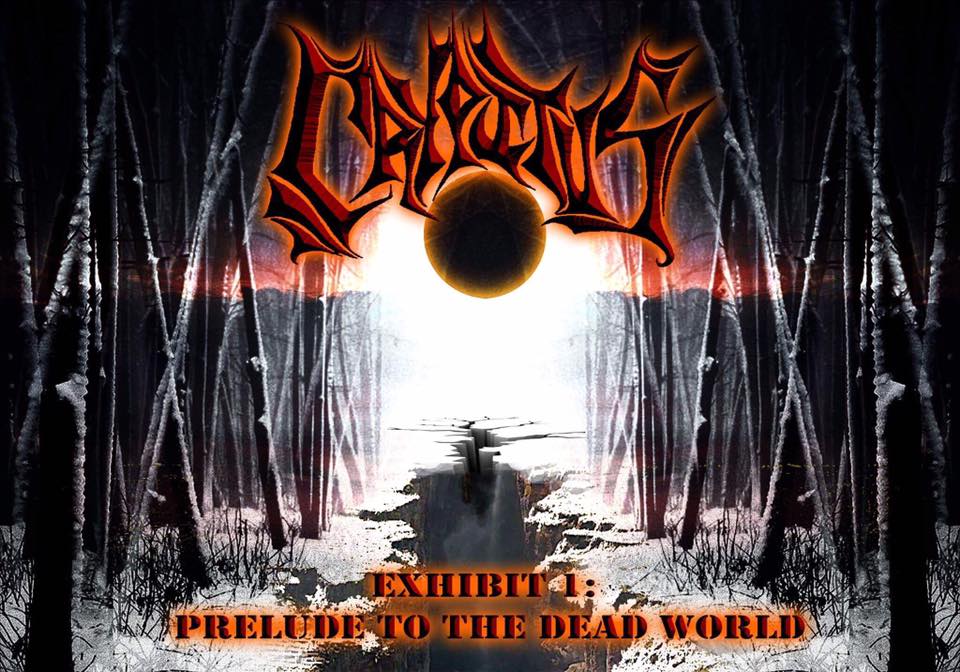 Did you imagine how these songs would play out in a live situation?
Zach: Not really. I never know what to expect.
Pete: We played them live for a while before the recording. We don't use any instruments we can't actually play live.
Doug: That's a strange question. Why would you create music if you didn't intend to play it for people?
On what to expect at a live Crypitus show:
Zach: Enthusiastic energy, face melting metal, and clowns.
Pete: High energy, headbanging, moshing
Joe: Headbanging, moshing, and a fun time
Doug: Screaming, moshing, solos, hair flying everywhere.
How do you pick out a setlist and is that a difficult process?
Zach: We don't really ever know what were going to play when we go up on stage. We try to imagine which songs to play depending on what we think will get the most response from the audience present.
Pete: Doug just picks the songs we play right on stage.
Joe: Doug just calls out the songs we play.
Doug: I like to base the set off of the crowds response.
What has the live experience been like so far?
Zach: Incredible.
Pete: It's been great. Our crowds vary in size sometimes but they're always receptive lol.
Joe: Pretty fun.
Doug: Everything I expected and more.
Any favorite places to play?
Zach: Jewel Nightclub in Manchester, NH, and Maximum Capacity in Chicopee, MA are both pretty sweet.
Pete: The Bungalow in Manchester, New Hampshire is a great venue.
Joe: Sammys patio at Revere beach is awesome.
Doug: I had a great time at Cherry Street Station in Wallingford CT on Saturday.
Any stand out shows or personal highlights from a tour or show?
Pete: My amp had some issues at one of the shows where it started making a tremolo effect even though the amp didn't have one built in. I don't use that amp anymore.
Doug: I took my first stage dive at 212 in Westbrook ME.
How Crypitus first formed together:
Zach: Doug and Pete were already playing when I met them. I was desperately searching the internet for musicians to play music with and Pete was the first to respond with Doug in tow, of course.
Pete: Doug and I were roommates and inevitably started jamming to his songs. We decided to find a drummer and I found Zach on Facebook and the rest is history.
Joe: My friend introduced me to the band when they were looking for a bassist.
Doug: Crypitus was basically the name for my backlog of songs that I used to play with my old drummer. When me and Pete moved in together he picked up on my riffs pretty quick. Just needed something to lay done some drums for us, we found Zach and look at us now!
What have been your greatest challenges to date, and your favourite moments musically?
Zach: My biggest challenge is getting my body to do the drumming I want to do. Its a workout.
Pete: Finding a bass player was challenging but Joe's been awesome.
Joe: Not really much challenges besides learning songs.
Doug: My hardest challenge was finding musicians. It wasn't til I was 20 that I couldn't find a band and I've been playing music since I was 13.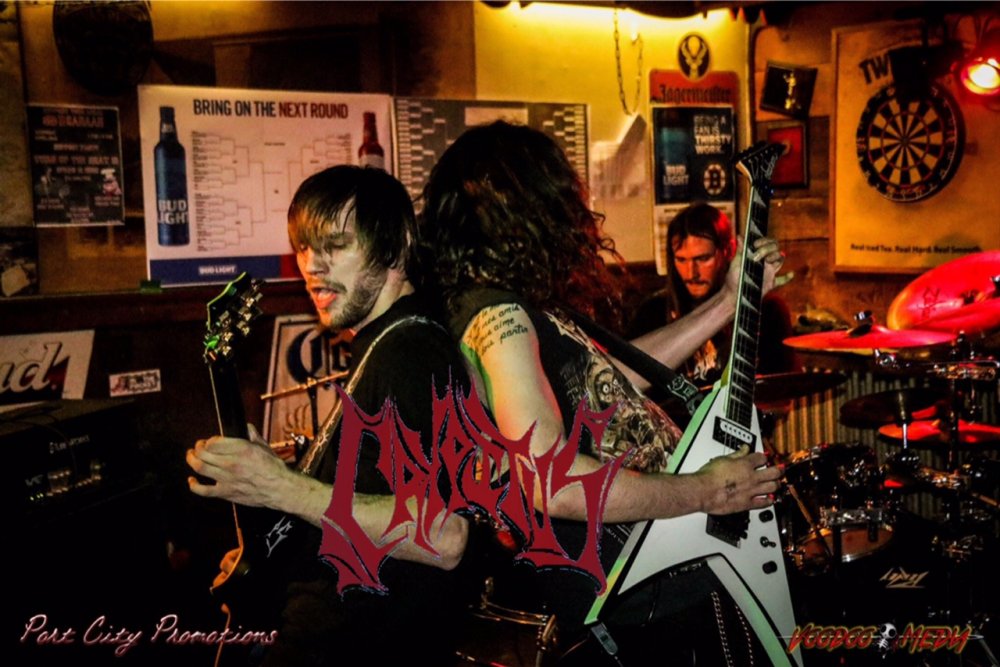 With technology changing so much over the last few years and seemingly not slowing, and TV force-feeding us the lowest common denominator, what hope is there for rock & metal music?
Zach: The internet! I think this scene is just beginning to blossom because we finally have a good way to get our music to every metalhead in the world!
Pete: A lot I think. The internet lets bands get their name out without having to play a million shows.
Doug: If it wasn't word of mouth of a love performance I'm sure that person knows us because of the internet.
From what you've learned so far what is the most valuable advice you've been given so far as a musician?
Zach: Always try to make your preference memorable. Oh, and always keep a jar of marbles. Don't lose them, cause if you lost all yer marbles, no good will come.
Pete: Even if you're not playing with a band, practice your instrument. I spent years playing alone and it payed off a lot.
Joe: Practice makes perfect.
Doug: Get a pouch for your wireless transmitter.
Who are some of your main influences?
Zach: Blake Richardson from Between the Buried and Me is my all time biggest influence. I also take notes from Terry Bozzio with Frank Zappa and Mike Portnoy.
Pete: Death, Frank Zappa, Animals as Leaders, Megadeth.
Joe: Old Metallica, Primus, System of a Down
Doug: Dissection, Death, Exmortus, Vektor, Megadeth and more!
Who or what inspired you to be in a band and play music?
Zach: I don't know. I've just always have wanted to play music.
Pete: Ever since I was a kid I had toy instruments. I played piano for a little while when I was young but I switched to guitar when I was 12.
Joe: I took band class in school because I thought it would be fun.
Doug: One of my brothers old friends had a BC Rich warlock and I thought it was the coolest thing ever! So I took on my guitarist journey.
How do you feel about the current music scene right now?
Zach: I think it's growing. The scene is super hospitable and touring around has been a very humbling experience.
Doug: New England is full of great heavy metal music.. The scene is excellent.
Do you believe music can still change the world?
Zach: No. This world is fucked.
Pete: It hasn't so far.
Doug: If any driving force could change humanity wouldn't you think it would have happened already?
If you could be a fly on the wall for the recording of any album in history, what album would it be?
Zach: Between the Buried and Me recording Colors.
Pete: Hot Rats by Frank Zappa. There were so many talented musicians on that album the recording process must have been amazing.
Doug: Death – Symbolic
What is the meaning of life?
Zach: 42
Pete: Just do you.
Joe: Whatever you make of it.
Doug: A beautiful twisting illusion that everything is okay and perfect but it's not.