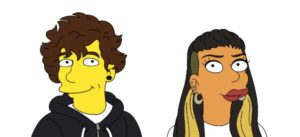 Perth punk rocker Dan Cribb has teamed up with Melbourne artist Ecca Vandal for the latest addition to his Worse Tribute Ever project.
The pair delivers a catchy pop rock rendition of Happy Birthday, Lisa, which featured on 1991 episode Stark Raving Dad. The season three classic was written by Michael Jackson, and although he voiced the character of Leon Kompowsky in the show, contractually obligations saw the song itself sung by Kipp Lennon.
The eighth track on Cribb's year-long tribute to The Simpsons is now available for free download via Bandcamp, joining collaborative efforts with Alex Lahey, Luca Brasi's Tyler Richardson, Ball Park Music's Jen Boyce and more.