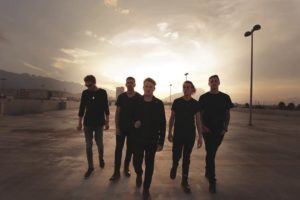 Deaf Havana have released their fourth studio album All These Countless Nights, out now. The album features current single Sing, which takes all of Deaf Havana's traditional qualities – soaring melodies, witty lyrics, an uncanny ability to make an emotional connection with rock's heartland audience – and bolts on a riff so monstrous you can already hear next years' summer's festival crowds going crazy for it.
Having cleared house internally in the months leading up to recording of All These Countless Nights, taking on new management and signing to a new record label (So Recordings), Deaf Havana – frontman/rhythm guitarist James Veck-Gilodi, keys/percussion/acoustic guitarist Max Britton, bassist Lee Wilson, drummer Tom Ogden and lead guitarist Matthew Veck-Gilodi – are already benefitting from the "new energy" that brings. They're ready for whatever the world of rock wants to throw at them…
"This album needs to take us to a higher level," asserts frontman Veck-Gilodi. "Not necessarily in terms of chart positions, because I don't care about that. I just can't wait for people to hear the album. We appreciate the fact that everyone's waited this out with us. It's going to be great."
All These Countless Nights was recorded and mixed by Adam Noble (Placebo/ Nothing But Thieves) at world famous Air Studios in London, and residential studio The Vale, out in the English countryside.
ALL THESE COUNTLESS NIGHTS TRACKLISTING
Ashes, Ashes
Trigger
L.O.V.E
Happiness
Fever
Like a Ghost
Pretty Low
England
Seattle
St. Paul's
Sing
Pensacola, 2013