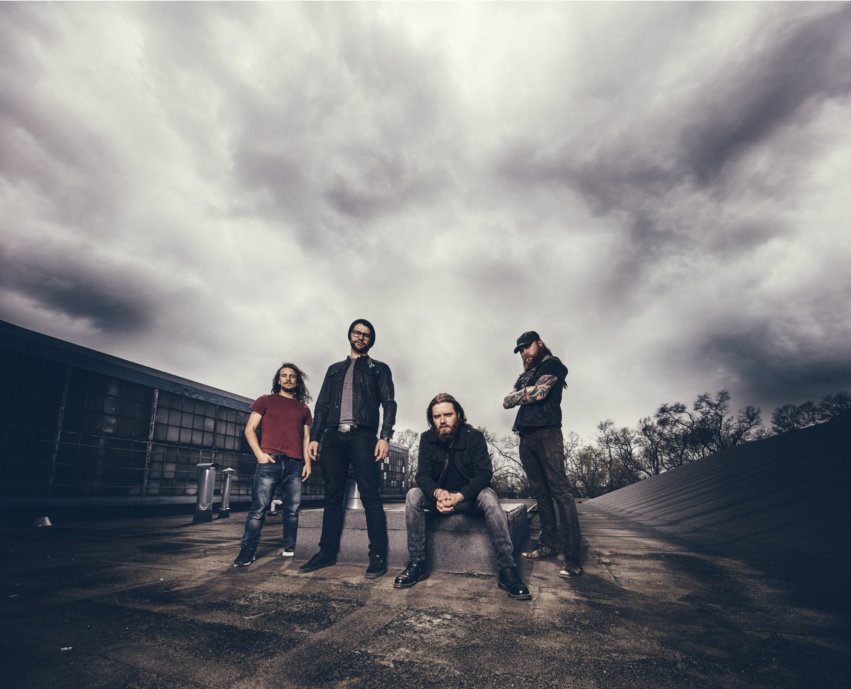 We live on the layers of deep time and history, strata of times past; life literally depends on centuries of decay. Now, progressive extreme metal visionaries CENTURIES OF DECAY build on the metal that has come before to create the metal of the future. Known for creating a huge atmosphere and letting the metal speak for itself in their live performance, the Toronto based quintet are bringing that experience to fans in their debut self-titled album set for release on August 4th. Influenced by bands such as Enslaved, Opeth, Gojira, Isis and Strapping Young Lad, the eight track concept record features CENTURIES OF DECAY's sound that is atmospheric, intense, powerful, dynamic and heavy.  
Drummer Derrick Doucette comments:

"We've often thought about the fragility of civilization throughout history and the idea of events repeating itself. With that in mind, our concept album tells the story of society being born, corrupt and destroyed in an endless cycle. It can be taken as a literal piece of fiction, or even a social commentary. It also comes from more personal issues such as depression, disillusionment and failure."
Teaming up with MetalMasterKingdom.com, the band reveals their first single off the self-titled debut album "Rise", a track about pure rebellion and the rise of extreme opposition. It is the band's most brutal song and is a tribute to the death/black metal that they have been influenced by in the past.
Listen to "Rise" at the following link: http://www.metalmasterkingdom.com/news-and-more/centuries-of-decay-metal-master-kingdom-premieres-track-rise 
Album pre-order available on Bandcamp here and Amazon here. 
Show Dates:
Aug 4 – Coalition TO – Toronto, ON w/ Vesperia, Black Eve, Lutharo – info
Formed in 2013 in Toronto, Ontario, CENTURIES OF DECAY sound is 'atmospheric, intense, powerful, dynamic, and heavy'.
Drummer Derrick Doucette explains the roots of the band's name.
"The intention of the name is to paint an image of nature reclaiming the lands and cities and erasing the traces of humanity once people have been removed from the world. This can also be open to interpretation. Some may see Centuries of Decay as being in reference to an extended period of social degradation or the idea of the planet being a barren land void of life entirely. We chose this name because we felt it conveyed a powerful image and atmosphere, which appropriately went hand-in-hand with our musical style."
That style will be unleashed by the four-piece on their self-titled debut album due out August 4, 2017, which drummer Derrick Doucette is eager for fans to hear.
"I was told recently that someone found our sound very unique and refreshing. That really meant a lot to me and I would love if that opinion was shared by both old and new fans. I find we've taken our influences from various sub-genres of extreme metal and turned them into a tasteful blend of compelling, climactic and devastating intensity on these seven tracks."
Fans can also expect more music in the future.
"We are already looking forward to writing more material and refining our sound more. I'm excited to see how our sound will evolve…Our fans can expect multiple albums as that was the intent from day one!" adds Doucette.
Live, CENTURIES OF DECAY have their own unique approach to performing, they make every set flow together, creating a huge atmosphere and letting the metal speak for itself.
(bio written by Steve Earles)